MasterChef judge is the dish of the day on Neighbours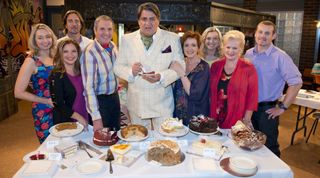 Neighbours has welcomed a superfan as one of its 30th anniversary guest stars – MasterChef judge Matt Preston.
The English-born food writer and critic pops up as a judge at the Erinsborough bake-off in the special episode, although he said his ideal role would have been as Lassiter's angry head chef or a corrupt successor to 90s star Mayor Ozturk.
The scene saw Matt star alongside Colette Mann, Alan Fletcher and Jackie Woodburne, who play Sheila Canning and Karl and Susan Kennedy.
Sheila (Colette Mann) flirts with Matt Preston at the bake-off (Channel Five)
He said: "In my first five years in Oz, I did not miss an episode of Neighbours – it was my favourite show. I came here to write about it for the UK and as such it profoundly changed my life."
Colette hinted at what would happen at the bake-off: "My character Sheila does some serious flirting with Matt, which can be quite terrifying for the recipient – or should I say victim. I hope I didn't shatter his expectations of Neighbours, Matt was delightful to work with."
Neighbours will turn 30 on March 18.
Get the latest updates, reviews and unmissable series to watch and more!
Thank you for signing up to Whattowatch. You will receive a verification email shortly.
There was a problem. Please refresh the page and try again.