MasterChef: what was the joke that was to everyone's taste in the quarter-final?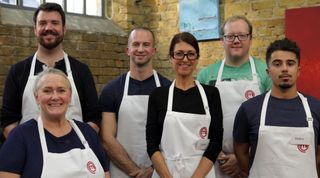 Things were getting serious in the MasterChef kitchen as six amateur cooks returned for the second quarter-final in front of judges John Torode and Gregg Wallace, tasked with cooking a piece of fish.
But it wasn't all that serious on Twitter.
As soon as the Twitterati realised the cooks were being asked to prepare a piece of brill for food critic Charles Campion they just wanted to hear one joke.
I really want someone to say, "that tastes brill"! #masterchef
— Laura (@loggy01) April 1, 2016
They all look brill to me #masterchef *gets coat*
— Rachel Mann (@RevRachelMann) April 1, 2016
The wannabe chefs – Stuart, Julie, Chris, Caron, Tom and Pedro – presented their plates of food for Charles and MasterChef judges.
MasterChef quater-finalists (Shine TV/BBC)
Pedro presented his piece of brill with clams, chorizo, a chive mash and a vermouth and lemon sauce.
And there was only one way for Charles to respond…
"It's brill! Nice piece of fish."
And Twitter got just what it wanted.
He said it, he said it!!! "It's brill" ……. #Masterchef #MasterchefUK
— Who's asking? (@HaroldShand1979) April 1, 2016
Charles actually did the brill thing #masterchefuk
— dave lock (@thedavelock) April 1, 2016
"It's brill!" #Masterchef
— CaerTaf (@CliqueCaerdydd) April 1, 2016
Although there was a *slight* conspiracy about why brill was on the menu at all.
"It's brill!" I think Charles picked the fish for everyone to cook just to make that joke #MasterChef #MasterChefUK pic.twitter.com/F3Sc58bSuU
— Jonathan Simms (@JonathanSSimms) April 1, 2016
They've only made them cook with brill for the puns #masterchef
— Jen Peacock (@Jen_Pea) April 1, 2016
"It's brill!" He literally only chose brill as the food so he could make that pun, didn't he. #masterchef
— Jen Steadman (@jenmandates) April 1, 2016
A tense tasting, but Charles thinks it's brill! Get it? #MasterChefUK
— MasterChef UK (@MasterChefUK) April 1, 2016
Unsurprisingly, Pedro made it through to the knock-out stages, along with Stuart and Chris.
Julie, Caron and Tom were sent home.
MasterChef continues on BBC1, Wednesday, April 6, 8.00pm.
Get the latest updates, reviews and unmissable series to watch and more!
Thank you for signing up to Whattowatch. You will receive a verification email shortly.
There was a problem. Please refresh the page and try again.