Medical mystery: New Amsterdam and The Resident finales draw questions
The beloved shows said goodbye without closing the door completely.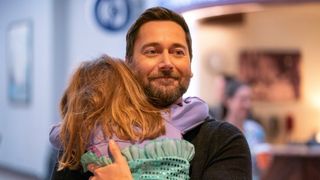 (Image credit: Ralph Bavaro/NBC)
It was never a secret that New Amsterdam was ending after five successful seasons. But there was a question: why? Why end a show that was still telling a story, when it was still the top show in its time slot? Why end a show when the cast and crew were so willing to keep going? We may never learn those answers, but the creators want fans to know they feel the same confusion, too.
In an interview with Deadline (opens in new tab), executive producers David Schulner and Peter Horton talked about how ending the show right now made little sense to them.
When asked if they had enough time to end the show the way they envisioned, Horton was frank. "I don't," he said. "I still think this thing could have, should have run for another couple years. There are still so many stories to tell and these characters are so interesting. David came up with just a raft of amazing characters and I want to know more about all of them. We're No. 3 on Netflix right now. I don't think the audience is ready for it to end, either."
Schulner agreed. "And we're still tied for number one in our time slot."
"It's a bit of a mystery as to why it was cancelled, to tell you the truth," Horton added.
It truly is a mystery, especially given the show's standings in the ratings and in the aforementioned rankings on Netflix. The show has consistently been in the Top 10 TV shows on Netflix in the US since the first two seasons debuted on the platform on New Year's Day. Evidently the platform has a deal with NBC Universal (opens in new tab) for the show to remain on the service through 2025, and new seasons are coming on February 1. (There is no mention of how many seasons are coming as of this writing)
Given the show's popularity, bringing it to an end really doesn't make sense, which is why some of the big questions in the final episode purposefully remain unanswered. Did Max (Ryan Eggold) and Elizabth (Sandra Mae Frank) stay together? "That's for you to decide," Schulner said.
In the end, the show wrapped up its run with a hopeful vision of the future. Max's daughter, Luna — now grown up — returns to the hospital that was so important to her father. The future remains bright, but the door remains open.
Fans were happy with the care and consideration that went into the finale, but they were also perplexed by the ending in general.
In a similar situation over on Fox, The Resident brought its sixth season to a close. It was a season finale, and possibly a series finale. The Resident isn't expected to be renewed (opens in new tab) despite decent ratings and a loyal fan base, so the writers had the dual challenge of creating a story that was satisfying as a season finale but without a cliffhanger in case this was also the series finale.
Showrunner Andrew Chapman told TV Line (opens in new tab) that coming up with the perfect wany to bring season 6 to a close was important. "Given that we really don't know and didn't know whether this was going to be a series finale," he said, "creator Amy Holden Jones and I really thought hard about how we would construct storylines that would give closure to the season, but if it had to be a series finale, would give our audience and our fans some closure to the whole series, too."
Will there be another season? Chapman remains hopeful, but he also acknowledges that no one knows. "Fingers crossed. We just don't know. I don't think that Fox knows. I don't think anybody really knows. They hold out the possibility, but they won't pick us up yet. We probably won't know until April or May. They want to see how the rest of their shows do, et cetera, et cetera."
It was a bizarre coincidence that both medical dramas had their finales on the same night, with one show ending for good and the other's fate to be determined.
For now, as New Amsterdam fans say goodbye, The Resident fans are holding out hope for another season.
Get the latest updates, reviews and unmissable series to watch and more!
Editorial Content Producer
Sarabeth joined the Watch to Watch team in May 2022. An avid TV and movie fan, her perennial favorites are The Walking Dead, American Horror Story, true crime documentaries on Netflix and anything from Passionflix. You've Got Mail, Ocean's Eleven and Signs are movies that she can watch all day long.
When she's not working, Sarabeth hosts a podcast dedicated to books and interviews with authors and actors. She's also very close to realizing her lifelong dream of publishing a novel.
Thank you for signing up to Whattowatch. You will receive a verification email shortly.
There was a problem. Please refresh the page and try again.