Mother's Day star Vicky McClure: 'Everyone should know about this powerful story'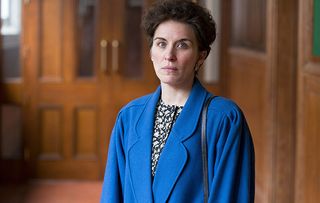 (Image credit: BBC/Steffan Hill)
Vicky McClure on her latest role in Mother's Day, which tells the moving story of the impact of the Warrington bombings
BBC2's emotional drama Mother's Day explores the devastating aftermath of the 1993 IRA bombings in Warrington, which led to the deaths of 12-year-old Tim Parry and three-year-old Johnathan Ball.
It explores the trauma experienced by Tim's parents Wendy and Colin (Anna Maxwell Martin and Daniel Mays), but also follows Dublin mother Susan McHugh (Vicky McClure), who was so moved by news of the tragedy that she organised one of the largest peace rallies in Irish history, attended by around 20,000 people.
TV Times caught up with Vicky McClure to find out more about Mother's Day…
TV Times: Tell us about Susan…
Vicky McClure: "Sue's just an ordinary woman and when she set up the rally in Dublin, she wasn't expecting to see thousands of people there, she had no great plans, she wasn't political, she just spoke from the heart as she had children of her own. She ruffled feathers, upset people and was always being batted down but she was determined and it had a ripple effect."
http://www.youtube.com/watch?v=J7e3ylXvh3Q
TVT: What was it like filming Sue's inspirational speech at the rally?
VM: "It was enjoyable because the dialogue was really rich but it was a tricky scene because we used some green screen because there weren't really 20,000 people looking at me. I didn't want to rehearse though - I just wanted to do a straight take to make it as natural as possible because Sue would have felt spontaneous and she didn't have overbearing confidence so she would have been extremely nervous."
TVT: What research did you do?
VM: "I watched footage of Sue and what she did was a new story to me but everyone should know about it. It's such a powerful story and it's great we are remembering Tim and Johnathan. I hope we've done Sue justice too and that I can meet her eventually because she's an amazing woman."
TVT: What has it been like working with Anna?
VM: "We only have a few scenes together, which is a shame. I'd never met Anna before but always admired her work and she's good fun. I was bowled over because I expected her to be quite quiet but she's a ball of energy."
TVT: You start filming Line of Duty again in September, are you looking forward to it?
VM: "I am excited, it is just the weirdest thing because you don't know where it is going to go. The scripts had better not be encrypted! They will be watermarked though, everything is nowadays. I love it when they do that - we don't work for MI6, we are actors!"
Mother's Day airs on BBC2 on Monday 3 September at 9pm
Caren has been a journalist specializing in TV for almost two decades and is a Senior Features Writer for TV Times, TV & Satellite Week and What's On TV magazines and she also writes for What to Watch.
Over the years, she has spent many a day in a muddy field or an on-set catering bus chatting to numerous stars on location including the likes of Olivia Colman, David Tennant, Suranne Jones, Jamie Dornan, Dame Judi Dench and Sir Derek Jacobi as well as Hollywood actors such as Glenn Close and Kiefer Sutherland.
Caren will happily sit down and watch any kind of telly (well, maybe not sci-fi!), but she particularly loves period dramas like Call the Midwife, Downton Abbey and The Crown and she's also a big fan of juicy crime thrillers from Line of Duty to Poirot.
In her spare time, Caren enjoys going to the cinema and theatre or curling up with a good book.
Thank you for signing up to Whattowatch. You will receive a verification email shortly.
There was a problem. Please refresh the page and try again.