Neighbours star Jodi Anasta is the queen of cakes!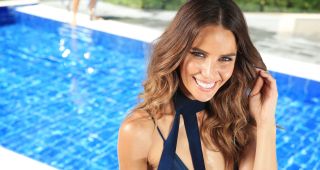 (Image credit: Newspix/REX/Shutterstock)
Actress Jodi Anasta talks about life in Ramsay Street, being a single mum to her daughter, Alaaia, and her sweet tooth…
Most people only have to have a whiff of cream cheese frosting to pile on the pounds. But Jodi Anasta, who plays Elly Conway in Channel 5's Neighbours, can happily demolish a cup cake or two and still keep in great shape.
"I'm actually a really good baker and my thing is cakes," Jodi told Soaplife. "Cheesecake, made to my mum's recipe, is a favourite…"
So what's your secret Jodi? How do you eat cake and still look so fabulous? "I don't indulge all the time! I've always had such a sweet tooth, but I make sure I eat well, lots of meat and lots of veggies, and then I can have my dessert, too! We women should own our own bodies and do everything we can to stay happy and healthy. A good night's sleep is a must for me."
What about exercise? "I do interval training, it increases your fitness and burns more calories. I also walk a lot and I have a three-year-old daughter, Alaaia, to run around after."
Jodi and Alaaia in 2016 (Christian Gilles / Newspix/REX/Shutterstock)
You work in Melbourne where Neighbours is filmed yet you live in Sydney. How does that work with being a mum? "I'm a single mum and it's a juggle, there's no doubt about that. But when I joined Neighbours, I told the producers from the off that my daughter is my priority, and I didn't wish to move her from our home in Sydney as that's where her dad lives, too, and all my family."
And they were very understanding about it? "Yes. They were really understanding and I've miraculously managed to squeeze all my scenes into a few days a week. So I fly to Melbourne for those days, then fly back to Sydney. It's not perfect and I do really miss Alaaia, but it works for us. She's happy and doing great, and that's by far the important thing."
What kind of things do you like doing as mum and daughter? "Baking! Alaaia enjoys it as much as I do. We also love dancing around the sitting room together. I feel very lucky to have such a wonderful little girl."
You started modelling when you were just 13, Jodi. What was that like? "It was amazing. I was very young and I remember going to Japan on my first overseas trip. My mum was always with me and I had the constant support of all my family."
You also starred in Home and Away as Martha MacKenzie. How do the two soaps compare? "It's a very similar environment with the same family feel, great relationships and synergy. The Neighbours set is very relaxed and chilled, and there's a real fun atmosphere among the cast, crew and producers. We have a good time on set and I think that's important."
Get the latest updates, reviews and unmissable series to watch and more!
Thank you for signing up to Whattowatch. You will receive a verification email shortly.
There was a problem. Please refresh the page and try again.