OMG! This Morning stars Phil and Holly in hysterics as Alison Hammond knocks man off the weather map into the water!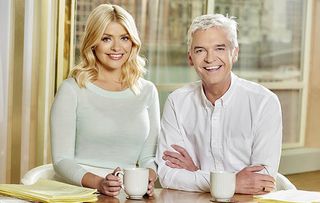 Alison Hammond causes a man to get very, very wet as she tips him off the legendary weather map
Phillip Schofield and Holly Willoughby collapsed in hysterics on This Morning today as Alison Hammond caused a man to take a tumble off the famous weather map into the murky water below!
The legendary weather map has been brought back as part of the 30th anniversary celebrations on This Morning and Alison was given the prized job of delivering the forecast from it.
Unfortunately, as she made the jump from Scotland over the water to Northern Ireland, she took out one of her male assistants!
Phillip and Holly gasped; while Alison said: "Oh My God, " before asking if the chap was alright. She said "I'm sorry" as she helped the man back onto dry land and then gave him a big hug.
Back in the studio, Phil and Holly rapidly collapsed into hysterics. "Well, it's going to be a little bit wet in Northern Ireland as you can see," declared Alison, before screaming, "GET A TOWEL!. I'm so embarrassed, I'm all flustered. I'm going to carry on with the weather because this is obviously very important!".
And viewers rushed to Twitter to express their amusement. "Ha ha so funny," said one, while another said: "This will go down as one of those moments."
Talking about the enduring success of the show, Holly told us it was like Trigger's Broom in Only Fools and Horse, saying: "This Morning is like Trigger's broom in Only Fools and Horses, isn't it? It gets a new handle and a new head, but it's still the same thing."
A laughing Phillip added: "I don't think I have ever heard you say that about This Morning before!"
The hit ITV show continues weekdays.
Get the latest updates, reviews and unmissable series to watch and more!
Thank you for signing up to Whattowatch. You will receive a verification email shortly.
There was a problem. Please refresh the page and try again.