Paul Hollywood finds 'incredible bakes' in an Art Deco toilet!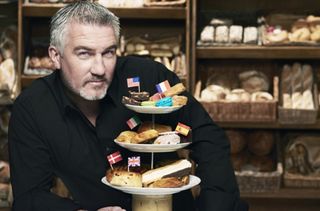 TV Times joins Paul Hollywood in Poland as Food Network's Paul Hollywood's City Bakes (premieres Monday) makes a stop in Warsaw.
Paul, this cafe you've brought us to looks a bit like a public toilet from the outside…
"That's because it was once – it's quite common in Poland to find loos transformed into cake shops like this one. Their amaretto cake is strong! I work with a lady in the UK who would love the alcohol in that [referring, of course, to his Great British Bake Off co-judge, Mary Berry, whom he often teases for liking a tipple].
"So that's something I didn't expect to find in Poland – incredible bakes in an Art Deco toilet in the middle of a park."
What else have you been impressed with here?
"What the pastry chefs do here is put a modern twist on classic Polish flavours. So they use old favourites such as poppy seeds, cheesecakes and rose petal flavouring to make pastries which are works of art. Mixing the old with new. It's very clever."
Did you have any particular preconceptions of Poland?
"I'd never been and with its communist history I did wonder if it'd be gloomy and basic, but it's none of these; I've been pleasantly surprised. I visited a milk bar which is a real snapshot of what communist Poland was like. It's similar to a worker's canteen, subsidised by the government, where people who are struggling can buy a cheap, nutritious meal – the food wasn't half bad.
"Then there's Misia who, post-communism, started making fantastic cakes using exotic fruits as they slowly became available. And now we're in Odette's, which is modern, futuristic and top end, with cakes that could easily sell in Harrods. I've seen the past, present and future of Polish baking in these three places; it's fascinating to track that movement. Poland's in a very good place."
Tell us how City Bakes came about, Paul…
"Basically, the idea was to travel, which massively appealed to me because that's what I did before my TV career started – exploring new countries and their flavours to inspire my own baking. The series also allows me to uncover the recipes that have shaped the baking heritage of each city. It's been fascinating – dream job!"
So what's the journey?
"I visit 10 cities – Madrid, Naples, London, Paris, Copenhagen, Munich, Miami, New York, Warsaw and St Petersburg, which is hugely exciting because many I'd never been to before. When your life is baking and you're surrounded by cakes you sometimes can't see the wood for the trees – you need to go out and meet people: like-minded people who have the same passion as you, but are doing things slightly differently. It puts ideas and energy back in your mind again – you feel fresh and keen to try new things. I'm like a walking encyclopedia now!"
We imagine you'll put your chefs whites on, too?
"Oh yes. I'll be putting my own Hollywood twist on classic recipes I uncover. So this afternoon I'll be in the Odette kitchens making a babka (a Polish sweet, leavened bread). I'll keep it authentic but add flavours I like such as lemon and orange."
What was your favourite city?
"That's difficult. Miami was special; I'd never been before, but it's somewhere I'll go back. We went to a third generation family bakery in Little Havana and made guava pastelitos (baked puff pastry-type pastries) with the most passionate Cuban baker. New York was great too.
"In this week's first episode you'll see I meet Jim Lahey, a guy who's created a movement called no-knead bread. The method went against every grain in my body – you literally just mix the ingredients together – but it worked! I'd heard about it, but never seen it – an artisan loaf in minutes. Amazing."
Whar was the best thing you tasted?
"The doughnuts in Dough bakery in Manhattan: the flavour combinations – passion fruit and creams, mocha-almond – in beautiful ring doughnuts were superb. Eating croissants fresh from the oven in Paris with the baker said to make the best croissants in the city - that was pretty special and a good day.
"It was like going back to work pre-TV, putting on my chef whites and going in the kitchen. I also loved the margherita pizza I cooked with Enzo in Naples. He was amusing - treated me as if I was wet behind the ears and didn't know how to make dough!"
Sounds like you met a few characters on your travels…
"Gennaro Contaldo met me in Naples and introduced me to the acquired taste of fried pizza. Funniest was celebrity baker Mette Blomsterberg in Copenhagen – she's a judge on the Danish version of Bake Off – she's the Danish Mary!"
What was the most memorable moment of all?
"Driving a 1959 Alfa Romeo Spider from Naples through the mountains down to Amalfi. One of the drives of my life."
We knew with your love of cars you'd get one in somewhere, Paul!
"I had the director in the back and we were driving along the beautiful Amalfi coast singing like a really bad boy band! We arrived in town just as a coach-load of English tourists pulled up and suddenly heard, 'It's Bake Off's Paul Hollywood!'"
Speaking of Bake Off, have you missed the gang filming this series?
"It's actually more exciting because the restrictions are off, I'm my own boss again, like I was before Bake Off. I never completely escape them, mind. I get texts from Mel or Sue asking where I am, so I wind them up with, 'Miami. It's 27 degrees'. To which they reply, 'You lucky git!'"
After your City Bakes journey, will you go home and bake differently?
"Some things, for sure. Each city has taught me something different – it's dangerous – I'm desperate to get home and bake now! The whole trip has been a great busman's holiday for me: travelling, baking, and meeting passionate bakers.
"I never thought when I made my first rolls aged nine with my dad – putting them in front of the fire to rise, with Doctor Who on the telly – that it was going to take me all over the world like it has done. I just hope viewers like it. At the very least they'll see the foreign technical challenges in Bake Off aren't made up – they do exist!"
Get the What to Watch Newsletter
The latest updates, reviews and unmissable series to watch and more!