Paul Hollywood to host new TV show about baking around the world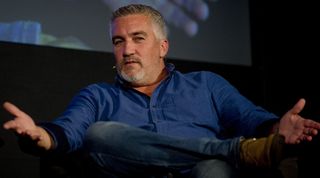 The Great British Bake Off judge Paul Hollywood is to front a new TV show about baking across the world.
The new series, Paul Hollywood City Bakes, will see the 49-year-old baker and celebrity chef share pastry and bread recipes in Europe and North America.
Paul, who has been a Bake Off judge alongside Mary Berry since the show started in 2010, will explore family recipes, hotel delicacies and local favourites before adding his own twist to each dish.
The show will be broadcast in the UK on the Food Network channel, and will hit screens in April next year. It is not expected to affect Paul's participation in Bake Off.
London #newseries pic.twitter.com/9S53wXZyuf
— Paul Hollywood (@PaulHollywood) November 9, 2015
The star has previously presented Bread, a BBC series screened this year, in which he explored the versatility of loaves from around the world, and Pies And Puds, another BBC show which focused on dessert and was broadcast in 2013.
He said: "Food culture can reveal so much about a nation so it's a privilege to be able to delve into the lives of fellow bakers and discover some really amazing international bakes."
Morning …. A good day.. pic.twitter.com/Z2q7ol0tY8
— Paul Hollywood (@PaulHollywood) November 10, 2015
Richard Farmbrough, the CEO of Reef Television, which is producing the programme, said: "Spending time with Paul Hollywood on his City Bakes mission will be a real treat for audiences around the world as they get to see a different side of this baking megastar from the man we know from Bake Off.
"Reef is delighted to be working with both Paul and Scripps on this mouth-watering project."
I'm currently filming new series all over the place .. Details to follow but it's been amazing x
— Paul Hollywood (@PaulHollywood) November 10, 2015
Further good news for Paul came as the maker of Mr Kipling cakes announced a partnership with him.
Premier Foods said it will launch 12 premium bread, savoury and sweet mixes under the Paul Hollywood name, which will launch early next year.
Get the latest updates, reviews and unmissable series to watch and more!
Thank you for signing up to Whattowatch. You will receive a verification email shortly.
There was a problem. Please refresh the page and try again.