Paul Merton on why his ancestor went to prison for an assault with a banjo!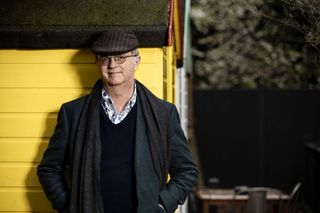 (Image credit: BBC/Wall to Wall Media Ltd/Stephen Perry)
Paul Merton reveals how he discovered performers, prisoners and Irish roots on Who Do You Think You Are?
He's used to thinking on his feet after almost 30 years on Have I Got News For You? but Paul Merton was taken aback by what he uncovered about his ancestry in his Who Do You Think You Are?.
The comedian travelled to Ireland to find out more about his maternal grandfather James Power, and back in London he discovered a shocking brush with the law on his paternal line.
Here, Paul Merton talks about his incredible discoveries on Who Do You Think You Are?…
How did you find the process of looking into your ancestry?
Paul Merton: "Interesting. I didn't think there would be connections to royalty and there weren't! The production team take the secrecy seriously though. It was intriguing seeing what the next day would bring. I do a lot of improvisation where you don't know where you'll end up so I was comfortable with that."
You investigated the life of your Irish maternal grandfather James Power, who you'd been told had drowned at sea. But that wasn't the case was it?
PM: "Yes, I knew very little and what I knew was wrong! We knew he died in 1927 when my mother Mary Ann was about one. I don't want to give anything away but the real story about his death was a surprise. I'm the first member of the family that knows the truth. But I saw where he's buried and my mother would've been pleased to know his final resting place."
Did you learn anything else about him?
PM: "I found out that during the Easter Rising [the 1916 Dublin insurrection by Irish republicans to end British rule] he was in the British Army and in the horrific position of having to fire on his own countrymen. When I heard what he did later, it was another surprise but understandable given what he'd been through…"
MORE: Kate Winslet proves she is 'not posh' on Who Do You Think You Are? (opens in new tab)
TVT: Were you amazed to find that several paternal ancestors were musicians?
PM: "Yes, it went back a long way to the early 19th century. We're not sure what instruments they played, maybe the violin or accordion or something else portable. It's good to know that I'm a performer now and people I'm related to were doing the same sort of thing."
TVT: Tell us about your paternal great-great grandmother Caroline Plunkett, a singer who went to prison aged 14 for an incident involving an assault with a banjo!
PM: "That was extraordinary. There was no real evidence, but because Caroline was a musical performer, she'd have been looked down on as an unreliable member of society. In Wandsworth Prison, where she was held, women wore veils and weren't allowed to speak to anybody. When you're 14 though, that'd be something you'd never forget."
Who Do You Think You Are? airs on Wednesday 28th August on BBC1 at 9pm
Get the latest updates, reviews and unmissable series to watch and more!
Caren has been a journalist specializing in TV for almost two decades and is a Senior Features Writer for TV Times, TV & Satellite Week and What's On TV magazines and she also writes for What to Watch.
Over the years, she has spent many a day in a muddy field or an on-set catering bus chatting to numerous stars on location including the likes of Olivia Colman, David Tennant, Suranne Jones, Jamie Dornan, Dame Judi Dench and Sir Derek Jacobi as well as Hollywood actors such as Glenn Close and Kiefer Sutherland.
Caren will happily sit down and watch any kind of telly (well, maybe not sci-fi!), but she particularly loves period dramas like Call the Midwife, Downton Abbey and The Crown and she's also a big fan of juicy crime thrillers from Line of Duty to Poirot.
In her spare time, Caren enjoys going to the cinema and theatre or curling up with a good book.
Thank you for signing up to Whattowatch. You will receive a verification email shortly.
There was a problem. Please refresh the page and try again.