Paul O'Grady: 'I've had a great time in Battersea, but I've done all I can there''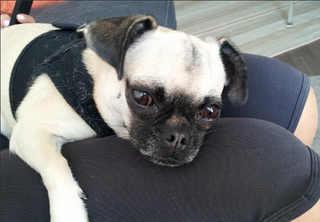 Paul O'Grady (opens in new tab) tells TV Times why this will be his last series of For the Love of Dogs (opens in new tab) from Battersea, as well as talking helping orphaned orangutans, returning to panto and missing his mate, Cilla Black...
I don't want to show just happy ending after happy ending… I want to be truthful to the viewer. A lot of very sad things happen at Battersea, dogs arrive in the most appalling state, sometimes so bad we can't even show them because it would just be too harrowing for the viewer. But we have to show what really goes on, so this series is sad at times, more than any other we've done.
It's time to move on… We can't keep on doing the same stuff – me in the kennel, me in with the vet, me chatting to the dogs. I do a lot of chatting and it's always a one-sided conversation! There will be a really shy dog and I'll go in their kennel and tell them you don't get anywhere in life being shy blah blah blah… And the next thing you know they've crawled out of their corner and are sat on my knee.
The crew say I have got some sort of special power… but I just talk to the animals. I've had a good conversation with a chicken in the past.
I still think, "Have I got room for one more!?"… If I have a bad day where lots of sick or abused dogs come in, I worry about them. I've got five already, two are epileptic, one's got cancer, one has an eye ulcer and the other one thinks he's Napoleon. That's why I have to get out!
The cases that kill me are when the dog's owner has died…. Poor little things, they will be 14 and all of a sudden they find themselves in a kennel with people staring at them. But there is always somebody who will come in and out of pure kindness take them home. You see the good in people as well as the bad in there.
Battersea gets a lot of pedigree dogs… Not because they have been dumped, but because circumstances have changed. So people might have lost their homes and had to go into rented accommodation or a divorce where no one keeps the dog. That wouldn't be me, I'd chuck the wife out no problem, but I'd hold on to the dog – 'You pack your bags but the dog is staying, go on get out!"
There'll be a Christmas special, but then that's it… I've had a great time in Battersea but I've done all I can there now.
There are lots of wonderful pets, like Ralph, two, available for good homes at Battersea
WHAT'S NEXT…
I'm filming a documentary about the Salvation Army… which is an absolute hoot. They are remarkable people, when you get in there and see the work they do it's not all about bashing a tambourine.
Yesterday I was with a load of ex-gang members… That's a peculiar combination isn't it – me, the Salvation Army and ex-gang members – sounds like a good night out! But it's great. I come out and feel better about myself.
Next, I'm off to Borneo… to do a two-parter about orangutan babies, baby pygmy elephants and moon bear cubs. It's another series of Animal Orphans.
They throw me in with lions, hippos, baboons… . I don't think about the fact that they are wild animals and could rip me apart. I'll be walking along with a cheetah asking how it's doing? I just forget how dangerous they are.
I always say never again, but I'm doing panto at Christmas.… Somehow they managed to talk me into being the fairy godfather, in Cinderella at the Barclaycard Arena in Birmingham for four nights. I do like panto, I sort of fret if I don't do it, and yet when I do it I moan – "Why did I do this? Two shows a day is killing me!" But it's good fun.
I won't be doing any more of the chat show… There is too many of them out there and it's hard work – five big shows a week is full on. Never say never, but I'll just see what comes along.
MISSING CILLA...
I still have moments when I think, 'I must tell Cilla that'… but of course, I can't. I don't think it has sunk in yet that she's gone.
Losing her has changed my perspective on life a little bit too… It's made me think why not retire early and enjoy myself rather than when my back has gone, or hips, or I can't see, or I've got no teeth? I have worked since I was nine. People say I would go mad if I had nothing to do, but I would find plenty of things.
I'm in the same state I was at 17... I hear people say, "I'm finally sorted," and I think, "I wish I was!" I'm angry at the world one minute and then I'm delighted at everything the next , and then I'm mardy like a teenager and moan when I have to get up. Get over yourself! I am happy, though. That's just how I am and I'm not going to change now.
Get the latest updates, reviews and unmissable series to watch and more!
Thank you for signing up to Whattowatch. You will receive a verification email shortly.
There was a problem. Please refresh the page and try again.