Paul Whitehouse: 'I play 8 characters in Nurse. I'd get bored just playing one role' (VIDEO)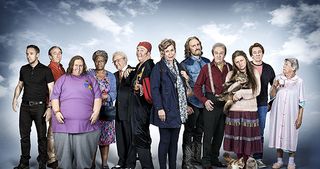 (Image credit: BBC/Des Willie/Hal Shinnie)
TV & Satellite Week (opens in new tab) chats to Paul Whitehouse (opens in new tab) about creating eight new characters in a touching comedy, Nurse (BBC2, Tuesday), the story of a community nurse and her patients, who include an ageing rake, an agoraphobic ex-con, a morbidly obese mummy's boy, a spaced-out rocker and a Jewish pensioner!
Transforming you into your various roles required a lot of prosthetics. What was that like?
"I play various different characters, I like the variety and I'd get bored just playing one role. The prosthetics on this show are amazing, but they take a hell of a long time to apply. They're hot, heavy and itchy! Not that I'm complaining…"
Do you think mental health works as comedy?
"We all tread a fine line between – what's one person's normal may not be another's – and there are a million different forms of mental illness. The series is about universal things – loss, loneliness, fear and dysfunctional relationships like the one between Graham and his mum – she's created a monster, she's killing him with love."
Do you think gallows humour is appropriate in the medial profession?
"In the medical world, they are always laughing and joking about things because they deal with so much tragedy, so we felt it wouldn't be patronising to have humour in a programme about mental illness. It's a sensitive area, but most people have family or friends who have in some way been affected by mental health problems."
Does community nurse Liz have any problems of her own?
"It's like, you can solve your friends' life problems, especially emotional ones, but you it's not so easy sort your own out. We also wanted to examine why people like Liz end up in jobs like that. Not to be too callous, but for instance how do you end up doing rectal surgery? You probably know someone close to you who dies as a result of some problem rectally, and you end up in that area. So if I was to examine Liz's relationship with her husband who has gone off the rails a bit you might find clues as to why she's doing that job."
Have you always been able to do various accents?
"I was born in Wales in the Rhondda valley, and my family moved to London when I was four. My mum said I was very quiet for about two months and suddenly then I went: 'Mum, I wanna go to Saarfend' and she went 'he's turned into a Cockney!' and started crying. When we'd go back down to Wales to see family, as we crossed the Severn Bridge I'd start talking in a Welsh accent again!"
So are there any accents you have yet to master?
"I can't do Scouse for very long, I've already gone up to Newcastle and down to Wales! With accents, I can do phrases, but you can't have a conversation in an accent for a long time unless you really practise it. I do accents, but I'm not a mimic."
Get the latest updates, reviews and unmissable series to watch and more!
Thank you for signing up to Whattowatch. You will receive a verification email shortly.
There was a problem. Please refresh the page and try again.