Pete's Peek | Kill Kill Faster Faster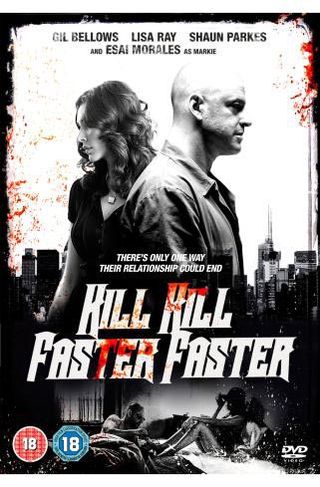 On FilmFlex, from 10 September
Finding fame for writing a play based on his prison diaries, junkie wife killer Joey One Way (played by former Ally McBeal star, Gil Bellows) is paroled and released into the hands of his agent, New York City film producer Markie (Caprica's Esai Morales) – who wants Joe to adapt his play for the big screen.
On meeting the agent's wife, Fleur (Lisa Ray, recently seen in I Can't Think Straight and The World Unseen) – a one-time hooker, whose ordeal at the hands of her abusive father has also made her a celebrated author – Joe senses a kindred spirit, and so begins a clandestine affair between the two.
Haunted by his past deeds and his inability to reconnect with the twin daughters he made orphans after killing their mother, Joe struggles to keep his sanity while on the outside. But can he ever find closure? Will the monster still caged in his soul escape once more? And what will happen if his betrayal to Markie is ever discovered?
Faster Faster is exactly what you find yourself uttering on watching this film noir-inspired thriller. Burdened by the script's heavy-handed prose – uttered in gruff, monotone by the film's lead Gil Bellows – this story would have been better suited to the stage or an audio-book.
The film does do a good job in recreating a nightmarish pulp fiction world, thanks to the clever production design that practically recreates the classic 1940s works of famed artist Edward Hopper. But it's the mish-mash of ideas and influences that make this difficult viewing.
It's as though the film-makers set out to make a cult film by drawing on cult hits. The prison scenes recall to mind 1985's Kiss of the Spider Woman and 1978's Midnight Express; the themes of blurred reality and fractured identity is identical to Jean Genet's Querelle and William S Burrough's Naked Lunch, while the sordid sexual affair between the two leads is straight out of 1981's Body Heat http://youtube.com/v/7gbWBrja2F8
Get the latest updates, reviews and unmissable series to watch and more!
Thank you for signing up to Whattowatch. You will receive a verification email shortly.
There was a problem. Please refresh the page and try again.