Pete's Peek | Dario Argento's lost masterpiece Four Flies on Grey Velvet gets a 40th anniversary release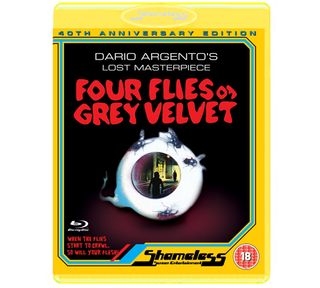 For Dario Argento fans there's really no need to review Shameless Screen Entertainment's latest release, because it's destined to become a collector's item. Practically unseen since the 1970s, Four Flies on Grey Velvet is being released for the first-time on Blu-ray, in the original version, and with a pristine new HD print and English audio.
The last in Argento's trilogy of animal-titled murder mysteries - following the superb Bird with the Crystal Plumage and the pulpy Cat O'Nine Tails - Four Flies on Grey Velvet is your traditional whodunit – albeit with Argento's trademark flourishes.
Fresh-faced Michael Brandon (of Dempsey & Makepeace fame) plays Robert, a drummer in a Deep Purple-inspired rock band. Mimsy Farmer (who had just done Barbet Schroeder's More) is his wealthy girlfriend. When Robert discovers someone in a puppet mask has taken photographs of him accidentally 'killing' a stranger, he waits to be blackmailed - but nothing happens. Fearing the worse, he engages a private investigator to get to the bottom of the mystery. Meanwhile, only Robert's maid knows the real truth…
Filled with crazy characters – including a camp private eye, a tramp who calls himself God, and a cameo from spaghetti western superstar Bud Spencer – plus the purely fantastical concept of a machine capable of photographing the last image a person sees on the retina of their eye, Argento's thriller is way out there.
It also boasts superb camera and lighting work, wonderful production design and an inventive use of locations - including Turin's amazing architecture, Rome's modern suburbs, and Milan's underground train network. Every shot in every scene counts - especially the ending, which was heavily influenced by Michelangelo Antonini's Zabriskie Point. And lovers of retro design will want to seek this out just for the kitschy 1970s house (in Rome's EUR district) where Brandon and Farmer reside.
Also of note is the music, composed by Ennio Morricone. The soundtrack has long been a favourite of mine and I can't imagine it being done by Deep Purple. They were originally slated to record the soundtrack until they were dropped for not being Italian enough.
A retro classic of of the giallo genre, Four Flies on Grey Velvet so deserves a hip new audience.
Released on Blu-ray and DVD by Shameless Screen Entertainment on 30 January
Special Features http://youtube.com/v/8feDiUALvjw
Get the latest updates, reviews and unmissable series to watch and more!
Thank you for signing up to Whattowatch. You will receive a verification email shortly.
There was a problem. Please refresh the page and try again.