Pete's Peek | The Saint vs The Falcon - two classic 1940s mystery series get a UK DVD release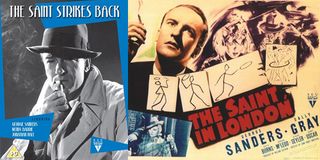 In the late 1930s and early 1940s, RKO Pictures made a popular series of hard-boiled thrillers starring Leslie Charteris's hero The Saint, with George Sanders in the role that Vincent Price originally made famous on radio.
Following Louis Hayward's attempt at playing the titular sleuth in The Saint in New York (1938), Sanders made the role his own in The Saint Strikes Back (1939), The Saint in London (1939), The Saint's Double Trouble (1940), The Saint Takes Over (1940) and The Saint in Palm Springs (1941). Hugh Sinclair then took over in The Saint's Vacation (1941) and The Saint Meets the Tiger (1943) before Hayward returned for the last in the series, The Saint's Girl Friday (1954). All of the thrillers except The Saint's Girl Friday are now available on DVD in the UK through Odeon Entertainment.
In 1941 George Sanders signed on to play the gentleman freelance adventurer Gay Stanhope Falcon in RKO's The Gay Falcon, a character created to replace Charteris' hero The Saint. Following the sequels A Date With The Falcon (1941) and The Falcon Takes Over (1942), Sanders handed the role to his real-life brother, Tom Conway, in the appropriately titled The Falcon's Brother (1942).
Conway went on to star in The Falcon Strikes Back (1943)**, The Falcon in Danger (1943)*, The Falcon and the Co-eds (1943)**, The Falcon Out West (1944), The Falcon in Mexico (1944)**, The Falcon in Hollywood (1944), The Falcon in San Francisco (1945)*, The Falcon's Alibi (1946)** and The Falcon's Adventure (1946)**. On the back of his success in the films, Conway would go on to replace Vincent Price in The Saint radio series in 1951.
For the first time in the UK, Odeon Entertainment have now released the last five titles (**) in the classic Falcon mystery series, featuring guest appearances from the likes of Laurel & Hardy and character actor Elisha Cook. What a great way to complete your collection of two classic thrillers from the golden years of cinema.
The Saint and The Falcon series are released through Odeon Entertainment
Here's a preview of 1943's The Falcon in Danger http://youtube.com/v/sYwVUmbGo4s
Get the What to Watch Newsletter
The latest updates, reviews and unmissable series to watch and more!