Phillip Schofield: "My new game show will have people screaming at the telly!"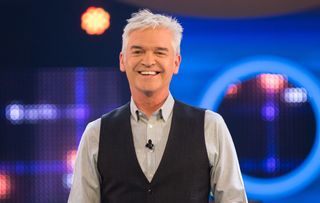 (Image credit: ITV / Possessed)
Phillip Schofield tells us about his new interactive gameshow 5 Gold Rings - and why he's envious of fellow TV presenter Davina McCall!
Phillip Schofield has the Midas touch when it comes to primetime game shows, having hosted award-winning The Cube and family favourite All Star Mr & Mrs. So it seems apt that his latest quiz is called 5 Gold Rings.
The interactive game show sees two teams answer questions against the clock by placing a gold ring onto a large LED image on the floor. As time passes, the rings shrink and the answers are harder to find. With £25, 000 up for grabs the pressure is on!
TV Times met Phillip, 54, at ITV's London HQ to find out more…
What appealed the most to you about 5 Gold Rings?
"I get offered an awful lot of shows, so the criterion for me is: "Can you play it at home?" And 5 Gold Rings, more than anything I've done, is really hands-on play-along at home. So much so that I showed my wife and eldest daughter the first episode and they both left fingerprints on my laptop screen from where they were answering questions!"
The interactive LED floor sounds intriguing. Tell us more…
"It's a very clever floor. For example, we could have a picture of the Mona Lisa with the centre ripped out of it. The contestants are in two teams of two and they've each got five gold rings. The rings get smaller in size, and, as they do, the prize money gets bigger. So with a £1,000 ring I'd say: "Find the Mona Lisa's smile." The contestants then place the ring somewhere on the bit that's missing. As a bigger ring covers a bigger area, you have more chance of getting it right. The final ring is tiny and worth £25,000."
Are there other types of games?
"Yes, it's not just limited to pictures. We have moving images, memory games, and a maze, so the floor lends itself to all sorts of fun."
Any other twists we should know?
"We have a couple of lifelines. If you get stuck on a question, the floor flips over and you get an alternative. We've also got five people in the audience who each have tablets and a gold ring who can help the contestants."
Did you get chance to play the game yourself?
"Absolutely! I did alright actually, purely because I'm pretty good on geography - and I was playing with one of the larger rings!"
The series was filmed over one weekend in Amsterdam, how did you find that?
"They were a lovely crew but it was absolutely freezing because Europe was in the grip of this hideous winter. When you watch it on telly it won't make any difference where it was actually filmed. It just that's where the floor is. They had a lot of other countries coming to play it as well. I met the American team who came to watch us because we were the first to play it in English."
Sounds like you really enjoyed filming the show…
"It was a huge amount of fun. I don't think there's anything else quite like it and that's what you're always looking for – something different. The Cube was different because it was the star of the show and I think the floor will be the same for this. There will be people screaming at the telly, getting up off the sofa and putting their finger on the TV screen going 'It's there!'"
Viewers can also play along by downloading the 5 Gold Rings app and answering the same questions as the contestants.
"Yes, so you will be able see how good you are and we'll put your name up on the screen if you are the top scorer. The show is as interactive as we could make it."
Which game shows do you like to watch at home?
"I envy Davina McCall with The Million Pound Drop. There aren't many I've seen that I'd like to present, but it's a genius format to actually have the money fall away in front of you and it's really simple, you can do it live and it can be incredibly current. I also like watching The Chase because it has a great format and Pointless because it's fun."
What else is in the pipeline for 2017?
"In May, we're taking This Morning Live in Birmingham, and following my ITV series Schofield's South African Adventure, we might do another one with a bit of luck - I'm already thinking of places!"
5 Gold Rings starts on ITV on Sunday 5 March at 6.40pm
Thank you for signing up to Whattowatch. You will receive a verification email shortly.
There was a problem. Please refresh the page and try again.