Poldark's Aidan Turner: 'Ross is growing up, though he still does outrageous things!'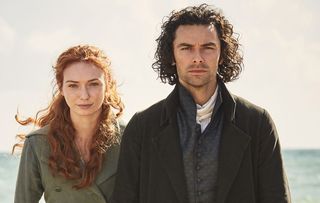 (Image credit: Mammoth Screen/BBC)
Poldark's leading man on the explosive return of BBC1's hit costume saga for a third series
Hold onto your tricorn hats as BBC1's hit costume saga Poldark bursts back onto our screens for a third season with an action-packed first episode filled with feuds, romances, shocks and a host of exciting new characters.
Leading man Aidan Turner, who plays heroic Cornish swashbuckler Ross Poldark, tells us why the nine-part series is going to be the most explosive yet…
So, Aidan, the story has moved to 1794 and Ross is facing new battles, new family members and new loves, as the French Revolution casts a shadow over life in Cornwall. Tell us more… "It's a huge year and very exciting as there are many new characters. There's lots in store for Ross, you really feel like he and wife Demelza are growing in their relationship."
The second series ended with Ross and Demelza (played by Eleanor Tomlinson) back in each other's arms after the fallout from his controversial night with first love Elizabeth (Heida Reed). How has Demelza almost leaving changed their relationship? "I don't think Ross ever imagined Demelza was going to leave, so when she had her bags packed that's when the severity of what he did hit home. Realising how he could lose her, Ross is now cautious and listens to her more this series. She tends to be right most of the time, far more often than he is."
Sounds like Ross is a changed man for series three… "Yes, he's growing up and isn't getting into the same sort of tussles that he was with George (Warleggan). His decisions are now more measured. Well, OK, sometimes! He still does things that are outrageous this series – but that's why we love him!"
With Elizabeth now pregnant, the question of paternity hangs over them as Ross wonders if her unborn baby belongs to him or his arch nemesis – and Elizabeth's husband – George. Will viewers learn who the daddy is? (Laughing) "I can't say anything!"
Ok! So, why do you think viewers love Ross? "He's flawed, but he's also courageous and always helping people, he's not a selfish person. He's not lazy and never rests on his laurels, either, which is what I like most about him."
Would you go for a drink with him? "Yeah, he's a good guy, a man of principle and has a good sense of humour. Plus he's a good drinker so it'd be a decent night!"
Poldark returns to BBC1 on Sunday, June 11.
Get the What to Watch Newsletter
The latest updates, reviews and unmissable series to watch and more!