Poldark's Harry Richardson: 'Drake is a trouble maker, but has a big heart' (VIDEO)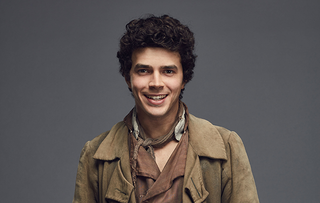 Newcomer to the Poldark cast, Harry Richardson spills the beans on what it is like working with Eleanor Tomlinson and what you can expect from Drake...
Harry Richardson has joined the cast of Poldark for its third series and plays the charming character of Drake Carne.
Who is Poldark's Drake Carne?
Drake Carne is Demelza's brother and shares many of her qualities. Drake is good natured, free-spirited and wants to find his own place in the world. However, he is not willing to put up with the limits that life throws at him. Harry said: "Drake is a bit of a trouble maker, he is a young lad... who has a lot of energy and a big heart and he follows that heart."
Although this brings Drake some happiness, Harry hints it also gets him into some danger. Harry's romance is mainly with fellow newcomer Mowenna Chynoweth, played by Ellise Chappell (opens in new tab). How will their romance fair throughout the series?
Harry's on-screen sibling Demelza is played by Eleanor Tomlinson (opens in new tab). He said the star was on hand to help him settle into his new role.
Harry said: "She was another sibling and we became a really tight trio."
Demelza also has another brother called Sam, played by Tom York, who is determined to follow in his father's footstep and spread the methodist word. Harry says his relationship with Tom is brilliant on and off-screen.
Harry said: "Their [Drake and Sam's] relationship is great, it is very older-younger brother, they bicker a lot and they clash heads a lot, but they really really care about each other. It has been amazing working with Tom on it because he is so much like an older brother to me now anyway."
Preparing for his new role involved more than just learning his lines and getting to know his fellow cast members. Harry actually had to do some hard graft and was sent on a blacksmith training course, which was as tough as it sounds.
He said: "It was a lot more than I could chew...I got in for 12 hours day of smashing metal with a hammer. I came a way with some nice trinkets, but it is really hard!"
He added: "Learning what you can do with metal was a really eye-opening experience.
According to Harry series three is 'going to be the best yet'. Have you tuned in?
Poldark is on Sundays at 9pm on BBC1
Interview by Sarah Selwood
Get the latest updates, reviews and unmissable series to watch and more!
Thank you for signing up to Whattowatch. You will receive a verification email shortly.
There was a problem. Please refresh the page and try again.