Happy 40th Quadrophenia! Phil Daniels on scooters, suits and the Sex Pistols…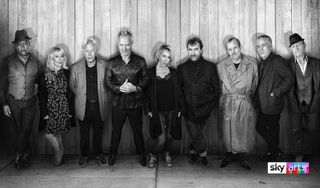 Phil Daniels and the cast of Quadrophenia mark the cult mods-and-rockers film's 40th anniversary
Forty years ago this month, first-time director Franc Roddam – who would go on to create TV shows Auf Wiedersehen, Pet and MasterChef – presented his eagerly anticipated 1960s-set film Quadrophenia, about an angry young mod, to the world.
To mark the anniversary, Sky Arts have reunited Franc and many of his original cast – including Phil Daniels, Toyah Wilcox and Leslie Ash – for a weekend's celebration of the classic movie that includes the documentary Quadrophenia: Our Generation.
To set the scene, we caught up with Phil Daniels, who played Jimmy in Quadrophenia, to talk scooters, suits and the Sex Pistols…
Was the film as much fun to make as it looks?
Phil Daniels: "The main thing was that we got to ride scooters with no crash helmets on. We tried to get the scene done quickly so we could get back on our scooters! Gangs on motorbikes and scooters coming round corners – it was like a dream come true!"
How much of the Beachy Head stunt [where Jimmy's scooter goes over the cliff] were you allowed to do?
PD: "I wasn't allowed to get too close to the edge. I did once and got told: 'If you go over the edge, we can recast tomorrow and no one would know any different.' So that put me in my place! If you look closely, the stunt man has a terrible wig on!"
MORE: Vote in the TV Times Awards!
How did you get the role?
PD: "I heard about the film on the telephone when I was in a mud hut in Africa with Bob Hoskins filming Zulu Dawn. I came back to audition and got a screen test and, all of a sudden, I was standing next to Pete Townsend with the biggest smile on my face and a shirt with 'Vespa' on it!"
Many of the young cast came from the Anna Scher Theatre drama school in north London. Did that help to make you feel like a real gang?
PD: "Anna was a great influence, especially on my career, and I've got a lot of time for her. She had her own way of doing things, but it made a lot of sense to me."
Pete Townshend had said that Sex Pistols' John Lydon was in the frame to play Jimmy at one point. Have you ever discussed that with him?
PD: "I already knew John from growing up in Islington. I think we half-spat at each other at some point!"
Did you keep any mementos?
PD: "I sold Jimmy's brown suit for the Teenage Cancer Trust for £10,000. And guess who bought it – Pete Townsend!"
Quadrophenia: Our Generation is on Sky Arts on Saturday 21st September at 9pm
Ian writes about TV and film for TV Times, What's on TV and TV & Satellite Week magazines. He co-hosts the weekly TV streaming podcast, Bingewatch.
Get the latest updates, reviews and unmissable series to watch and more!
Thank you for signing up to Whattowatch. You will receive a verification email shortly.
There was a problem. Please refresh the page and try again.