Ricky Tomlinson: 'My house is like Euston Station at Christmas''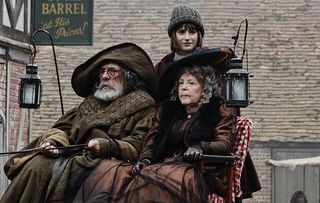 (Image credit: Laurie Sparham)
Ricky Tomlinson is a hapless wizard in new Sky 1 fantasy adventure The Last Dragonslayer which will be shown on Christmas Day...
Magical mayhem is is everywhere in Sky 1's fantasy drama The Last Dragonslayer that follows orphan girl Jennifer Strange (Ellise Chappell) who ends up battling a dragon! Ricky Tomlinson plays the quite useless wizard Moobin, whose best magical days are over, as Ricky told us when we caught up with him for a pre Christmas chat about this show, and his fond memories of the late Caroline Aherne...
So who do you play in The Last Dragonslayer? "I play like the romantic lead in all of this! Moobin is a wizard but he's a little bit past his sell by date and not everything goes to plan . One of his tasks is to rewire a house using the old fashioned magical method, with a fish, and the house ends up upside down, which is more or less me playing myself!"
What makes this drama so special for Christmas? "I was delighted to be asked to do this is because I'm an old man, I'm 77, and I love kids and I think this is perfect for kids. It's a wonderful kids story - it's got romance, excitement, dragons - got the lot. We should be encouraging our kids to watch this type of stuff. This is perfect for Christmas Day. I've never done a fantasy drama before so I'm made up. When you see the detail of what's gone into making the dragon, it's amazing."
Is there something special about being on telly on Christmas Day? "There is. It endears you to ordinary people. They look forward to it because Christmas is wonderful. My house is like Euston Station at Christmas there's so many people there. You're lucky to find a chair and my wife Rita's at the stove all day and she's cooking but it's all about the kids. We have my grandkids and the neighbours' kids there. My daughter Katie was born on Christmas Day. It was tremendous. But that's what Christmas is about – kids!"
Will you be getting everyone to watch The Last Dragonslayer in your house? "Absolutely. The special effects in The Last Dragonslayer are unbelievable and the kids will love it. I've got five grandchildren - two of them are grown up - but there are three little ones and they'll love it. I love them. They'll all be sitting there with the best seat in the house."
You and Pauline Collins, who plays Moobin's wife, are an amazing on-screen combination… "I've met Pauline before but I haven't worked with her. But she was great. Moobin is dopey and Pauline's character is so prim and proper and a bit bossy. We're both from Liverpool and we have loads in common. She looked great - the costumes are unbelievable. That bloody coat I had to wear, how I lifted it up, I'll never know! It was just layers and layers and then my hair was done too!"
Your hair is still so amazing, so lustrous… "I've got to get it off, Rita's given me an ultimatum. Get it off or go! I think it's great, she thinks I'm bloody ridiculous."
It must have been such a shock for you losing your Royle Family co-star Caroline Aherne this year… 'It's terrible. I didn't know and the phone went and this woman said have you got anything to say about Caroline's death and I didn't know. That's how I found out. Caroline never told us how ill she was, she just carried on. But she was great to work for. We did have a ball, it was like a family in the end."
Will you be thinking of Caroline this Christmas? "I probably will you know. She was absolutely tremendous. I know everyone says nice things about people when they die but she was gear. You finish work on a Friday and I used to drink in them days and she used to get me half a dozen cans of mild, a lager for all the technical lads, a couple of bottles of wine, a bottle of champagne for her and Sue Johnston and everyone got a lottery ticket, every week. She was absolutely gear and her mam used to come on the set - she always came at dinnertime when we were having our dinner. Caroline's mother is who Mrs Merton is based on, because she's just like Mrs Merton. I used to take the mickey and I'd say how is it you only ever come here when we're having our dinner? They both loved it! We did have some laughs."
Also this Christmas you'll be on BBC1, looking back into your family history on Who Do You Think You Are? Tell us more... "It's an awful story. What my ancestors had been through in the workhouse is dreadful. Living in these tenements in the workhouse, there was one toilet and one cold water standpipe between 24 families. Then two of my granddads got killed on the docks, they were carters. They opened one of them up and took his body parts, like body snatching. Unbelievable!"
Did you cry? "I did actually because I lost my temper. I thought how can you get upset about something that happened 150 years ago but you can. You get immersed in it. If you're not immersed in it then it's not going to work is it?"
The Last Dragonslayer premieres on Sky1 on Christmas Day at 5.45pm
Get the latest updates, reviews and unmissable series to watch and more!
Thank you for signing up to Whattowatch. You will receive a verification email shortly.
There was a problem. Please refresh the page and try again.