EastEnders' Roger Sloman: 'I took Christine's outfit away on holiday and wore it inside every day'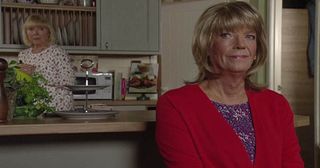 When Roger Sloman came into EastEnders in 2012 for a guest stint as Les Coker, the funeral director in charge of Pat Butcher's send-off, no one could have possibly predicted what was to come
When Roger Sloman came into EastEnders in 2012 for a guest stint as Les Coker, the funeral director in charge of Pat Butcher's send-off, no one could have possibly predicted what was to come for this seemingly ordinary character.
Taking time out from filming to chat with TV Times, Roger reveals that, even when Les was brought in as a permanent character in 2014 by then producer Dominic Treadwell-Collins he was given no indication of Les's journey ahead.
How did you feel when asked to play a cross-dresser? "There was a moment where I had to collect myself, yeah! But I went for it straight away. I like an acting challenge and that's what it was."
Through your research for the role, did you manage to meet a married couple in the same situation? "He wanted to meet us first as his feminine alter ego, then a bit later we met up with him as 'himself'. He was much more relaxed and outgoing as his alter ego; one almost got the impression that he was more comfortable like that.
"There is a lot of stuff online, and I saw an Australian couple on YouTube, where the husband would sit at the kitchen table in his female dress. I found that for a lot of heterosexual cross dressers, it is an escape; a way of becoming less stressed."
How was putting on Christine's clothes for the first time? "At my first fitting, the costume lady said 'Oh, that's interesting...' She explained that when a woman puts on a cardigan, she'll adjust it and fiddle with it, whereas I didn't, because that's not what fellas do. I started to realise that, on the whole, women have a different relationship with clothes. So then I took my outfit away on holiday and wore it every day, inside, and my wife Cheryl helped me."
How did you feel about the clothes? "I wanted to be sure that, when I wore it on screen, it didn't look like it was the first time I'd put it on. Luckily, I found some comfy heels, but it's all very complicated, with the bras and things.
"I think I understand women more now. I watched them talking to each other, and there is a lot more emotional contact than there is between men. I put that into Christine, and it means that when Les is her, he is able to relate to people in a closer way."
Did you always want to act? "When I was at school, I had a stutter, so I never put myself up for plays. Then finally, in the sixth form, I did – and I found that when I was on stage, my stutter disappeared. I'd got a place at teacher training college by then, and my parents were very keen that I took it, but I knew it wasn't what I wanted to do. So I went there for three years and when everyone got teaching jobs, I went off to drama school."
What affect will losing grandson Paul have on the Cokers? "It's devastating for him and Pam, because they've already suffered the death of their son, Laurie, so to lose their grandson as well is too much."
What do you think is next for Les/Christine? "It's interesting. I think the situation with Babe makes Les more likely to come out about it than Pam, as a solution. But if this got out in Albert Square, I think there are people who might come some way to accepting it and there'd be an awful lot who would be totally horrified and hang him out to dry…"
Get the latest updates, reviews and unmissable series to watch and more!
Thank you for signing up to Whattowatch. You will receive a verification email shortly.
There was a problem. Please refresh the page and try again.