Mrs Brown's Boys' Rory Cowan: 'Agnes has decided she's not celebrating Christmas this year!'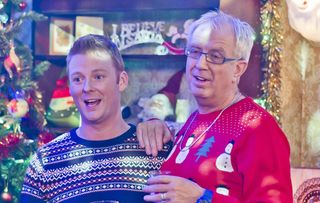 (Image credit: BBC/Alan Peebles)
Mrs Brown's Boys is as much a part of Christmas now as turkey and all the trimmings. But it seems foul-mouthed matriarch Agnes is feeling a bit bah-humbug in the first special on Christmas Day, as Rory Cowan (aka Rory Brown) reveals...
Mrs Brown's Boys' star Rory Cowan on why Agnes is not in the mood for Christmas this year and what he'll be doing for the festive season…
What's happening in the Mrs Brown household this Christmas? "Mrs Brown has decided she's not celebrating Christmas. She's had enough of Christmas trees, because they always attack her or explode, so she's decided she's not having one this year. All her family are distraught about this, though, so she goes from not having a tree to having a forest!"
Mrs Brown fears she'll get attacked again by her Christmas tree... so she's not having one!
And what is your character, Rory, and his partner Dino getting up to? "Rory and Dino buy decorations for Wash and Blow but they obviously buy the cheapest old tat you can get and it sets fire to the salon. So they end up cutting hair in Mrs Brown's living room."
Rory's not impressed when he has to cut hair in Mrs Brown's living room
Alongside the humour, Mrs Brown's Boys is often heart-warming, too. What can we expect this Christmas? "Mrs Brown always seems like she wants rid of granddad. But, when his health gets really bad at Christmas, you realise she absolutely adores him and couldn't imagine life without him - there's a tender moment between them that will really pull at people's heartstrings. That's the beauty of Mrs Brown – she'll have you in tears one minute then screaming with laughter the next!"
We often see you getting the giggles on Mrs Brown's Boys. Does that happen a lot in the Christmas episode? "Oh, I'm the world's worst! I'm not a trained actor, I was originally Brendan's publicist and I've been working with him for 25 years now, so I'm not trained in how to stifle a laugh. So when Mrs Brown goes off-script, which she does all the time, I start roaring with laughter. I was laughing so much filming the Christmas special that the director kept shouting: 'Rory, will you be more professional!'"
We love it when Rory gets the giggles while filming Mrs Brown's Boys
Do you see Mrs Brown's Boys as something of a Christmas institution now like Only Fools and Horses was for a long time? "Yes I do, because it's one of those shows, like Morecambe and Wise, that people look forward to. I've noticed on Twitter that fans are literally counting down the days until the Mrs Brown's Boys Christmas Special. They adore it and they're waiting for it."
Mrs Brown's Boys was named Best Sitcom of the 21st Century earlier this year. Why do you think the fans love it so much? "That was brilliant – I didn't even know it was being voted on until we'd won it. There are so many different aspects of Mrs Brown's Boys that people can identify with – everyone knows a loveable rogue like Buster, or a woman who can never get a boyfriend, like Cathy. I also think they like how Mrs Brown has a different relationship with all the characters, so it's like a real family – only much more animated!"
How will you be spending the festive season? "On Christmas night, myself and all the cast go over to Brendan's house to watch Mrs Brown's Boys. We have a few drinks and something to eat then settle down to watch it but, the minute the theme tune starts, we just end up talking about all the things we remember from filming – it's like Gogglebox!"
Rory loves being part of the Mrs Brown family
Do you exchange gifts with each other? "We used to but, these days, we tend to do something for charity. There's no point wasting money on each other because we all have what we want. If someone gave me an ornament or something I'd have to write their name underneath it, put it under the stairs then, every time they came round, I'd take it out and put it on the mantelpiece! I'd lie and say I loved it. Then as soon as they were gone I'd hide it away again."
What's the best Christmas present you've ever received? "I remember when I was about six or seven getting a pair of roller skates. I was on those skates every single day, I skated for miles and, after about six months, I wore them out and I was so upset I cried. They were the cheapest ones you could buy because my parents didn't have much money – but I loved those skates, I thought they were the best thing ever!"
Mrs Brown's Boys is on Christmas Day at 10.30pm on BBC1. A second special follows on New Year's Day at 10.30pm on BBC1.
Get the latest updates, reviews and unmissable series to watch and more!
Thank you for signing up to Whattowatch. You will receive a verification email shortly.
There was a problem. Please refresh the page and try again.