Sarah Parish reveals she would love to do more episodes of Mistresses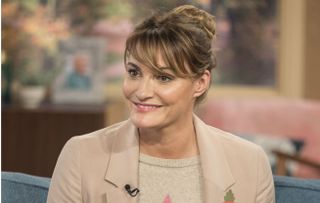 Mistresses star Sarah Parish has revealed she would love to do more episodes of the hit BBC drama, which first aired in 2008.
Mistresses star Sarah Parish has said she would love to do more episodes of the hit show and thinks it could follow in the wake of the return of Cold Feet.
Sarah, who will soon be seen in the third and final series of ITV crime drama Broadchurch, said members of the public still talk to her about her role as cheating wife Katie Roden in the BBC show, which first aired in 2008.
She said: "They love Mistresses! It was just fun and I think it just resonated with a lot of women – but also I used to go to the butchers on a Saturday, massive great big burly butchers, and they loved Mistresses!"
Sarah starred opposite Sharon Small, Shelley Conn and Orla Brady in the drama about four female friends and their complex relationships.
Asked if she would be keen for a reunion, Parish said: "I'd love to do it again. I'm going out with the girls actually, because we all still see each other. Oh God, it would be amazing.
"I think they could come back. Cold Feet has just come back so maybe it could be a three-parter."
Sarah will next appear on the small screen as the best friend of a rape victim in Broadchurch, despite never having seen the show.
The actress, 48, said she avoided the first two series of the hit show, which revolved around the death of a child, because of the distressing subject matter.
Speaking on the Dorset set of the show, she said: "I think I'm not very good at watching upsetting things and when it first came out I knew that it was quite full-on so I just didn't really watch. I get quite affected by what I've seen so I was quite happy not to have seen it."
The role will allow the Yeovil-born actress to use her natural accent for the first time in a role but Parish said she found it difficult to slip into because she has changed it for so long.
She said: "I've never got to use my accent so when I got an audition for this I had quite a problem finding it again because I haven't really spoken like that for a long time.
"I moved to London when I was 17 and went to drama school when I was 19, and I think by the time I'd gone to drama school I didn't speak like that.
"It was only a little burr, it's just a little bit different."
Broadchurch returns to ITV at 9pm on February 27.
Get the latest updates, reviews and unmissable series to watch and more!
Thank you for signing up to Whattowatch. You will receive a verification email shortly.
There was a problem. Please refresh the page and try again.