Silent Witness star Liz Carr says 'incredible fans' key to show's success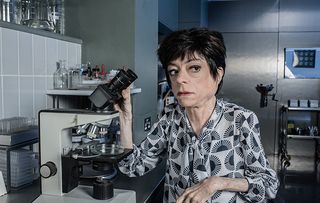 (Image credit: BBC/Sally Mais)
Liz Carr on the new series...
Silent Witness actress Liz Carr says the crime drama's amazing fans are why it's so successful ahead of its return for a 22nd series.
And Liz, who's played Forensic Lab Scientist Clarissa Mullery in Silent Witness since 2013, says many are "desperate" to watch the new run on BBC1.
"We have an incredible fan base," says Liz. "There are loads of people who I meet in-between series who are desperate for January to see the new series. We have a historical fan base who support the show, but obviously if the show were rubbish, we wouldn't get away with it and they'd stop watching.
"I think they stay with us because they are invested in the characters - we have great characters who are very different and keep evolving. We don't stay the same. It's a dynamic show in that sense."
But the job certainly isn't always glamorous. Liz recalls a particularly smelly moment during the new series when her character has to go through a load of smelly rubbish to find vital clues.
"I have to wade through a massive pile of rubbish to find some envelopes which might have an address on," she reveals. "I think it's those moments of the very glamorous lack of glamour in TV… There's no amount of TV magic that will make the smell of bags of rubbish or cigarette butts go away.
"They were real cigarette butts and there were hundreds and hundreds of them. You forget the scent of them, if you don't smoke."
Emilia Fox has revealed to us that Nikki will actually get something to smile about in the new series. Meanwhile, Liz says we'll see more of the close bond between Clarissa and Jack (played by David Caves).
"I think Clarissa is truly the only person that Jack opens up to about his past. This is Jack's series, I feel. I think we see an intimacy - a platonic intimacy - that we haven't seen before. I think that's great."
Silent Witness returns to BBC1 on 8th January at 9pm.
Get the latest updates, reviews and unmissable series to watch and more!
Thank you for signing up to Whattowatch. You will receive a verification email shortly.
There was a problem. Please refresh the page and try again.