Spy in the Snow: 'A polar bear destroyed our camera!'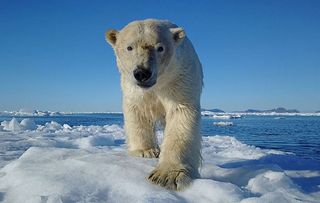 (Image credit: BBC/John Downer Productions/Matt)
The Spy Creatures are back! Producer Matt Gordon reveals behind-the-scenes secrets from BBC's enchanting new wildlife film, Spy in the Snow.
The weather outside is frightful but BBC1's new, wildlife documentary Spy In The Snow is delightful! The team behind last year's stunning film Snow Bears (opens in new tab) returns with a new, hour-long adventure, narrated by David Tennant, revealing how life in snow and ice is the ultimate endurance test.
Using cutting-edge technology and undercover spy cameras this fascinating film reveals new insights into the survival techniques of penguins, polar bears and even kea parrots and wombats!
"We're always trying to immerse viewers in animals' worlds and give a unique perspective into their lives in what looks to us like a magical Narnia-like, wonderland," says producer Matt Gordon (opens in new tab).
Here Matt reveals more about filming the wonderful wildlife on show in the snow…
Sea otters in Alaska
Matt: "The first place we take you is Alaska where we used spy otter cams to film sea otters. Otters normally try to avoid bringing their pups up in extreme blizzards with the sea freezing over, preferring the warmer Spring. But occasionally they give birth in Alaska's harsh Winter and this is what we managed to film.
"This is pretty much the first time sea otters have been filmed for this long in the winter.
"We also use a bald eagle drone spy that gets us a unique perspective on otters' lives. In one scene you see a male otter trying to kidnap a baby and hold it hostage so he can mate with the mum. Our cameras in the sky and the water make you feel right in the thick of it."
Polar bears in The Arctic
Matt: "While sea otters have amazing fur that allows them to survive - it's actually the densest fur in the world with a million hairs per square inch! – Polar bears have two fur coats to protect them in temperature that go down to -40.
"For the polar bears we use a snowball cam, a blizzard cam and others that look like inanimate objects, which the polar bears interact with. Because polar bears are fearless predators they really explore the cameras, testing them and turning them upside down.
"You will see at the end of the programme one of our snowball cams was destroyed when a polar bear stood on it!"
Emperor penguins in The Antarctic
Matt: "Thanks to our spy creatures we get up close and personal with the animals living in these extreme environments. It gives us unique insights into how they survive.
"You see our penguin cam deploy an egg cam, which is quite a funny moment. The emperor penguins not breeding still have a strong urge to raise an egg so there's a tussle for it. One finally gets the egg cam and puts it under its pouch to keep it warm - until it realises it's not a real egg and walks off! For the first time we get the unique perspective of what it must be like for a chick keeping warm under the feathers of an adult emperor penguin!"
Wallabies and wombats in Tasmania
Matt: "Marsupials like wallabies and wombats are not the type of animal you expect to see in the snow. We know about penguins huddling together to survive but in Tasmania wallabies survive by being opportunist with their browsing. Even if only a small amount of vegetation is exposed they can feed on it, but if snowfall gets too thick they have to escape to lower ground.
"Wombats can survive because they're more adapted to digging through the snow to get to hidden grass and other vegetation."
Keas in New Zealand
Matt: The kea parrots in New Zealand are beautiful, colourful, green parrots with red feathers underneath that you also don't expect to see in snow!
"They're not specifically adapted for survival in snowy environment, like otters with their fur. They have a completely different way of surviving – they use their intelligence. Keas are very social birds and love new things. So they've no fear of digging up snow and foraging for food. They even make snowballs!
"Our kea spy camera intrigues them and this allows us to get close and learn how their social behaviour and intelligence helps them survive Winter. Once they accept the camera, they just carry on with everyday life."
Spy in the Snow airs on BBC1, Sunday 30 December 2018 at 7pm
Get the What to Watch Newsletter
The latest updates, reviews and unmissable series to watch and more!
Writer for TV Times, What's On TV, TV & Satellite Week and What To Watch
With twenty years of experience as an entertainment journalist, Elaine writes for What's on TV, TV Times, TV & Satellite Week and (opens in new tab)www.whattowatch.com (opens in new tab) covering a variety of programs from gardening and wildlife to documentaries and drama.
As well as active involvement in the WTW family's social media accounts, she has been known to get chatty on the red carpet and wander into the odd podcast.
After a day of previewing TV, writing about TV and interviewing TV stars, Elaine likes nothing than to relax… by watching TV.