Strictly's Kellie Bright has bagged Matt Di Angelo as her EastEnders dance partner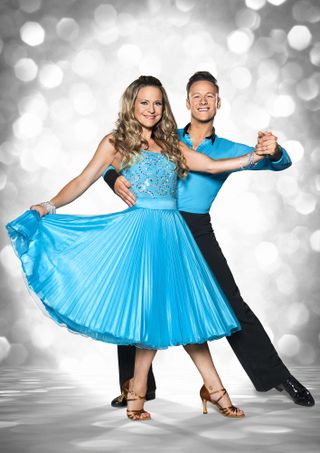 (Image credit: BBC/Ray Burmiston/Matt Burlem)
EastEnders star Kellie Bright talks to Soaplife as she begins her journey on Strictly Come Dancing...
EastEnders' Kellie (opens in new tab), who plays Linda Carter, is sparkling as brightly as the rhinestones on her exquisite turquoise dress. Linda's old man, Mick, played by Danny Dyer (opens in new tab), would most definitely approve, but Kellie says she won't be taking any practise twirls with Danny around The Vic between takes.
"Danny's useless on the dance floor," she laughs. "When I'm at work I'll do my practising with Matt di Angelo (opens in new tab) [who plays Dean], who was runner-up on Strictly 2007. Danny's protective of me, though, which is lovely. He's wondering how I'll be when I get criticism from the Strictly judges – which I inevitably will. But I feel OK about that. I think I'll be fine. I'll just be taking their advice and direction. If they're harsh, it's in order to make me better. That's the way I see it!"
Why are you doing Strictly Come Dancing?
"I've always wanted to do it. When I was a little girl, I loved dancing. Now I have the opportunity to dance again and also learn something new. I've never done any ballroom or Latin before or even danced with a partner. It was too good an opportunity to miss."
Have you any previous dance experience?
"I went to the Sylvia Young Theatre School so I danced there. When I was younger, dancing was my life. I loved it so much, but I started acting when I was nine and, as soon as that kicked off, the dancing took a back seat. I have a basic knowledge of dancing, which I'm sure will help me on Strictly, but it's been 23 years since I left that school, so I don't know what I'm capable of."
What will be your biggest challenge during Strictly?
"My biggest challenge is going to be all the other things going on in my life outside of Strictly Come Dancing. I have a family and I have a full-on job at EastEnders (opens in new tab). If Enders wasn't filmed just over the road from the Strictly studios in Elstree, there's no way I'd be able to do it. We're also having our house renovated, so I'll be micro-managing all of that! I don't think there's going to be much time to sleep because I want to give my all to everything."
Have you been given any advice ahead of the show?
"I talked to Emma Bunton (opens in new tab) about taking part in Strictly. She's a really good friend of mine and was in the Strictly class of 2006, when she came third. Emma said it was amazing and one of the best things she's ever done. There are lots of people at EastEnders who've also taken part and they all say how much they loved it. I've not heard one person say a bad thing about it."
Are you more nervous about the Ballroom or the Latin dances?
"Probably the Ballroom. I'm a bit scared of it because it seems quite technical and looks so elegant. That kind of thing doesn't come naturally to me."
Are you expecting Danny to be the audience?
"Oh yeah. But the problem with that is that he may stand up and go, 'Oi!' if he's not happy about something! My real-life husband will also be there, of course. To be honest, everyone wants to come. I've got friends and family fighting over tickets already!"
How do you feel about being partnered with "Kevin from Grimsby"?
"I genuinely couldn't be happier. He was at the top of my wish list. Everyone loves Kevin Clifton (opens in new tab), including my mum and dad. They were thrilled to learn I'd been partnered with him."
What's the one thing you're hoping to take away from the Strictly experience?
"I'm 40 next year and it's a fantastic challenge for me at this point in my life. My 'bendiness' will be a particular challenge because I'm not naturally a bendy person. I'm not bothered about losing weight but hopefully I'll come out of it fitter than I've ever been. I'm also hoping to be able to do the splits – something I've never been able to do, not even as a child. If I can manage that by the time I leave Strictly, I'll be a very happy lady. But more than anything, I just want to enjoy it and have a ball!"
Strictly Come Dancing (opens in new tab), BBC1
Get the latest updates, reviews and unmissable series to watch and more!
Thank you for signing up to Whattowatch. You will receive a verification email shortly.
There was a problem. Please refresh the page and try again.