The Duke of Burgundy | Film review – Kinky folie á deux is a sensual, strange and utterly compelling romance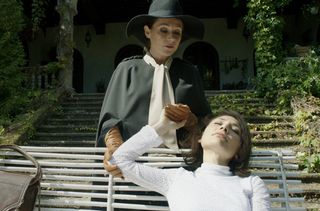 British director Peter Strickland's follow up to his haunting film rape-revenge thriller Katalin Varga and art-house giallo Berberian Sound Studio is his most offbeat film yet, a sensual, strange and utterly compelling romance.
Opening with shots of a demure young woman cycling through leafy woods to the dreamy strains of alt-pop duo Cat's Eyes, The Duke of Burgundy appears to be taking us into decidedly kinky territory after the cyclist wheels up to the front door of an ivy-clad mansion and begins work as a maid for a chatelaine who is soon demanding foot rubs as well as dusting.
Yet as the film unfolds, we discover that the relationship between these women – seemingly a haughty lepidopterist, Cynthia (Sidse Babett Knudsen, best known as the Danish prime minister in Borgen), and her submissive maid, Evelyn (Chiara D'Anna) - is altogether more bizarrely perverse, a sadomasochistic folie à deux playing out in a timeless corner of Eastern Europe exclusively populated by women, all of them apparently engaged in the obsessive study of butterflies and moths. (The film's title, incidentally, is the name of a rare British butterfly).
There are tonal echoes of the moody erotic cinema of 1970s Euro Sleaze auteurs Jess Franco and Jean Rollin and the twisted dream worlds of David Lynch, and playful touches all Strickland's own, including a credit for Perfumes by Je Suis Gizelle. But at the film's heart is a tender love story in which rituals of submission and dominance turn out to have much to say about the shifts and strains in any long-term relationship.
Certificate 18. Runtime 105 mins. Directors Peter Strickland. The Duke of Burgundy is released on DVD & Blu-ray by Artificial Eye.
Extras Director's Commentary Interview with Peter Strickland Stills Gallery Deleted Scenes Cat's Eyes Promo Short Film Conduct Phase Mole Cricket Trailer
http://www.youtube.com/watch?v=P-xIMBnclyA
Get the latest updates, reviews and unmissable series to watch and more!
Thank you for signing up to Whattowatch. You will receive a verification email shortly.
There was a problem. Please refresh the page and try again.