The Queen on screen: look who's played Her Majesty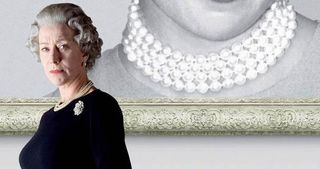 Photos of actress who have played the Queen on stage and screen
helen-mirren
The Queen - 2006
As Queen Elizabeth II celebrates her 90th birthday, we look back at those who have played her on screen, starting with Helen Mirren
The Queen - 2006
Helen won the best actress Oscar in 2007 for her peerless performance as the Queen in troubled times
The Queen
Barbara Flynn played her in Channel 4's docudrama The Queen in 2009
_MG_2406
As did ex Corrie actress Susan Jameson in the same Channel 4 programme
The Queen
Samantha Bond was also one of the five actresses who played our reigning monarch in The Queen
The Queen
Ditto Silent Witness star Emilia Fox
Netflix 'The Crown' on set filming, Cambridgeshire, Britain - 19 Aug 2015
Claire Foy plays a very young QEII in the upcoming Netflix epic The Crown
Playhouse-Walking The Dogs
Emma Thompson was the Queen in Sky Arts' 2012 TV play Walking The Dogs
'This Morning' TV Programme, London, Britain - 23 Jul 2015
Mary Reynolds is a lookalike who has appeared on shows like This Morning
QUEEN ELIZABETH II LOOKALIKE, JEANETTE CHARLES - 1994
But it's Jeanette Charles who has always been the go-to on-screen impersonator. She's appeared in everything from Austin Powers to Big Brother 10!
ITV ARCHIVE
Many have played her laughs, not least Stanley Baxter, pictured here in 2008
MARGARET
Rosemary Leach has played Queen Elizabeth II three times – in TV movie Margaret (2009), in drama Prince William (2002) and in Tea With Betty (2006)
Television Film ' Charles And Diana A Royal Love Story' Starring Ltor Margaret Tyzack As Queen Elizabeth David Robb As Prince Charles Caroline Bliss As Princess Diana Christopher Lee As Prince Phillip And Mona Washbourne As The Queen Mother. The Pa
Margaret Tyzack was the Queen in 1982's Charles & Diana: A Royal Love Story
'A QUESTION OF ATTRIBUTION' PLAY, THE NATIONAL THEATRE, LONDON, BRITAIN - 1988
Prunella Scales played her in 1992 drama A Question of Attribution. Her she is in the stage version
ITV Archive
Doctors' Elizabeth Dermot Walsh starred as the young Queen in 2002's Bertie and Elizabeth
The King's Speech - 2010
Freya Wilson (right) was Princess Elizabeth in 2010 Oscar winning film The King's Speech
A Royal Night Out - 2015
Sarah Gadon was the teenage princess in 2015 film A Royal Night Out
'The Audience' Broadway Opening Night Party, New York, America - 08 Mar 2015
And Helen Mirren reprised her character in 2015 stage play The Audience (penned by The Queen scriptwriter Peter Morgan)!
Get the What to Watch Newsletter
The latest updates, reviews and unmissable series to watch and more!
I've worked in the UK media industry for over 18 years as a multimedia producer. I have covered all the major TV events, filming interviews and awards.