The Voice UK's Boy George: 'I've chosen all the nice people!'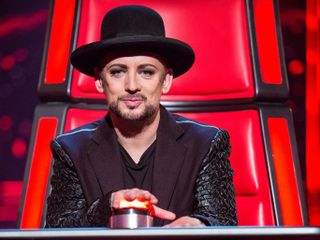 Now that The Voice UK (opens in new tab) has reached the Battles stage, TV Times (opens in new tab) caught up with coach Boy George (opens in new tab) to find out how he's been preparing his team…
Has it been fun getting ready for the Battles?
"I've really enjoyed it, it has been a pleasure to give them advice and interesting to see whether they listen to it. We're taking them out of their comfort zone but everyone adapted. The next stage is the Knockouts and they're hardcore so I have to give everyone an opportunity to shine, otherwise I'd let them down."
What do you make of the team you have got?
"They're adorable. I've chosen all the nice people! Some are quite scared about the people they've been paired with, but it's unavoidable because they're all good singers. They're all individual too; they bring different things to the table."
How will you feel about saying goodbye to some of them?
"Very emotional, but I might work with some of them again if they don't make it through. I just have to base my decision on that one performance, it doesn't matter who's got the biggest voice or more power. The Battles can turn into a screamathon and that's not how you should sing, so I've told them to just engage with and complement each other. I'm not looking for perfection; I'm just looking for passion."
Are there any current stars you'd like to collaborate with yourself?
"I'm always up for working with people. Ed Sheeran has a voice that sits well everywhere, it's smooth. But I don't care whether someone's famous or not, just whether our voices work together. Would I just sing with someone because it might get me in the charts? No."
Things got quite tense between the coaches at the blinds; will it be calmer now?
"It was like first time you go on holiday with your mates and you're testing each other out and wondering what you can get away with. So I thought, 'Can I say this to Paloma Faith? Will she go mad?' You suss each other out and now I know what they can take from me."
Has The Voice been a chance for you to show everyone the real George?
"Yeah because people might have been confused in the past and thought that I just get into trouble! This has raised my profile because there are some kids who don't know who I am or they say, 'Aren't you really old?!' Doing this is all about attention!"
Will you go with The Voice when it moves to ITV?
"I didn't take this gig thinking I'd do it for 10 years, I took it for one season but I'm delighted to be on it. Once The Voice goes to ITV though, I think they should bring back Top of the Pops instead, I'd love to host it and I could swap each week with Paloma, will.i.am and Ricky Wilson. I loved it in the 70s; it was so bonkers because you'd have people like The Sex Pistols on with The Goombay Dance Band and Michael Jackson!"
The Voice UK continues on Saturday 5 March at 7.00pm
Caren has been a journalist specializing in TV for almost two decades and is a Senior Features Writer for TV Times, TV & Satellite Week and What's On TV magazines and she also writes for What to Watch.
Over the years, she has spent many a day in a muddy field or an on-set catering bus chatting to numerous stars on location including the likes of Olivia Colman, David Tennant, Suranne Jones, Jamie Dornan, Dame Judi Dench and Sir Derek Jacobi as well as Hollywood actors such as Glenn Close and Kiefer Sutherland.
Caren will happily sit down and watch any kind of telly (well, maybe not sci-fi!), but she particularly loves period dramas like Call the Midwife, Downton Abbey and The Crown and she's also a big fan of juicy crime thrillers from Line of Duty to Poirot.
In her spare time, Caren enjoys going to the cinema and theatre or curling up with a good book.
Get the latest updates, reviews and unmissable series to watch and more!
Thank you for signing up to Whattowatch. You will receive a verification email shortly.
There was a problem. Please refresh the page and try again.