TOWIE rejects! Do you remember these Essex faces from the reality show?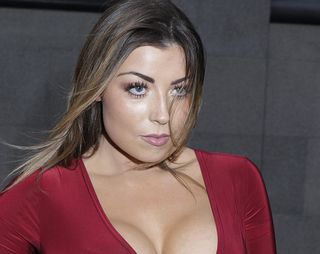 (Image credit: Blitz Pictures/REX/Shutterstock)
Anyone remember these TOWIE peeps, from series gone by, who barely lasted five minutes on the show?
We're part way through series 18 of TOWIE. With Arg and Lyd now the only remaining members of the cast who've been on the show since the first ever series in 2010, here's 12 others, such as Abi Clarke (pictured above), who didn't hang about for long…
Candy Jacobs and Michael Wood. Appeared in series 1. Left in series 1! Worked together behind the bar of the notorious Sugar Hut.
Peri Sinclair came on to the show in series 3, via a huge street row with Mario Falcone, who she claimed took her out on a date while he was with Lucy Mecklenburgh.
Dino and Georgio Georgiades, also series 3. Best known on the show for being identical twins. And for being buff. And short.
Georgina Dorsett arrived in series 4, joining as Lauren Pope's supposed friend. Joey Essex fancied her but she claimed not to fancy any of the TOWIE guys. That said, Georgina may have ended up kissing Joey.
Danni Park-Dempsey was introduced in series 5 as good friend of Lydia's, who was also really close to her TOWIE mum Debbie.
Danny Walia of series 7. The only interesting thing about Danny, in TOWIE terms, was his sister Jasmin who created enough drama for the pair of them.
Abigail Clarke joined in series 8. Lockie famously took her on a date to a… driving range. Abi was involved in an unlikely-love-triangle-thing with Tom Pearce and Diags, who came out on top in Abi's affections.
Grace Andrews caught the eye of Lewis Bloor in series 11. He went in for the kill and, after bombarding her, she gave in, only for Lewis to totally "mug her off"!
Frank Major also of series 11 "fame". He caused loads of agg when he started dating Ferne McCann when she split with Charlie Sims… or were she and Charlie "on a break" when she hooked up with Frank?
Verity Chapman, series 15, was branded a "dirty cheesburger" by Danni Armstrong. The slur was part of a huge row over whether Lockie tried it on with Verity after he and Danni split.
Nicole Bass. Came on board, in series 16, as ex of Lewis Bloor, who wanted her back. Problems came when Mike Hassini showed an interest in her. A tug of war over Nicole began. And it didn't end well.
Get the latest updates, reviews and unmissable series to watch and more!
Thank you for signing up to Whattowatch. You will receive a verification email shortly.
There was a problem. Please refresh the page and try again.