Turbo Kid (2015) | Blu-ray release – It's BMX Bandits meets Mad Max and The Goonies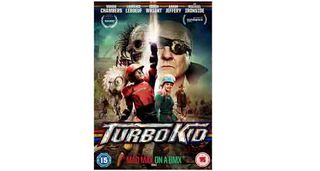 The BMX Bandits meet Mad Max in this hugely entertaining and ultra-violent love letter to the VHS era. Set in a vision of the future, Turbo Kid will be instantly recognisable to anyone who spent a wasted youth in the video store – it's a retro-adventure for the ages!
In a post-apocalyptic future, The Kid (Munro Chambers) lives alone in his underground bunker, scavenging for relics from the old world and obsessing over comic books. But when he meets a girl named Apple (Laurence Leboeuf), it's not long before The Kid has to face his fears and challenge the sadistic Zeus (Michael Ironside), who has declared himself leader of the "Wasteland" and taken control of water supply. Armed with his ancient turbocharged weapon, he embarks on an incredible journey to rid the Wasteland of evil – and discovers the true meaning of justice and friendship.
Turbo Kid is a celebration of all things that were awesome about the age of movies on VHS. It's packed with nods to 1980s pop culture (even down to Atari-style credits and its synth-tastic score) and riffs on the kids' adventure movies such BMX Bandits, The Monster Squad and The Goonies. So jump on your dirt bike, turn your Walkman up to 11, and get turbocharged!
Turbo Kid is out on download from 28 September and on Blu-ray and DVD from Monday 5 October from Lionsgate.
The special features include:
• Bloody Wasteland: The Making of Turbo Kid (25 mins)
• T is for Turbo: (5min) Blu-ray only
http://www.youtube.com/watch?v=PsY4_ZdPg5U
Get the latest updates, reviews and unmissable series to watch and more!
Thank you for signing up to Whattowatch. You will receive a verification email shortly.
There was a problem. Please refresh the page and try again.