Warwick: Idiot Abroad 'harder' to make than films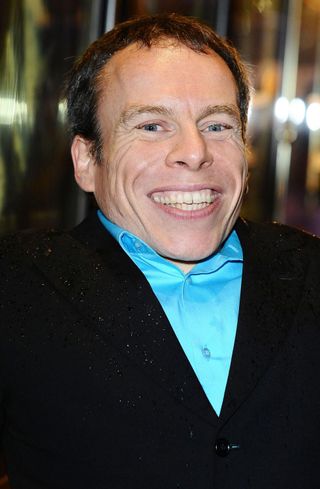 Warwick Davis says there were a few 'rough nights' during the making of An Idiot Abroad.
The star of Willow and Harry Potter, who appeared in the third series of the travel documentary show with Ricky Gervais and Karl Pilkington, even admitted that he prefers making movies.
"It's challenging, extremely hard work. It's harder to make that sort of show than it is to make a film," he revealed.
"It's gruelling, because when the cameras stop you're still there. There's no kind of: 'OK guys, thanks a lot,' and then off to a five star hotel. You're left where you are, and if you sleep rough in a gypsy caravan, you sleep rough in a gypsy caravan for the cameras. That's what happens. So yeah, we had a few rough nights."
Nonetheless, Warwick admitted he is 'proud' of the show.
"I was so proud of the series. It makes me laugh to watch it. It's one of the favourite things that I've done. One of the things I'll quite happily sit there and watch. It's funny, and I like watching Karl," he said.
The 43-year-old actor also revealed that he would like to do more comedy after starring in Life's Too Short with Gervais.
"It's been an ambition for years and I never really got to do any. When you do something like Life's Too Short, then beyond that all of the offerings I get are comedy. I just enjoy it," he said.
"Doing films like Harry Potter and Willow allows you to make a certain connection with an audience, but comedy gives you an even deeper connection with people. It's very rewarding to do stuff that makes people laugh."
Get the latest updates, reviews and unmissable series to watch and more!
Thank you for signing up to Whattowatch. You will receive a verification email shortly.
There was a problem. Please refresh the page and try again.