Watch US TV terror hit Fear the Walking Dead premiere on Freeview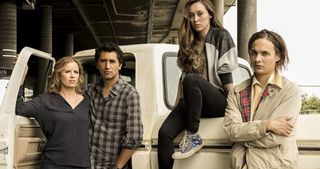 (Image credit: Frank Ockenfels 3/AMC)
The hotly anticipated six-part prequel to The Walking Dead, Fear the Walking Dead, has been an instant hit in America and British viewers can watch the premiere episode of the BT TV series for free.
Fear the Walking Dead premiered in the US on Sunday night with 10.1million viewers, making it the most watched American cable TV launch ever.
So what's all the fuss about? Set in Los Angeles, as the end of civilisation approaches, one family fights for survival against the odds. With a mysterious 'flu bug' already making its mark on the population and turning people into flesh-eating monsters, can school counsellor Madison, her partner Travis and their three teenage kids survive the impending collapse of the world as the zombie infestation approaches and not get munched on?
Fear the Walking Dead's opening episode screens on BT TV's AMC channel (channel 332 for BT TV and 381 for BT TV HD) at 9pm this Monday, August 31, but the first episode will also be shown on BT Sport Showcase on Freeview channel 59 at 9pm (can't find BT Sport Showcase on Freeview? You need to rescan your TV or Freeview box to access this new channel and if you haven't done this recently you may discover other new channels as well).
Tune in to live your worst nightmare!
Get the latest updates, reviews and unmissable series to watch and more!
Thank you for signing up to Whattowatch. You will receive a verification email shortly.
There was a problem. Please refresh the page and try again.