Who is Georgia's true love in Ginny & Georgia? Fans debate
There are three good men in Georgia's life, but who is her actual soulmate?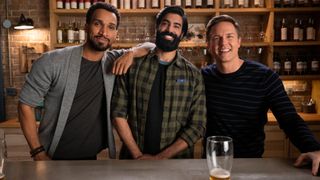 (Image credit: Amanda Matlovich/Netflix)
After two captivating seasons under its belt, Ginny & Georgia fans find themselves in a debate when it comes to Georgia's (Brianne Howey) love life. While viewers can largely agree that the mother of two has quite the knack for getting men to fall head over heels for her, these viewers can't seem to come to a consensus as to which of the three men currently in her orbit is her one true love — her soulmate.
The latest 10 episodes made a good case for why either one of the three is really who she's meant to be with, which of course made supporters of each respective man only get further entrenched in backing their candidate. Now let's take a look at the guys vying for Georgia's heart and the arguments supporting their cause.
First we have the person she actually has married, Mayor Paul Randolph (Scott Porter). In Ginny & Georgia season 1, it appeared as if Georgia was largely interested in Paul because he had good standing in town and could provide for her and her kids. However, as the two started heading toward the altar in season 2, they built quite the romantic relationship that came off as genuine. Georgia even told Paul most (not all) of her dirty secrets, which for her is more powerful than saying "I love you."
If that wasn't enough proof that she has fallen for the mayor, you can look to the fact that she was willing to be selfless and let him go just to save his reputation and future political career. By the way, the love was clearly reciprocal because Paul stayed with Georgia and married her even after being exposed to her baggage.
Next up as a contender is Zion (Nathan Mitchell). Let's start with the obvious. The two share a child together, aka Ginny (Antonia Gentry). The former couple will forever be bonded to one another. They were also each other's first love and the chemistry between the two is clear to everyone. Even with both of them moving on with other people, their significant others couldn't help but question if Georgia and Zion are really over. (For Paul, that was a great question to ask considering Georgia cheated on him with Zion when they were dating.)
Additionally, the two profess to be co-parents, but it's clear that Zion is more than that. He knows some of Georgia's childhood secrets, she still confides in him about things that have nothing to do with parenting and let's not forget he continues to call her by the affectionate nickname Peach. Although the two have tried time and time again to make a relationship work between them, each attempt only ends in heartbreak. However, we can't say the two are completely over with certainty.
Last but not least is Joe (Raymond Ablack). Of the three men, he is the only that has technically not been romantically involved with Georgia. However, he has been pining after her since the two met when they were just teenagers and he gave her half his sandwich and sunglasses. That chance encounter years ago not only impacted him, but during their conversation back then he shared he was from a small town called Wellsbury, which she always remembered. In fact, you could say she moved her family to Wellsbury because of Joe.
Then looking at the show's writing, it just seems the writers have been setting viewers up to root for #Jeorgia (even their hashtag name is effortless). No matter what she does and how selfish her actions may be, Joe always shows up for her with no judgment, which is a point Georgia highlights. Even when she married another man in the season 2 finale, Joe gifted Georgia a horse named Milkshake and a carriage because that's something she dreamed of having. Talk about a class act.
Fans weigh in on who Georgia's true love is in Ginny & Georgia
With just a few of the arguments laid before you, take a look at where some Twitter users stand on Georgia's love life. Hint, Joe is the runaway favorite.
Ginny & Georgia seasons 1 and 2 are now streaming on Netflix.
Get the latest updates, reviews and unmissable series to watch and more!
Terrell Smith has a diverse writing background having penned material for a wide array of clients including the federal government and Bravo television personalities. When he's not writing as Terrell, he's writing under his pseudonym Tavion Scott, creating scripts for his audio drama podcasts. Terrell is a huge fan of great storytelling when it comes to television and film. Some of his favorite shows include The Crown, WandaVision, Abbot Elementary and Godfather of Harlem. And a fun fact is he's completely dialed into the TLC 90 Day Fiancé universe.
Thank you for signing up to Whattowatch. You will receive a verification email shortly.
There was a problem. Please refresh the page and try again.