Who won The Best Exotic Marigold Hotel competition?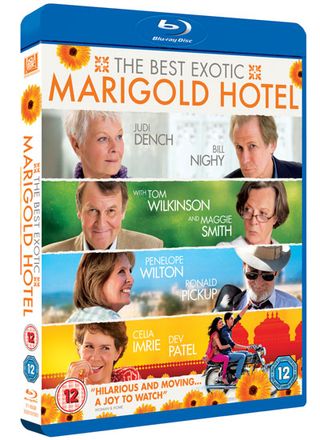 Massive thanks to everyone who entered this competition.
The answer to our question "John Madden also directed Tom Wilkinson in 2010. What was the name of the drama thriller about three secret agents?" was of course The Debt.
What with recession turning into depression and summer being a total wash-out, we need all the laughs we can get. And your tie-breaker hotels-from-hell stories had us thoroughly entertained.
Ryan Davis shared his experience of the slippery salty shower water in Ibiza: "Staying in Ibiza about 4 years ago, got in the shower, 10 minutes in, i slip fall out of the shower, onto my back. laying naked on the floor, the door opens, and a blooming maid walks in, and instead of leaving as i lay there naked she comes to try and held me up. wth. haha"
...while Anthony Harrington 'vegged out' in Spain: "Worst ever was a large hotel in Spain back in the '70's, after a week of trying to explain that I was a vegetarian (I had in fairness been telling them that I was a veterinary Surgeon instead of vegetarian) eventually on week 2 they realized what I meant and for the rest of the holiday was presented with a large whole lettuce every night at dinner time! the place was a dump too!
...and Laura Ward-Jones Barrett dodged death in treacherous Turkey: "Another Turkey all inclusive horror story!! Arrived in the middle of the night and given a terrible room under the level of the pool. Within 24 hours, I had slipped by the pool and done my back in, my husband had slipped on the leaking shower and smashed his face on the sink (black eye for the rest of the holiday - including on our friend's wedding photos!). The all inclusive food,what there was of it, was terrible and all cold and the dining room inhabited by wasps. Awful, awful, awful!!"
But here are the three winners, who will be contacted via email:
Maria Diane Smith "We went to Greece Missongi (may have spelled wrong) and it was late at night finally got my two (young then) children into bed they complained the beds were damp i told them it was probably just because they was hot and sticky so had a not very good nights sleep but when we awoke in the morning I put my feet down and .. the floor was covered in water and paper (loo paper) and excrement! we all stepped out over chest of drawers and chairs to reception to be told it was the other guests fault the should not put paper down the toilet!!! we did get moved"
Adele Diane Hill "I must be lucky because I have not had a bad hotel experience but my husband stayed in a hotel where he went to the loo sat down and when he looked down there was a hole in the floor about foot wide and he could be seen in the bar below."
Minnie Mark Whittaker "went to a hotel in Blackpool, it was explained to us when we checked in that there were a number of swingers in the hotel and that the owners hoped we didnt mind. What she didnt say was that it WAS a swingers hotel and that there were no locks on the doors!!! We spent two hours with the door being opened in the night before we wedged the chest against it, even then we heard it being tried. The landlady did apologise , said they did take 'vanilla' bookings during the off season and it was unusual that there were swingers in THAT weekend. She gave us a refund, even found us another hotel. She was really nice, just wish we had been warned."
For more weird and wonderful holiday tales, head to The Best Exotic Marigold Hotel post on our Facebook page (opens in new tab).
Get the latest updates, reviews and unmissable series to watch and more!
Thank you for signing up to Whattowatch. You will receive a verification email shortly.
There was a problem. Please refresh the page and try again.