X Factor shock as Simon sends Caitlyn Vanbeck home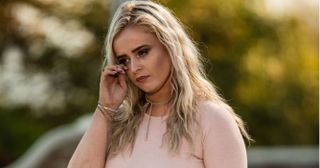 Viewers were left stunned last night when Simon Cowell sent bookies' favourite Caitlyn Vanbeck home from the competition.
X Factor fans were left stunned last night when bookies' favourite Caitlyn Vanbeck was sent home from the Judges' Houses stage of the competition.
The 18-year-old, from Scotland, was given a 'no' by mentor Simon Cowell after he axed her from the Girls category.
Prior to her audition in front of former Spice Girls Mel B and Emma Bunton, Caitlyn said: "Never did I think I'd be sitting in Malibu at Simon Cowell's house. Now I'm here I'm like 'What's going on?' My dream is to be a singer and that is why I am here today. I have tried to constantly impress the judges and constantly impress Simon.
"When I found out Simon was my mentor I was really happy as I knew he already understood me. My singing at the minute is me sitting at home in my bedroom singing to my walls and my dogs, if they'll listen. To be here in front of Simon Cowell at Judges' Houses is unreal. Just one song stands between me and the live shows".
Caitlyn opted to sing 'Praying For Time' by George Michael in the hope of winning a place in the live shows, but the hopeful was left devastated when she forgot her lyrics.
Simon Cowell however encouraged her: "The last 15 seconds, that part of your voice is the sweet spot."
A teary Caitlyn was also reassured by Emma, who said: "Don't worry about the words, you were so in it."
An emotional Caitlyn replied: "I just really don't want to go home. I've wanted this so much and it means so much to me."
When it came to the decision, Simon told Caitlyn: "From your first audition I thought you were one of the better ones and you have a great voice. I think you're close, I think your voice is extraordinary and I think for right now, it is a no. I'm really sorry."
He added: "I don't want you to come away thinking you did bad because you didn't do bad. You didn't."
As an upset Caitlyn retreated for a Dermot hug, Simon sighed: "That did not feel good."
Simon chose Emily Middlemas, Gifty Louise and Samantha Lavery as his final three girls.
The X Factor continues tonight at 7pm with the results of the Over 25s and Boys judges' houses.