Yes Chef host Sheree Murphy: 'The chefs are a bit overwhelmed by how good the home cooks are!'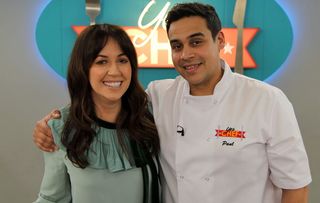 (Image credit: BBC / ITV Studios)
Yes Chef host Sheree Murphy talks about the new series of the cooking contest in which professional chefs are paired with amateurs
A brand new series of Yes Chef is set to launch on May 29 on BBC1 and Sheree Murphy will be host once again.
Sheree has been a long-standing addition to daytime television with regular appearances on Loose Women. But she is best known for her soap roles, having starred in: Emmerdale as Patricia Strokes/Dingle; Hollyoaks as Eva Strong; and most recently as Dakota Davies in Neighbours from 2010-11 and then again in 2014.
Yes Chef, the show that puts home cooks and professional chefs to the test, is back for its second series. Each week three home cooks will battle it out to become a Yes Chef champion. The final battle takes place on each Friday and the teams are judged by none other than triple Michelin-starred chef Pierre Koffmann.
In an exclusive chat with What's On TV, Sheree reveals how Yes Chef differs to other cooking programmes... "Home cooks get so much out of the programme. They get to work alongside an award-winning chef. A lot of them are in awe of the chefs, but that is good because the chefs are often a bit overwhelmed by how good the home cooks are... It is all good fun, but the pressure is really on. The chefs are so much fun... On some shows the chefs can be quite intimidating. When I was on MasterChef even Greg and John were really intimidating! I get it because it adds to the tension of the show, but Yes Chef is not like that at all.
"The chefs are not there to be intimidating or mean, they are there to help the home cooks get the most out of the experience... The chefs are actually quite naughty and all have a glint in their eye. This makes it easier and nicer to watch I think... Yes Chef is a competition and we do take it seriously, but it is not one of those intimidating shows, definitely not."
Does everything always go to plan on the show? "There is always disasters, people cutting their hand or food not quite making the plate, but it is all good fun, all really good fun."
And this series you get to taste more of the food, that must be a perk! "Yes it is really nice, but I am no expert. I know what I like, you know? Even the chefs said I should give my opinion... I like to give a bit of encouragement to contestants when things don't quite go to plan. Some chefs like their meat very rare, but I am probably the voice at home watching and thinking actually 'I could not eat that'. So, yeah, I think they wanted a bit of input from everyone."
Any favourites from what you got to sample? "Theo Randall obviously specialises in Italian food and I love Italian food so it was a joy to have him on. For some of the challenges... things like liver – I am not a fan of liver and I had to eat so many dishes with liver, which wasn't great! But it was amazing to see how some of the contestants served liver – not just your liver and bacon style dish. Some did a pan-Asian style, which was nice, but I wouldn't normally choose to eat things like that. But I will try everything..."
Recalling her time on I'm A Celebrity Get Me Out Of Here back in 2005, she added: "If I can eat a crocodile's eye I can probably eat most things."
With all the chaos on the show we see you helping out a little more... "I cook everything at home and I am always helping the kids do stuff, I am a bit hands on in that way. So to stand around and just watch them sometimes you feel like a spare part, in the last series especially. I am happy to help with the occasional stir or help set up some equipment... I find it quite hard not to step in and say turn that down or that is burning or make sure you check this. I don't want them to have a terrible time and it to be stressful. It is stressful enough as it is...
"I couldn't help but help and if I could have I would have done more... but it is a competition!"
What is your signature dish when cooking at home? "I have become more adventurous since doing MasterChef and I am so much more confident in the kitchen... Watching the tasks on Yes Chef I have kind of incorporated it at home in my everyday cooking... My kids love my home-made lasagne, that is an absolute favourite. A new favourite is a pan-Asian style salmon with noodles... I do a nice chicken curry which the kids love. My kind of dishes I do Monday to Friday and switch up the menu every week! But I love making a roast dinner, they are probably my favourite thing to cook. Cooking up a storm!"
We love seeing you on Yes Chef but you are best known for your soap roles. Would you ever go back?
"I would love to do another soap, I love being in a soap and the whole atmosphere... I don't know if another soap would take me! The kids would love it, we all watch soaps in our house and it would be nice to do a soap they could watch. I love doing Yes Chef, but I wouldn't say no to another soap. I would be beyond lucky if I did another one."
Yes Chef returns to BBC1 daytime on Monday, May 29
Interview by Victoria Wilson
Get the latest updates, reviews and unmissable series to watch and more!
Thank you for signing up to Whattowatch. You will receive a verification email shortly.
There was a problem. Please refresh the page and try again.