EastEnders spoilers: Stacey Slater faces arrest!
Airs at 7:30 pm on Monday 13 March 2023 on BBC One.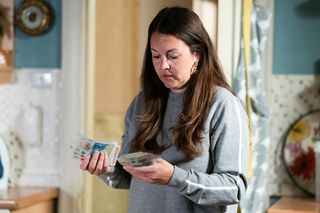 (Image credit: BBC)
Stacey Slater risks another prison stay after trying to put things right in Monday's episode of EastEnders (7:30 pm. see our TV Guide for full listings).
Stacey Slater tries to calm panic in the Slater household when the fridge breaks down. The family are terrified that they're too strapped for cash to get a new one but Stacey is surprisingly calm.
When Stacey's mum Jean Slater discovers that she's got a load of spare money to splash, she wants to know where it's come from.
Considering Stacey's been completely skint for some time, Jean correctly guesses that Stacey must have stolen the money from the office cleaning job they were on.
Although Stacey lies to Jean that the money is legit, the conversation with her mum leaves her rattled.
After her pregnant daughter Lily Slater gets into a fight at school, it's a wake-up call to remind her of her responsibilities.
She's already been in prison twice before, most recently after Stacey was accused of assaulting former friend Ruby Allen.
Knowing that if she's caught for stealing, she's almost certain to go down again, she decides she needs to return the money.
Confessing the truth to Jean, she asks for her help in distracting the office security guard so she can replace it in the tin.
When things don't go quite to plan, Stacey is horrified as police officer Callum Highway comes round and tells her he needs her to come to the police station...
Is Stacey going back to jail?
Denise Fox is in a state over Ravi Gulati's blackmail. The ex-convict is being investigated by the police and he's determined to get Denise to help him out.
Ever since she rejected him following their steamy flirtation, he's been pushing her to find out what her copper husband Jack Branning has on him.
A worried Denise goes to open up Jack's laptop to try and find out what he knows but she's interrupted when she gets a call from her stepdaughter Amy Branning's school after she gets in a fight.
Realising that the only way she get her power back is by calling Ravi's bluff, she confronts him and tells him to do his worst, as she's not going to betray her husband.
Left shaken after her encounter with Ravi, the weight of her betrayal gets to her. She breaks down in front of her sister Kim Fox, telling her that she's been letting Jack and her family down.
Lola Pearce Brown has been working on a brain tumour awareness fundraiser but she's not feeling her best.
When she zones out a couple of times while husband Jay Brown and daughter Lexi Pearce are trying to talk to her, they are both left worried.
Jay and Lexi encourages Lola to get checked out at hospital but she stubbornly refuses. When she zones out yet again, Jay insists on taking her to the hospital and is relieved when she agrees.
Lola isn't Jay's only worry, as he can see that Lexi is really struggling to cope with the strain of her mum's illness.
He encourages Lola to book Lexi in with a counsellor but she snaps back that she can help her own daughter, leaving Jay despairing.
Also, Freddie Slater is worried about how much the Slater family are struggling and he comes up with a money-making scheme.
EastEnders continues on BBC One on Tuesday at 7:30 pm.
Get the What to Watch Newsletter
The latest updates, reviews and unmissable series to watch and more!