You're fired! It's President Trump versus Arnold Schwarzenegger!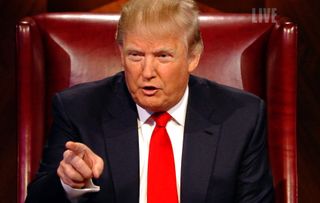 President Trump takes a break from running the world to criticize Celebrity Apprentice presenter Arnold Schwarzenegger.
In the UK we have no-nonsense Sir Alan Sugar as boss of the boardroom in The Apprentice.
But in the USA, they do things bigger and bolder. So it is movie star Arnold Schwarzenegger who calls the shots on the US version, The New Celebrity Apprentice with some help from judges Tyra Banks and Arnold's nephew, Patrick Schwarzenegger.
Well, that was until Arnie unexpectedly quit the series after just one season in the boardroom hot-seat, much to the delight of...President Donald Trump!
The President, who presented The Apprentice himself for 14 seasons before unexpectedly becoming President Of The United States, reckons Arnold was given the boot from the series and blamed The Terminator star for the falling viewing figures!
In February, Trump publicly said: "When I ran for president I knew I had to leave the show. And they hired a big, big movie star Arnold Schwarzenegger to take my place, and we know how that turned out. Ratings went right down the tubes, it's been a total disaster!"
Arnold promptly fired back on Twitter: "Hey Donald, I have an idea. Why don't we switch jobs? Since you're such an expert in ratings, then people can finally sleep comfortably again."
The pair have since continued their Twitter feud. But Trump is obviously keen for the show to carry-on, as he still gets an Executive Producer credit since he helped launch the show in 2004 and reportedly still gets paid even though he no longer presents it!
Oh well, we're sure Arnold will be back on the big screen soon blowing stuff up! And as much as we love a celebrity Twitter feud, we can't help but worry that President Trump has bigger issues to worry about than whether anyone is watching The Apprentice!
Get the latest updates, reviews and unmissable series to watch and more!
Thank you for signing up to Whattowatch. You will receive a verification email shortly.
There was a problem. Please refresh the page and try again.