24/7 Pet Hospital: start date and all you need to know about the vet documentary
Cameras follow the staff and patients at a specialist veterinary unit in 24/7 Pet Hospital.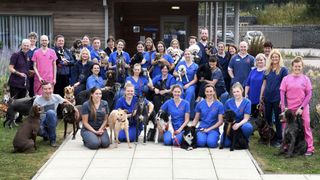 (Image credit: BBC)
24/7 Pet Hospital takes an eye-opening look at the work of the dedicated vets and nurses at a veterinary center in the northeast of England.
The documentary, airing on BBC One, follows the team at Wear Referrals as they deal with emergency situations and complex cases that have been referred to them by other veterinary surgeries.
Here's everything you need to know about 24/7 Pet Hospital…
24/7 Pet Hospital — what is the start date?
The 10-part documentary airs from Monday, February 6 at 10 am on BBC One and a new episode will be shown each weekday.
The series will also be available on BBC iPlayer.
A US TX has not been announced.
24/7 Pet Hospital — what is it about?
The series goes behind the scenes to shadow the 170-strong team at Wear Referrals, a specialist veterinary hospital in Stockton-on-Tees, County Durham as the staff tackle a range of cases and help their furry patients to get back on their feet, while also supporting the worried owners.
"It's like a human hospital and it's nice to know that when there's nothing else your vet can do, there might be the option to be referred to us," small animal surgeon and soft tissue specialist Anna Cronin tells What To Watch. "You never have a day that looks like another. And it's detective work, you have to figure out what's wrong. But we can deal with almost anything thrown our way."
24/7 Pet Hospital — what animals do we see?
In the opening episode, Boxers Casper and Hugo may both have swallowed potentially hazardous corn on the cobs, while cat Bonnie has issues giving birth and guide dog Sherpa, a Labrador with a troublesome wound, also features.
"I love Sherpa and his owner Denise!" says Cronin. "He had a tumour removed and then he was referred to me to have more skin and muscle removed. But every time he sat down he'd pull the wound open. He needed a bit of help but he was such a champ."
Later in the week, the team helps an injured owl and French bulldog Appona, who struggles to deliver her puppies, plus Shih Tzu Alfie has a hip replacement. Meanwhile, Cronin removes a grass seed that has caused a huge lump to form on the neck of Belgian Malinois Hope, and she also meets Labrador Nugget who has suspected kidney cancer, much to the concern of his elderly owner Walter, who previously lost his daughter.
"It's not just about Nugget, a lot of emotions came up for Walter," reveals Cronin. "Thankfully, in the end, Nugget didn't have anything bad. But the most stressful part of the job is when you have to break bad news. These aren't just pets, they're family. And we get very close to the owners."
What else do we see on 24/7 Pet Hospital?
The series also examines some of the rehabilitation treatments carried out at the hospital such as hydrotherapy, and the vital work of the centre's pet blood bank.
"Sometimes we ask owners if they have pets of a certain age or size to donate blood. It's so important if a pet needs a blood transfusion that we don't have to wait," explains Cronin. "And with hydrotherapy, the progress can be amazing. This is such a rewarding job."
Is there a trailer for 24/7 Pet Hospital?
Not yet, but we will pop it up here when one is released.
Get the What to Watch Newsletter
The latest updates, reviews and unmissable series to watch and more!
Caren has been a journalist specializing in TV for almost two decades and is a Senior Features Writer for TV Times, TV & Satellite Week and What's On TV magazines and she also writes for What to Watch.
Over the years, she has spent many a day in a muddy field or an on-set catering bus chatting to numerous stars on location including the likes of Olivia Colman, David Tennant, Suranne Jones, Jamie Dornan, Dame Judi Dench and Sir Derek Jacobi as well as Hollywood actors such as Glenn Close and Kiefer Sutherland.
Caren will happily sit down and watch any kind of telly (well, maybe not sci-fi!), but she particularly loves period dramas like Call the Midwife, Downton Abbey and The Crown and she's also a big fan of juicy crime thrillers from Line of Duty to Poirot.
In her spare time, Caren enjoys going to the cinema and theatre or curling up with a good book.