Dodger, starring Christopher Eccleston, is a family drama based on Oliver Twist.
Dodger is set before the events of Charles Dickens' iconic novel, Oliver Twist.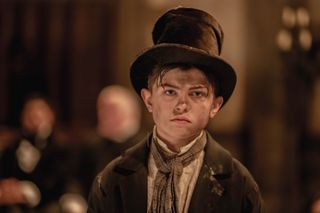 (Image credit: BBC)
Dodger is a family drama available on BBC iPlayer, based on the iconic Charles Dickens novel Oliver Twist. The ten-part series follows standalone adventures, which are then brought together in the final episode. It is created and written by Emmy award-winning Rhys Thomas, alongside comedian Lucy Montgomery.
Christopher Eccleston has been confirmed to play Fagin, the main antagonist of Oliver Twist who teaches youngsters how to pickpocket. Speaking about the role, he said: "Fagin is an iconic role, I'm a very fortunate actor. Rhys Thomas and Lucy Montgomery have taken Charles Dickens's extraordinary characters and imagined a whole new world and lives for them. I'm very, very excited."
Billy Jenkins, best known for his role as a young Prince Charles in The Crown, has been cast as Dodger. Explaining the premise of the series to us in a recent interview said: "Everyone knows Dodger from Oliver Twist, but no one actually knows where he comes from. What's his past? Was he always called Dodger? You see how he becomes in these adventures."
Here's everything we know so far...
'Dodger' BBC release date
Dodger was first launched on CBBC and is available also on BBC iPlayer.
What is 'Dodger' about?
Dodger follows the infamous pickpocket, The Artful Dodger (real name Jack Dawkins), and Fagin's gang as they find ingenious ways to survive the grim and exploitative conditions of early Victorian London in the 1830s. It is a look at the world of Oliver Twist through the eyes of the "bad guys".
Speaking about the adaptation, Rhys Thomas says: "I have always loved Oliver Twist but wasn't so keen on Oliver himself. I preferred the company of Dodger, Fagin and the gang. I thought it would be fun to create a family show with Dodger at its heart and see how he came to be a master criminal in Victorian London.
"Working with the very best material as a springboard, it's a total delight to expand Dickens' rich world of characters and create a few of my own. To top it all, we have an incredible cast who are starring in the show. I can't wait for families all over the world to see it!"
Speaking about Dodger's origins Billy reveals: "When we first see Jack Dawkins, before he becomes Dodger, he's working in a cotton mill workhouse. He's been beaten but you already think he's a bit mischievous and doesn't play by the rules. He jumps out the window, escapes and encounters Charley Bates, played by Aabay Ali. You see them get to London and meet Fagin. It's all action and energy."
The cast of Dodger?
Christopher Eccleston leads the cast as Fagin
Fagin is a great survivor, runs the gang of child pickpockets from a secret hideout above a dodgy pub near the East London docks. He's is a complex, enigmatic, quick-tempered character with a tragic past, hinted at when he tearfully looks at a faded old family portrait. It's clear that he cares a lot for his little gang – especially Dodger in whom maybe he sees his old self.
The gang is his only real company. He doesn't like silence. He is also exploiting them. However, as he often points out, if he wasn't putting a (leaky) roof over their heads they would be on the streets, most likely starving or worse.
Christopher says of his character: "Fagin is an icon of world literature so people and actors are continually revisiting the character. This role is a reinvention, in a sense, of that iconic character.
Our Fagin is serious but also comedic. There's a balance between drama and comedy. He's tragic, which we hint at, which is why he invests emotionally. He parents the kids. But acts with tough love -he's cruel but fair. The question is, does he love these children, or is he exploiting them?"

On the subject of Christopher's Fagin Billy adds: "There's so much depth to him. You've got mischievousness, mystery, laughter and sadness. His backstory, what he's been through, he's just trying to get through life. Even though he's harsh, he cares about his kids. He's very complex.
"Chris is a legend. And his cockney accent is amazing - better than mine, and I live in London! When you're acting with that good of an actor the energy is there, so you thrive off him and your acting becomes better. I learned so much from Chris."
Billy Jenkins stars as Dodger
Dodger's real name is Jack Dawkins but was renamed Dodger by Fagin, after he joined the gang, because of his quick-witted nature and instinct to survive! Twelve years old and an orphan, he has no memory of his mother and father and was brought up in an orphanage in London. Conditions were hard and the kindly matron Miss Piptree looked out for him.
Speaking of his character, Billy says: "He's a cheeky chap. He's quite charismatic and funny but gets himself into trouble - a lot! He's clever though and has a kind and caring side to his character. I've tried to do my own version of the character: I get to play a more emotional, vulnerable, and, sometimes, sad side to Dodger. We go deeper into his past and learn more about him."
Here's the rest of the cast including series writers Rhys Thomas and Lucy Montgomery, who each have roles in the series...
Sam C Wilson (Hanna) as Bill Sikes
David Threlfall (Shameless) as Chief of Police, Sir Charles Rowan
Saira Choudhry (No Offence) as Nancy
Tanya Reynolds (Sex Education) as Queen Victoria
Lucy Montgomery (Disenchantment) as Fagin's landlady, Minnie Bilge
Frances Barber (Medici) as theatrical dame, Eliza Vestris.
Javone Prince (Horrible Histories) as PC Blathers
Rhys Thomas (The Fast Show) as PC Duff
Talking about the atmosphere on set Billy reveals: "It was so much fun. There was so much laughter but when we got on set we were on the ball. We were bouncing off each other, ideas, acting - I had an amazing time.
He adds: "I hope everyone will love the adventure, the comedy and drama. It's for any age. You can be 92 or two, it don't matter!"
Is there a trailer?
Yes, a trailer for Dodger has been released and introduces us to Christopher Eccleston's version of Fagin, as well as the children pickpockets who go on to cause chaos on the streets. It looks like it's going to be quite the fast-paced, wacky series, and we can't wait to see more!
💍 Keep an eye on your pockets! #Dodger is coming to @CBBC and @BBCiPlayer on 6 February. https://t.co/hOnbb2ptqF pic.twitter.com/k8WMxBHWVDJanuary 19, 2022
Thank you for signing up to Whattowatch. You will receive a verification email shortly.
There was a problem. Please refresh the page and try again.