'Eat, Shop, Save' Season 5 — presenters, families and everything you need to know
Eat, Shop, Save returns with a new line-up, new families, and good old-fashioned advice.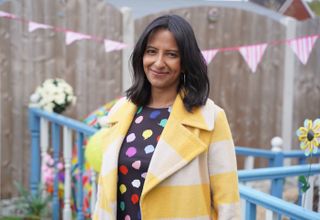 (Image credit: ITV)
ITV's lifestyle series Eat, Shop, Save is back with four new episodes this summer.
Ranvir Singh returns to present the series, alongside food expert Dale Pinnock and financial whiz Kate Hardwick. However, there's a big change this year, with Marvin Ambrosius replacing Tom Pitfield as Eat, Shop, Save's fitness expert.
Here's everything you need to know...
When is Eat, Shop, Save on?
The new series of Eat, Shop, Save airs on ITV on June 24 2021. Past episodes are available to watch here on ITV Hub. There are currently no plans to show Eat, Shop, Save in the US.
How does Eat, Shop, Save work?
Each episode of Eat, Shop, Save follows a family in need of guidance when it comes to diet, spending and saving. With the help of experts in nutrition, money and exercise they embark on an eight-week journey to become physically and financially fitter. The aim is to break old habits and make new, life-lasting changes.

'You know when things are creeping in the wrong direction, but you can't find the time or energy to really look at the problem on your own?' says Ranvir. 'Most people who apply are trying to do the right thing, but feel they're not quite in control of their finances or food.'
'Everybody has this hour in their head that they should be working out for,' adds fitness expert Marvin. 'If you break down the times and spread it across the week, you can be more consistent. Consistency is key when creating good habits that last a lifetime. You can get a lot done in a short space of time.
'It all quantifies into something. It's like studying. If you read a book 10 pages at a time, at some point, you'll get to the end of the book. With exercise, if you do little spurts every day, you're going to get to the end of your fitness journey.'
How many series of Eat, Shop, Save are there?
The series launched in 2017, headed up by presenter Ranvir Singh who was joined by experts, including chef and nutritionist Dale Pinnock, retail and money adviser Kate Hardcastle, and personal trainer Tom Pitfield. Finance expert Gemma Godrey also contributed to Series 1.
This year, for Series 5, Ranvir, Dale and Kate are joined by new fitness pro Marvin Ambrosius.
'TV likes extreme transformations. But in truth a fad diet isn't going to reduce your visceral fat in 10 years time,' says Ranvir. 'It's the little things you change every day that make you healthier. I'm still in touch with families from series one. Five years later they've never looked back. The Eat, Shop, Save eight-week challenge is long enough to change people's lives.'
Our #EatShopSave team gets the job done no matter what the elements throw at them 💪 (Photo taken in windy March, not sunny June! 💨🌧) pic.twitter.com/fZ51QMoNnVJune 3, 2021
Who's who in Eat, Shop, Save Season 5
Ranvir Singh - presenter
Experienced journalist and broadcaster Ranvir, 43, is at the helm of Eat, Shop, Save meeting families and discovering their stories. She is also a regular presenter on Good Morning Britain and Lorraine. Other presenting credits include Daybreak, Real Stories with Ranvir Singh, Granada Reports, ITV Lunchtime News, and ITV Evening News.
Ranvir has guest starred in a number of British TV celebrity classics, including All Star Family Fortunes, Celebrity Chase, Tipping Point: Celebrity Stars, and Celebrity Catchphrase.
In 2020 Ranvir reached the semi-finals of Strictly Come Dancing with professional dance partner Giovanni Pernice.
Dale Pinnock - chef and nutritionist
Champion of the fakeaway - healthy, homemade alternatives to takeaways - Dale, 39, is a chef, author and advocate for good nutrition. In Eat, Shop, Save he shows participants how to improve their life through the joy of cooking from scratch. His other TV credits include The Saturday Show, Lorraine, and This Morning.
'Our chef Dale Pinnock does brilliant fakeaways! We are not saying ditch all the foods you like,' explains Ranvir. 'Usually our families don't cook from scratch, they just stick stuff in the oven or they cook things from jars. So we show them a healthier way to make things from scratch.'
Kate Hardcastle - money expert
Consumer expert Kate, 41, meets with families and couples to discuss their finances, their goals, and guide them through what can be tricky territory for many. From saving for holidays, to paying off pricey loans, Kate provides practical and applicable advice for struggling Eat, Shop, Save participants.
Kate's also a go-to retail expert for other TV shows. Her credits include Sky News, Central Tonight, Good Morning Britain, and The One Show.
'Money expert Kate Hardcastle discovers that during lockdown it isn't necessarily food that's gone out of control,' says Ranvir of the new series. 'For some people it's the click click click, with packages arriving every day.'
Marvin Ambrosius - fitness expert
New addition to the Eat, Shop, Save team is personal trainer Marvin. He is on hand to encourage and guide people taking part on the show towards achievable, long-lasting fitness goals.
This is Marvin's first presenting role, but he did make an appearance on Good Morning Britain in 2019. He is also the co-creator and star of workout series Fit in 5. Available from Sky TV on demand it features a range of star guests including Kirsty Gallacher, Melanie Sykes, Gethin Jones and Kelly Brook.

'He's incredible!' says Ranvir. 'Marvin's been overweight, so when he's training people he really gets it. It's amazing to see. He's like, "I'll give you something you can do in just 15 minutes a day and I promise you'll feel the changes". And it's true!'
Speaking about joining the Eat, Shop, Save family Marvin, 41, says: 'This is a show I watch and always wanted to be involved in!
'It's weird to watch, because you know the conversations you have that don't go on the television. I spoke to the families every day of the week. We all developed a bond.
'I've still not met [co-stars] Ranvir Singh, Dale Pinnock and Kate Hardwick [due to pandemic filming measures]. We're waiting for the wrap party!'
Why has Tom Pitfield left Eat, Shop, Save?
Fitness professional Tom, 35, was initially known in TV circles as the partner of former Coronation Street star Catherine Tyldesley, 37. He became a household name when he embarked on his own TV career with Eat, Shop, Save. Tom spoke about his TV debut and life with Catherine here.

Tom has now left Eat, Shop, Save to concentrate on his photography business and is fast becoming the snapper of choice for a host of celebrities including Charlie Webb (Emmerdale), Sarah Jayne Dunne (Hollyoaks) and of course, wife Catherine. You can check out his photos on his Instagram account.

The couple, who have a son together, married in 2016. Catherine is due to compete in ITV's Cooking With The Stars later this Summer. Tom has also appeared in Alan Carr's Epic Gameshow.
Despite departing Eat, Shop, Save Tom did make a re-appearance during Series 5 filming to take some photos.

'Tom wanted a change in direction I think. He's gone into photography and set up his own business, which is amazing,' says Ranvir. 'But he came back and did some photography for us!'
Can Eat, Shop, Save help me and my family?
Absolutely. There are wealth of recipes and tips on Eat, Shop, Save's official website.
Is there a trailer?
No, but the Eat, Shop, Save Twitter page has some great behind-the-scenes bits and bobs.
Eat, Shop, Save — Series 5 Episode Guide
Eat, Shop, Save - Series 5 Episode 1

Dudley couple Michelle and Neil confront a dilemma facing many of us - the lockdown pounds have piled on, their food bills have skyrocketed, and their diet is bordering on dangerous.
Enter understanding presenter Ranvir Singh, chef and nutritionist Dale Pinnock, money expert Kate Hardcastle and fitness pro Marvin Ambrosius, who guide the couple on their quest to get fitter, healthier, happier and save some money.
With each episode of Eat, Shop, Save weighing in at a bitesized 30 minutes, it's inspiring rather than overwhelming. Welcome back, we've needed your advice, encouragement - and Dale's delicious recipes - in these daunting times.
Eat, Shop, Save - Series 5 Episode 2
Stressed to the max, the White family in North Wales call for reinforcements. Dad Mark, mum Ellie and their two children are stuck in a cycle of a carb-heavy, convenience food coupled with inactivity.
Can chef Dale - king of the fakeaways - help transform their diet by bringing them back to basics? Elsewhere, personal trainer Marvin focuses on helping Ellie overcome her embarrassment at being seen exercising with a simple beach workout that will work wonders for her health and confidence.
Meanwhile money expert Kate realises something isn't adding up and makes a plan to help the Whites save £800 a month on their shopping bill.
Eat, Shop, Save - Series 5 Episode 3
The Lowther family from Newcastle are given food for thought when Ranvir Singh and her team of experts pay a visit. Dad Steve loves to cook from scratch, the problem is he enriches his dishes with cream and butter. Can chef Dale convince him that some simple swaps will make a big difference?
Meanwhile busy mum Claire is struggling with her weight following a hip operation. Enter personal trailer Marvin, who helps her hop onto the highway of good health.
Elsewhere, Kate builds up the couples' dream of owning their own home with some clever tips that put the property ladder firmly in reach.
Eat, Shop, Save - Series 5 Episode 4
The Coomber family in Derbyshire turn to Ranvir Singh and her team of experts to help with impulsive online spending (they're on first name terms with the delivery driver) and their veg-deficient, exercise-free lifestyle.
Discovering that puppy Lemon and the couple's young son eat better than dad Matt and mum Debbie, chef Dale unleashes his hidden veg recipes normally aimed at children!
Kate, like a financial fairy godmother granting wishes, reveals how to save enough for a dream holiday in Florida. While fitness whisperer Marvin works his magic on their physical health.
Warning: Encouraging and accessible. Some viewers may start exercising while watching!
Get the latest updates, reviews and unmissable series to watch and more!
Writer for TV Times, What's On TV, TV & Satellite Week and What To Watch
With twenty years of experience as an entertainment journalist, Elaine writes for What's on TV, TV Times, TV & Satellite Week and (opens in new tab)www.whattowatch.com (opens in new tab) covering a variety of programs from gardening and wildlife to documentaries and drama.
As well as active involvement in the WTW family's social media accounts, she has been known to get chatty on the red carpet and wander into the odd podcast.
After a day of previewing TV, writing about TV and interviewing TV stars, Elaine likes nothing than to relax… by watching TV.
Thank you for signing up to Whattowatch. You will receive a verification email shortly.
There was a problem. Please refresh the page and try again.