Graham Norton's Holding — release date, plot, cast and everything we know
Holding is based on Graham Norton's debut novel.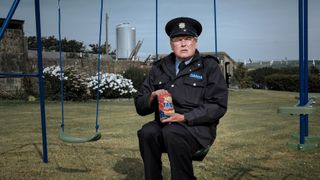 (Image credit: Conor Horgan / ITV)
Holding is a new TV adaptation based on Graham Norton's debut novel that's just started airing on ITV.
The show follows Sergeant PJ Collins, a gentle mountain of a man who hides from people and fills his days with comfort food and half-hearted police work.
Speaking about the series, Graham Norton said: "I am beyond excited to see the story and characters I created being brought to the screen. I love how the brilliant creative team have transformed my novel into something so rich and dramatic. West Cork is ready for its close-up!"
Dominic Treadwell-Collins and Karen Cogan have adapted the novel. Talking about the series, Graham tells What To Watch: "My book is a genre book, it's cosy crime. There are lots of books like my book. And what Karen and Dominic have done is they've made a TV show that isn't like other television shows and that is so hard to do. Because, you know, everything's a bit like something else. They've really elevated it."
Here's everything we know...
Holding release date
Holding premiered on ITV on Monday, 14 March at 9 pm. The series is four episodes long, and new episodes are set to air in the UK at the same time and same place each week.
If you'd prefer to binge the show, all four episodes of Holding are also available to stream right now on ITV Hub and BritBox UK.
There is no word yet on where Holding will be shown in the US.
Who stars in Holding?
Olivier award-winning actor Conleth Hill (Game of Thrones) was the first member of the cast revealed and will be taking on the leading role as Sergeant PJ Collins.
ITV since revealed the rest of Holding's stars. Academy award-winning Irish actress Brenda Fricker will make her return to television alongside Conleth Hill as Lizzie Meaney, a shy presence in PJ's life who is battling her own personal demons.
"I am ecstatic to be part of this wonderful production, in beautiful Skibbereen, and finally not to be playing a mother!" said Brenda, "Mrs Meany is a bit of a dark horse. She has had a dreadful life but has retained her values, her friendships, and most of all her sense of humour, keep a sharp eye on her."
Joining Conleth and Brenda are Siobhán McSweeney (Derry Girls) as Bríd Riordan, Charlene McKenna (Bloodlands) as Evelyn Ross, Helen Behan (This is England '90), and Pauline McLynn (Father Ted).
Clinton Liberty (Normal People), Amy Conroy (The South Westerlies), Olwen Fouéré (Beast), Eleanor Tiernan (Bridget and Eamon), Gary Shelford (Belgravia), Lochlann Ó'Meárain (Smother), Sky Yang (Halo), Demi Issac Oviawe (The Young Offenders), Norma Sheahan (Bridget and Eamon), and Anne Kent (Fair City) complete the main cast.
What is Holding about?
Set in the remote Irish village of Duneen, Holding follows three troubled inhabitants as they each find themselves caught up in a mysterious murder. The three central characters are Sergeant PJ Collins, who hasn't always been this overweight; Brid Riordan, a mother of two, who hasn't always been an alcoholic; and elegant Evelyn Ross who hasn't always felt that her life was a total waste.
When human remains — suspected to be those of Tommy Burke, a former lover of both Brid and Evelyn — are discovered on an old farm, the village's dark past begins to unravel and PJ has to try and solve an actual case again despite nothing of note happening in the Irish village for years.
Now that the series has started airing, we've got a recap for the very first episode below.
What happened in episode one?
After his day gets off to an uneventful start, Sergeant PJ Collins is called to the site of the Burke house, which was finally being demolished.
During the demolition, a body is discovered. It's presumed to be the body of Tommy Burke, who disappeared 20 years ago without a trace. Eager young detective DI Linus Dunne is sent to work the case with PJ, requests that the bodies of Tommy's parents be exhumed to try and find a DNA match for Tommy. This decision upsets the other townsfolk as they're dug up during Mass on a Sunday.
There are rumors that Tommy was romantically involved with both Evelyn and Bríd whilst he was alive, and both of them are clearly upset by the discovery and have been struggling to cope in their own way.
After a forensic report suggests that Tommy's death was a violent one, Susan, a school teacher who is in a relationship with Evelyn's sister, Florence, hints to PJ that both Evelyn and Bríd could be involved.
Later, whilst worrying about his own capabilities as an officer in his car, PJ spots the two women fighting whilst Evelyn was out for a swim, but he can't quite find the confidence to confront them before the episode ends.
Is there a trailer?
Yes, and you can watch it below. It gives us a glimpse of the "quirky and shrewdly observed world" of Duneen, West Cork and those who live there as Sergeant PJ Collins tries to navigate the complicated world of policing. It might be a small town, but there's certainly some big secrets...
Thank you for signing up to Whattowatch. You will receive a verification email shortly.
There was a problem. Please refresh the page and try again.