'Pivoting' — release date, cast, plot, and everything we know
By Martin Shore published
Here's everything you need to know about 'Pivoting', a brand new comedy coming to FOX.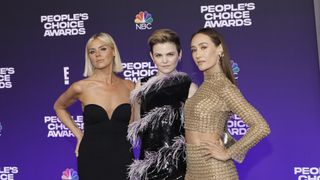 (Image credit: Amy Sussman/Getty Images)
Pivoting is a new comedy series coming very soon to FOX. This new comedy series follows a group of three women who commit to drastically changing their lives following the death of the group's fourth member.
Faced with the reality of life being short, each of them decides to pivot away from the lives they have led by making a series of potentially impulsive and ill-advised decisions. Pivoting won't be easy, but it just might make sure each of them can finally start living their best lives.
Here's everything we know about Pivoting so far...
'Pivoting' release date
Pivoting will premiere on FOX on Sunday, Jan. 9, 2022, at 8:30 pm ET (after Call Me Kat).
At the time of writing, we're not sure if or when the show will air in the UK.
Name a better trio. 🔥 #Pivoting premieres January 9 on @FOXTV. pic.twitter.com/GYg4Rn5eRINovember 29, 2021
'Pivoting' plot
Fox's official summary for this new comedy reads: "Pivoting is a single-camera comedy about how we deal with life, death, and all the crazy things that happen in between. Set in a small, middle-class town in Long Island, NY, the series follows three women — and close-knit childhood friends — as they cope with the death of the fourth member of their group. When faced with the reality that life is short, these women pivot, and alter their current paths, by way of a series of impulsive, ill-advised, and self-indulgent decisions. These pivots will strengthen their bond and prove it's never too late to screw up your life in the pursuit of happiness."
'Pivoting' cast
Pivoting is headlined by Eliza Coupe (Scrubs, Happy Endings), Ginnifer Goodwin (Once Upon A Time, Zootopia), and Maggie Q (Designated Survivor, Nikita).
Coupe plays Amy, a fearless producer of a local cooking show who is somehow terrified of her own children and lacks a maternal instinct. Her flaws are counter-balanced by her husband Henry (Tommy Dewey, Casual), but her pivot is to become a more active and present mother
Goodwin plays Jodie, a stay-at-home mother of three who is in a loveless marriage to a controlling, money-obsessed husband. Jodie's pivot is to get back into shape, a decision that leads her to her 27-year-old personal trainer, Matt (JT Neal, Bless This Mess) who gives her the attention she didn't realize she'd been craving for so long.
Finally, Q plays Sarah. Sarah is a successful doctor but the loss of her friend has been compounded by a recent split from her wife. Having lived such a stressful life, Sarah pivots towards a simpler, happier one and begins working at a grocery store.
Is there a trailer for 'Pivoting'?
The official trailer for Pivoting gives us a taste of what Sarah, Jodie and Amy get up to as they take the steps necessary to try and change their lives; Amy is learning that being a working mom is going to be tough, Sarah has embraced her way of life and Jodie is feeling pretty unsatisfied with her husband and starts her fitness journey.
You can watch the trailer below:
Get the latest updates, reviews and unmissable series to watch and more!
Thank you for signing up to Whattowatch. You will receive a verification email shortly.
There was a problem. Please refresh the page and try again.