Rock Till We Drop: release date, contestants, what happens, and all about the music talent show for pensioners
In Rock Till We Drop on BBC2 Martin Kemp and Lady Leshurr are out to prove age is just a number when it comes to talent.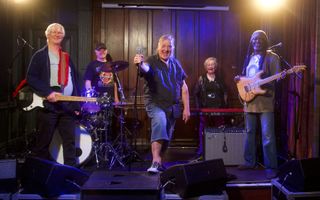 (Image credit: BBC)
Rock Till We Drop is a talent show with a difference as it aims to highlight how you're never too old to fulfil your dreams! The four-part BBC2 series follows Spandau Ballet's Martin Kemp and award-winning grime artist Lady Leshurr as each attempts to pout together a band good enough to perform at the iconic Isle of Wight Festival.
But there's a twist! All the musicians must be over 65 — and there's no upper age limit! The pair call in help from top musical director friends as well as renowned stage performers including X-Factor finalist Fleur East, soul singer Mica Paris, and the Darkness frontman Justin Hawkins.
So here's everything you need to know about the BBC2 competition Rock Till We Drop…
Rock Till We Drop release date
Rock Till We Drop begins on BBC2 on Tuesday March 1 at 9pm. Each episode of the four-part series is an hour-long, giving plenty of opportunity to enjoy all the highs and lows — and there are certainly a few lows! Episodes will also stream on BBCiPlayer.
Is there a Rock Till We Drop trailer?
Yes there's a Rock Till We Drop trailer released by the BBC. Take a look at the elderly rockers in action below...
How Rock Till We Drop works
The first episode of Rock Till We Drop follows Martin Kemp and Lady Leshurr as they audition for singers, keyboard players, guitarists and drummers in their 70s, 80s and even 90s! Later in the series we see them carefully putting their bands together. But as time runs out and with the festival just weeks away, there are tears, tantrums and major rehearsal issues that leave both Martin and Lady Leshurr questioning whether they've bitten off more than they can chew!
Mentor Martin Kemp on Rock Till We Drop
Martin Kemp, now 60, found fame in the 1980s as the bassist in pop band Spandau Ballet. He's also appeared as Steve Owen in EastEnders, as well as Celebrity Big Brother and the BBC1 series Let It Shine. "I know the joy you can get from having a dream come true," says Martin. "I want to give these people a second chance. They were most probably in bands when they were kids and then by some sliding doors moment their life took them in a completely different direction and they left that dream behind. What we're trying to do here is use music to give them back their best lives.
"The hardest thing has to be telling some of the guys that we couldn't take them along to the next stage, as a performer I know how much that hurts…
"The main challenge getting the bands ready to play the Isle Of WIght festival was turning them from solo musicians that mostly played in their living rooms to a band and getting them to understand that being in a band wasn't just about playing music together but living and working together and how give and take plays a big part of making a band work."
Mentor Lady Leshurr on Rock Till We Drop
Lady Leshurr, 34, is a British rapper, singer, songwriter, producer and MOBO award winner. In 2021, she won the Channel 4 series The Celebrity Circle for Stand Up to Cancer. She also competed in the thirteenth series of Dancing on Ice, where she reached the semi-final. "I'm super excited to be involved," she says. "Our band members will prove that age is no barrier and that no matter how old you are you can achieve anything you set your mind to. There's so much incredible talent around!
"It was great meeting people from different walks of life - different ages, different accents - those that are older than me and have had so much experience within the music industry and their personal lives which is what has made them the person they are today. I think when I started choosing the people I wanted in my band and seeing them eventually meet was such a great thing to watch. I loved being there throughout to see their friendships blossom; I'm sure they have made friends for life!"
Meet some of the Rock Till We Drop pensioner musicians
Leburn, 65, guitar
"I've performed all my life from the age of 18. I'm originally from the US and I toured and did stints on television. It was only when I got married that it all came to an end. I'm divorced now and this series was the opportunity I really needed. Playing at the Isle of Wight was a dream come true for me. I see a different future for myself now and I'm hoping the show will finally launch my career. My heart is filled with gratitude for the opportunity."
Eileen, 80, keyboards
"I did Opportunity Knocks back in 1967 and when I was young I was also part of a band called the Jack Sinclair Showband. Then last year I had a very big bowel operation and I found lockdown really hard, too. But this series has really given me my mojo back. Martin and his team were wonderful with us, they looked after us so well. I still have a huge amount of energy and I hope we all get to show how age is just a number!"
Martin, 67, guitar
"I used to sit in front of the telly drumming along to Sunday Night at the London Palladium with knitting needles and a biscuit tin and I've been in and around the music business most of my life. But this show is the biggest chance I've ever had. I work as a postman but I'm really hoping I can launch a music career off the back of this show and spend the next 25 years of my life on the road!"
Carol, 73, bass guitar
"I started playing the bass guitar as a young girl of 19 in 1967 and back then it was a very strange thing for a young Jewish girl to do! I was desperate to perform and I spent a bit of time with an all-girl band, but in those days girls didn't really pick up bass guitars and rock out. I managed to carve myself a career and later became a music teacher. But now, at the age of 73, I finally feel this is my time!"
Lead singer Bette, 77
Bette is a miner's daughter from Barnsley Yorkshire who got into singing as a child after her father made her stand on the table and sing to his mates after work. Bette left for London with £5 in her pocket and made it as a club singer although sadly she missed out on the lead part of the West End production of Hair, as she felt she didn't have the acting talents. Prior to lockdown, Bette found herself performing once a month at her local club night. However with the crowds at just under 200 people, it's a long way from the thousands at the Isle of Wight Festival. When she's not performing, Bette enjoys retirement. She looks after friends' pets, enjoys walking, drinking coffee and watching tv – a far cry from that of your usual lead singer in a rock band.
Steve, 68, keyboards
Steve is a jack of all trades and has been a cabby, teacher, civil servant and delivery driver. In the 1980s he was a founding member of the Brit-funk band 'Central Line' however he left just before they got a hit single. Steve has played keys for a number of famous faces including Barry White, Hot Chocolate and Des'ree. Despite this, Steve says, "the ship never came in for me!". Steve lives in North London and works as a session musician.
Arty, 73, drummer
Liverpudlian Arty is a man full of determination who doesn't let anything hold him back. Arty lives with a disability. He contracted polio as a baby and has been a wheelchair user ever since. When he was 16, Arty asked his parents for a drum kit – when they replied, "You'll never be able to play with your disability", this was all the encouragement he needed. He formed a band and his determination paid off. He played in a band for many years and played alongside many of the Merseybeat scene stars. Alongside music, Arty played wheelchair basketball for 40 years, which took him all over the world with Team GB. Music wise if it wasn't released before 1968, Arty probably hasn't heard it, he is Merseybeat all the way.
Jimmy, 74, singer
Jimmy has a raw voice with performance levels to match. He grew up in the North East, living with his publican parents until he walked out in his late teens. He joined a band when he was 16 and has played music ever since. Jimmy almost played for Tina Turner – he was a back-up keys player should anything go wrong in the middle of the tour, however when it did go wrong, he was in Ibiza and couldn't be found! Jimmy's grandchildren call him the 'Grand Dude' and he wants to show them that he still has what it takes in his mid 1970s. As well as having an amazing soul voice, Jimmy can play keys and sax. He lives with his wife in Newcastle and following Covid lockdowns like the majority of the band members, has been desperate to get out and perform.
Carmen, 64, singer
Carmen has a beautiful soul voice and has never had the opportunity to sing professionally. She only came to singing in her mid 30s but often sang so quietly that people couldn't hear her. After singing lessons Carmen's teacher told her that due to hay fever, she could never turn into a professional singer. She has only ever sung church music until now so how will Carmen take to rock or pop? Carmen is recently single, having been in a relationship for the past 42 years. Now in her mid 60s, Carmen has moved into her own home and has the support of her adult daughters.

'Rock Till We Drop' — what else we know
Both Martin Kemp and Lady Leshurr have hired music directors to help them handpick their band members in Rock TIll We Drop and put them through their paces ahead of the final performance in front of thousands of screaming music fans. Martin turns to top producer Toby Chapman, his longtime friend and band mate, while Lady Leshurr has the support of top musician Alex Montaque who has worked with Leona Lewis, Aston from JLS and Jessie J. No pressure then!
TV Content Director on TV Times, What's On TV and TV & Satellite Week
I'm a huge fan of television so I really have found the perfect job, as I've been writing about TV shows, films and interviewing major television, film and sports stars for over 25 years. I'm currently TV Content Director on What's On TV, TV Times, TV and Satellite Week magazines plus Whattowatch.com. I previously worked on Woman and Woman's Own in the 1990s. Outside of work I swim every morning, support Charlton Athletic football club and get nostalgic about TV shows Cagney & Lacey, I Claudius, Dallas and Tenko. I'm totally on top of everything good coming up too.
Thank you for signing up to Whattowatch. You will receive a verification email shortly.
There was a problem. Please refresh the page and try again.