Simon Reeve's South America — episode guide, air dates, destinations and all about his travel series
Simon Reeve's South America on BBC2 sees Simon faces all sorts of dangers while on his travels around the continent.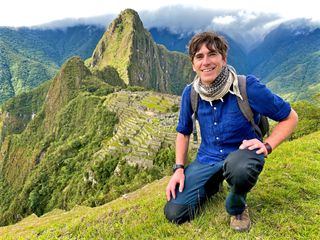 (Image credit: BBC)
His latest BBC2 series, Simon Reeve's South America, was initially cut short thanks to the pandemic. But now the TV adventurer and author returns to the continent to complete his epic 4000-mile trip from Peru to Paraguay with five new episodes.
As usual Simon Reeve takes on a journey that isn't for the fainthearted, however, as he delves deep into what really makes the continent tick, meeting warlords, forgotten tribes and conservationist fighting to preserve endangered species.
So here's everything you need to know about BBC2 series Simon Reeve's South America...
Simon Reeve's South America release date
Simon Reeve's South America is a five-part series that begins on BBC2 on Sunday, September 11 at 9pm. All five episodes will also become available on BBCiPlayer from that air date.
We'll update if we hear of an international or US release date.
Episode guide — what happens in Simon Reeve's South America?
Here's our episode guide for South America With Simon Reeve which we'll be updating on a weekly basis so do check back...
Episode 1 Guiana: Sunday September 11
Simon starts in the Guiana Shield, an area of pristine rainforest that spreads through much of southern Venezuela, Guyana, Suriname and French Guiana, which is being ravaged by the illegal gold mining trade. Not only does he visit a remote Wild West-style mining town in Guyana where everything is paid for in pieces of gold, but he also joins a rebel fighter-turned-politician at his gold mining concession deep in the jungle of Suriname. But he's left shocked by the scale of the devastation the mining has had on the once lush forest. "It's an apocalyptic hellhole frankly, it's a total disaster zone," says Simon Reeve. "Illegal gold mining is now thought to be an even more lucrative business than the cocaine trade, so scenes like this are replicated across the Guiana Shield and into the vast Amazon basin, as men women and children tear into the earth of the lustrous yellow metal. But it's also the only work in the area so people do whatever they can, whatever they have to."
With mining destroying the habitat of endangered sloths, Reeve also meets a woman who has dedicated her life to rescuing, rehabilitating and releasing more than a thousand sloths over the last decade. Meanwhile, in French Guiana he joins the French Foreign Legion on one of their dangerous missions to tackle the scourge illegal gold mining. But although they come across fresh footprints and a hurriedly discarded bag of gold, and even raid a newly built mine shaft, it's soon clear the miners have managed to make their escape.
"It's thought more than 400 million pounds worth of illegally mined gold is extracted from French Guiana each year," says Simon. "There are also now so many illegal gold mining operations throughout South America that in some areas they've become a greater cause of deforestation than logging and farming. The cumulative damage is astonishing, but although the Guiana Shield faces many threats, it's still a vast, glorious green wilderness. Almost a fifth of the world's tropical rainforest is in the Guiana Shield, along with a staggering 20 percent of the world's fresh water. Hopefully, there's still time to protect it from the ravages of deforestation.'"
Episode 2 Brazil: Sunday 18 September
Simon visits Brazil, the biggest country on the continent. He starts in one of the remotest regions of the Amazon, with the Waiãpi people, who cling on to their traditional way of life, which is under threat from logging and mining interests. The tribal leaders argue that preserving the forest is not only crucial to moderating the Earth's climate; they are working with Brazilian scientists to show how the Amazon can be managed to produce valuable crops and lifesaving medicines, without destroying the environment. At this point, in early 2020, Simon's journey was interrupted by the Covid pandemic, and he returns two years later to see how Brazil became one of the countries worst hit by the virus. In Manaus, the city at the heart of the Amazon, he visits a neglected indigenous neighbourhood and meets the nurse who was the only source of healthcare during the pandemic. On the outskirts of Manaus, where the Amazon jungle meets the city, he catches bats with a veterinary scientist who is hoping to identify potential future pandemics, before they enter the human population. Simon ends this leg of his journey on the west coast of Brazil, in the iconic city of Rio de Janeiro, a city under threat from climate change, vulnerable to flash floods and baking heat. The government has built a high-tech NASA-style control room to monitor all parts of the city for potential disasters. And in one favela, Simon meets the woman who has planted an urban forest to cool her neighbourhood, as well as to grow fresh food for many of the neglected children.
Episode 3 The Andes: Sunday September 25
Simon visits Peru and Bolivia, travelling through the Andes mountains. Simon starts his journey at the world-famous ruins of Machu Pichu, one of the glories of the ancient Inca civilization. But since the arrival of Europeans, the indigenous people of the Andes - the descendants of the Inca - have suffered horribly, and to this day they live in some of the poorest communities in the region. Simon visits a remote Peruvian valley called VRAEM where the mostly indigenous population farms coca leaves, the primary ingredient of cocaine. Simon meets the impoverished farmers and goes on a raid with the heavily armed Peruvian police to destroy a cocaine making facility. Further and higher into the Andes he visits the hellish informal mining town of La Rinconada. At over 5,000 metres, it's one of the highest human settlements on Earth and Simon meets the indigenous women who chip away at the rocks in appalling conditions to look for tiny fragments of gold. Travelling across the border into Bolivia, Simon's guide is one of the country's famous "cholas" – indigenous women who wear traditional skirts and bowler hat. In the world's highest capital city, La Paz, he discovers how the cholas have battled for increasing influence and representation in the county with the highest number of indigenous people in the whole continent.
Episode 4 Bolivia to Paraguay: Sunday October 2
On the fourth leg of his journey through South America, Simon travels through three of the world's most extreme environments: the salt flats of Bolivia, the Brazilian Pantanal and Paraguay's Chaco Forest. In Bolivia, Simon meets a family who make a living carving salt from the vast white expanse of the Uyuni salt flats, so huge it is said to be visible from the moon. He learns that beneath the salt could lie huge reserves of lithium, the metal so crucial for the batteries that will fuel the next generation of electric cars. Crossing into Brazil, Simon visits the world's largest wetlands, the Pantanal, and has a close encounter with South America's apex predator, the jaguar. Drought and fire threaten the Pantanal, but so too does excessive flooding, and Simon meets a farmer who has spent years building dams to hold back the rising waters and save his family farm. The last leg of this journey takes Simon into the little-visited Paraguay, where he meets a unique community which, despite their small numbers, as had a huge impact on the economy and environment of the country. Mennonites originally hail from Europe but they have spread throughout the world. In Paraguay many live in ultra-conservative communities and eschew many of the trappings of the modern world. They drive around in horses and carts and speak their own language, known as low German. Simon visits a school where traditionally clothed children are drilled in bible texts and there are no smart phones to be seen. But the Mennonites have been hugely successful farmers, embracing modern methods where necessary to found vast cattle ranches and soy farms. They have chopped and burned huge areas of the Chaco, the unique dry spiney forest, which is twice the size of Spain and dominates the centre of the South American continent. Perhaps inevitably, this economic miracle, which has turned Paraguay into a major player in the global food market, has had its victims and Simon ends this leg of his journey with the Ayoreo people. Following a history of persecution and having lost much of their land, the Ayoreo now mount armed patrols to defend what remains. Others have given up the modern world altogether and returned to the hunter gatherer lifestyle of their parents and grandparents, living in the harsh dry forests of the Chaco.
Episode 5 Chile: Sunday October 9
Simon Reeve heads to the driest desert on Earth. The Atacama Desert in Chile is 40,000 square miles of sand, red rock and arid mountains. But it also hides a horrible secret. Close to the city of Iquique is an enormous landfill site packed with tens of thousands of tonnes of clothes, including some items with their labels still attached.
"It's basically a mountain of used clothes dumped illegally, creating a huge landfill," explains Simon. "Traders import bales of recycled clothes from Europe and the US. They then resell them across the Continent and many find a new home. But due to the explosion in fast fashion there's just so much that millions of pieces are also dumped in the desert. It's madness. It just shows how wasteful we've become."
Leaving the desert behind, Simon heads further south through Patagonia, where he meets the indigenous Mapuche people, who have launched a dangerous campaign of sabotage against the farming industries and logging companies that they claim have stolen their land. He also learns how vast salmon farms are polluting the seas off the coast of Chile, destroying the livelihoods of local fisherman, before ending his journey in Ushuaia, which is most southerly city on the planet and home to a vast sea lion population. 'I've seen so much destruction travelling down through the Americas, but also so much beauty,' says Simon. 'I believe there is hope.'
Is there a trailer for Simon Reeve's South America?
The BBC hasn't yet released a trailer for South America With Simon Reeve, but if one arrives we'll post it here.
Get the What to Watch Newsletter
The latest updates, reviews and unmissable series to watch and more!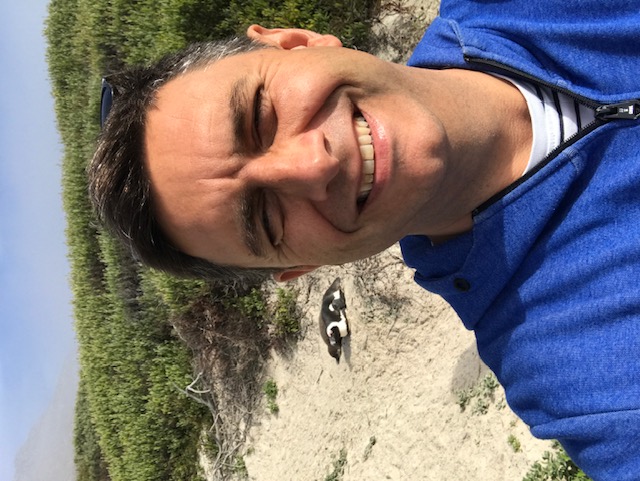 TV Content Director on TV Times, What's On TV and TV & Satellite Week
I'm a huge fan of television so I really have found the perfect job, as I've been writing about TV shows, films and interviewing major television, film and sports stars for over 25 years. I'm currently TV Content Director on What's On TV, TV Times, TV and Satellite Week magazines plus Whattowatch.com. I previously worked on Woman and Woman's Own in the 1990s. Outside of work I swim every morning, support Charlton Athletic football club and get nostalgic about TV shows Cagney & Lacey, I Claudius, Dallas and Tenko. I'm totally on top of everything good coming up too.