Big Antique Adventure with Susan Calman — air date, how it works, the challenges, episode guide, and all about her new series
Big Antique Adventure with Susan Calman on Channel 5 sees the comedian dive into the world of collectibles and hidden treasures.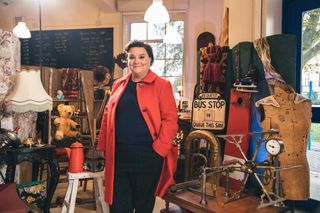 (Image credit: Channel 5)
Big Antique Adventure with Susan Calman sees the comedian and travel presenter immersing herself into the multi-million pound antiques industry, learning everything there is to know about the wonderful world of collectables. Over five episodes she will learn how to separate trash from treasure, spot the antiques of the future and make some much-needed cash for charity.
For a week Susan will be based at Hemswell in Lincolnshire – Europe's biggest antiques centre – helping the nation buy, sell and restore their prized possessions and make some money in the high-stakes charity auction.
"I'm ready to blow the dust off some antiques and have a big adventure with the help of some new friends," says Susan. "I may not be an expert but I'm enthusiastic with a lot to learn and I can't wait for my crash course into the world of collectables. If nothing else we'll have a lot of fun!"
So here's everything you need to know about Big Antique Adventure with Susan Calman on Channel 5...
Big Antique Adventure with Susan Calman release date
Big Antique Adventure with Susan Calman will air on Channel 5, from Monday May 30 to Friday June 3 2022, at 7pm each night. It will also become available on My5. We will update if there's a US or international release date.
Is there a trailer for Big Antique Adventure with Susan Calman?
Nothing has yet been released by Channel 5 for Big Antique Adventure with Susan Calman but if one drops we'll post it on this page.
Big Antique Adventure with Susan Calman — how it works
In Big Antique Adventure with Susan Calman, Susan will team up with antiques experts Natasha Raskin Sharp, Paul Martin and Danny Sebastian who will teach her how to make money out of collectibles. They will look at the antiques of the future, from trainers to VHS cassettes, and look through the hidden stashes of those who think they are sitting on a fortune. Susan will learn how to spot fakes and forgeries and then take to the rostrum at her own live charity auction – where members of the public can bid for some of the handpicked and restored antiques that have been featured in the series. Some of the treasures will have been chosen by Susan herself as she puts her newfound knowledge to the test. We will also see members of the public bringing in their cherished antiques to the daily Dealer's Den for a valuation.
Susan Calman on starring in Big Antique Adventure
Were you already an antiques fan before the show?
Susan says: "I think the reason I was asked to do it is because I am like most people – I love a Sunday in an antiques place, I have got bits and pieces in my house that I like but I don't know if it's worth anything. I am very interested and I love watching antiques shows but I am also slightly intimidated by the whole world. I am the every person who should be watching!"
You say some items remind you of personal stories. Is that a big attraction of antiques?
"Sometimes you remember things from your childhood or I remember my granny's flat in Knightswood and what she would have in it. I have got her old Fred, the Homepride flour guy with the bowler hat, and then you see one and it reminds you. That is why I am very different from the experts in that it is not my business, it's not my living and I will always be emotionally drawn to things. A lot of the time you are buying things to remind you of something that you have lost or that you remember from your childhood. It is a lovely thing and it is why antiques give you a warm feeling. It's not about the money, it's about the warm feeling that you get from them."
You mention that you're into model trains and memorabilia - do you have a collection?
"I have a number of signed film star photographs and I bought Marlene Dietrich's cufflinks from her grandson. My granny loved Hollywood films so I love them. I have got a Doctor Who collection and I like anything to do with film and TV, that is really my absolute main thing. I am an absolute sucker for anything that has been on any film or television set in the slightest! I have got a Dalek and it just sits in my dining room. It is huge. People think I am insane but I love it. I sit and have lunch every day next to a Dalek and that is a beautiful thing. The other thing is I love art deco stuff. In Glasgow, Charles Rennie Mackintosh was a huge influence architecturally, so I have grown up loving art deco."
Does it all take up a lot of space?
"People come round and go, 'Why have you got all of this stuff?' I don't have any children, so I don't have to give over a room to a child. I have got an entire room with video games in it because I can and it is a wonderful thing. It is something that both my wife and I are very interested in and what else am I going to do with that bedroom? I've got six cats, no one ever wants to stay, so instead I have just got a room full of video game consoles. I am 47, living out the dreams I always had as a teenager. My teenage self would be thinking, 'You've done very well for yourself, Susan!'"
There's a great section in each episode on 'antiques of the future'. Did you enjoy that?
"It was so exciting. I am a massive gamer so that was weird, thinking Goldeneye, which I think is the greatest game of all time, can be worth money now. I found that interesting because it was something I knew about. The idea that something which I have in my cupboard might be worth some money was amazing. If you have got a video recorder that is worth money because people want them! I thought that was really fascinating, that things we took for granted are things that people are desperate for now."
Why do you think antiques shows are so popular at the moment?
"There's a few aspects to it. I think there is a real social history aspect to antiques. Paul Martin, when he was valuing things in the Dealer's Den, he was often saying to people, 'Where did it come from?' You sometimes find these gems that are little artefacts of someone's life, so that is one thing. The other thing is with the upcycling that Danny does is there is a real thing about making more of what we have instead of making new things. I've got a toaster I am determined to put in my garden and make something of it instead of sending it to landfill! Then I think there is the very basic thing of people looking at these antique shows and thinking, 'My goodness, what if I find the painting that is worth £50,000?'"
It's a really fresh approach for an antiques show. What's different about this one?
"We have a huge amount of fun in it! I don't think antiques shows are stuffy in the slightest, but I am hoping that it is a fresh new take on it. Honestly, I laughed more filming this show than I have in any other, which was entirely unexpected given that it was an antiques show. My expectations were blown out of the water in terms of what it would be like because I just loved it and I had such a good time. Making antiques fun is what we are trying to do."
It's like several different shows in one. Do you think it's got a bit of everything? "There is no shame in saying that we are doing quite a lot of things in the one show, so all the things that you love about other shows will be in this show. If you're not keen on the valuations then Danny will be doing some upcycling. We are packaging up the things that people are really interested in, taking things you might have seen before but changing it."
The experts seem like great fun. Did you enjoy working with them on the series?
"We met on Sunday night and started filming on Monday, but we all stayed in this beautiful big country house hotel across the road from Hemswell Antiques Centre. We filmed it in order, so from Monday to Friday it was filmed in real time as we got to know each other and had more fun and that was a lovely thing. From that first meeting on camera to the end is how our relationships developed and I loved it. We all stayed in the same hotel, so we had breakfast together and dinner together and a drink in the evening, so it was lovely."
Other than the auction, did you buy anything just for yourself?
"Yes! Basically, I had to stop myself spending all of my money! They gave me a present, a tray with a Yorkshire terrier on it that fell in love with. And I bought one of the directors a couple of little dogs for Christmas and Natasha spotted two brass hat and coat racks and I have got them as well."
The final auction is all for charity, isn't it?
"It is for Cats Protection which is a charity that I have a few cats from and support them. My cats are Pickle, Daisy Fay Harper, Dr Abigail Bartlett, Olivia Pope, Ruth Bader Ginsberg and Velma Dinkley. There are three from Cats Protection, we've got one from Cat Flap and another from SSPCA so they're all rescue cats."
The final auction was really exciting to watch. What was it like to be in charge?
"I felt physically sick the entire day, I really did. Yes, I stand up on stage and I do bits and pieces but this was entirely different. And it was a virtual auction and there are computer screens in front of you and you don't know what is happening and then I got all emotional as I always do because someone has bought a brooch and it was for Cats Protection because it was for charity. I think it is fair to say that my smartwatch was registering a high heart level for that entire period of time. So it was an adrenalin rush, it was very emotional, but honestly, it was one of the most stressful things I have ever done."
Do any of the skills you need to be a stand-up comedian help you as an auctioneer?
"I forgot everything! My plan was to stand there and be absolutely super-professional, then you just get entirely lost in what's happening. It doesn't matter how many Antiques Road Trips or Homes Under The Hammer you watch to see other auctioneers doing it, it is like being in a vortex. I lost all sense of where I was or what I was doing. I got a bit carried away."
Was it harder to become a dancer on Strictly than become an auctioneer on this show?No! I will do a quickstep for you any time rather than what I did there. The point is when you're dancing you learn it and you do it. Muscle memory kicks in and you know exactly what is about to happen. Kevin and I practiced every single day for nine hours a day and at that point, for a minute and a half, you're OK. In a contained situation it's fine. So I will dance any time rather than do what the auctioneer was doing because it was just so difficult. The problem is there is an interaction with the public. You don't know what is going to happen. I didn't know do you beg? Do you quietly ask? How does one perform? I don't know what to do! I am too emotional for these things. I think you have to be quite level-headed. I offered to dance for people. I mean, for goodness sakes!
What did you learn from the show and will you do it differently next time?
"I think what I learned was that there is so much to learn. This was five days with those wonderful experts and I barely scratched the surface. At the end I wrote a list of questions I didn't even get a chance to ask them and it is pages long. It is a completely different world and it is such a huge world. Antiques can be something from the 1500s to the 2010s. In what other world is there such a spread of things to talk about? I think the best TV shows come from a genuine interest and I could just listen to those three people talk forever. So for me, it is just about carrying on what we're doing but exploring even more of the world."
You seemed quite nervous about haggling. How did you overcome your nerves? "I don't like it! I struggle. Natasha was the reason I was good at it because that woman is so confident and calm and wonderful, it was like having a Jedi master beside me. I think I need another couple of series before I can genuinely do it on my own, but what she said to me was, 'It's not rude, it's expected'. I was concerned that I was being rude to someone whose business it was, and she said, 'It's fine'. So I think when she gave me the go-ahead, I felt a little bit better about it. Don't expect to get 50 per cent off, but you might be able to get something else off it. I have got a ¾ size TARDIS in my hall and when I bought it the guy said he would deliver it for free, so there are other things "
Is there anything you'd change for a future series?
"For me, it is just about carrying on what we're doing but exploring even more of the world. I think there is scope to do a number of different things. I could easily see this going to a village hall in the Cotswolds and then to Perthshire, because there are so many different stories around the country and you will find different antiques in different places. We were already planning a Halloween special from Transylvania. We could go over to Transylvania and see what is over there. I could see that happening very easily!"
Big Antique Adventure with Susan Calman episode guide
Here's a full episode guide for Big Antique Adventure with Susan Calman...
EPISODE 1: Monday May 30
Susan Calman is on an antiques mission - to help the nation flog their family treasures and hack the secrets of the notoriously tricky world of collectibles, relics and heirlooms. Susan will become a Dealer's Apprentices, as she learns how to spot potentially priceless items straight off the shelf and how to turn them into cold, hard cash; one owner gets a shocking valuation for his antique perfume bottle and Susan's team discover whether the pile of old videos in your loft could actually be worth a small fortune.
EPISODE 2: Tuesday May 31
Day two of Susan Calman's foray into the world of antiques helping the nation make cash from their collectibles. From Europe's biggest antique centre, Susan and a top team of experts are revealing top tips for buying, selling, valuing and restoring. Tonight, a unique way to pick up a prized possession down at your local farm and how those mobile phones you have in your kitchen drawer could be the real antiques of the future.
EPISODE 3: Wednesday June 1
Day 3 of Susan Calman's adventure sharing the secrets of the antiques world from Europe's biggest antiques centre. All week Susan is bringing together some of the industry's top experts to help the nation value, restore and sell their prized possessions Tonight, could your kid's trainers be worth a pretty penny and how to find a relic that's right for restoration in Cheshire's glitzy Golden Triangle.
EPISODE 4: Thursday June 2
Day 4 of Susan Calman's week long look at the world of antiques from the biggest antiques centre in Europe. All week, with a top team of experts, Susan has been on a merry go round helping Britain value, buy, sell and restore treasured gems and showing us all how to make cash from collectibles. Tonight, we investigate the murky world of fakes and forgeries and take a trip down the red carpet to a film and TV prop shop.
EPISODE 5: Friday June 3
Final day of Susan Calman's foray into the world of antiques from the biggest antiques centre in Europe. Our week-long journey helping the nation to buy, sell and restore culminates in a charity auction where Susan will take the gavel and see the lessons have paid off. Plus we ask if the arcade games we spent a fortune playing as kids could be about to pay us back as the antiques of the future.
A brief guide to Susan Calman
Comedian, writer, presenter and actress Susan Calman has appeared in several TV series including Fresh Meat, Comedy Lab and Legit. She had roles in the series Rab C. Nesbitt as well as Tracey Ullman's Show, Dead Boss and Home From Home. She's fronted shows including Susan Calman's Grand Day Out and Susan Calman's Grand Week By the Sea. Last year she took over from Jane McDonald on the Cruising With… franchise, presenting Christmas Cruising with Susan Calman. She's also presented on The One Show, Secret Scotland and The Great British Menu as well as appearing on numerous panel shows including QI, Have I Got News For You, House of Games and Celebrity Chase. In 2017 Susan took part in Strictly Come Dancing, partnering Kevin Clifton. See their quickstep on the clip below...
Now she's hosting Big Antique Adventure with Susan Calman, and Dan Louw, Commissioning Editor for Channel 5 says, "We're thrilled to be working with Susan again, and her foray into the world of antiques is sure to be hilarious, instructive and unpredictable."
* Best Channel 5 documentaries on My 5
* Best BBC documentaries
* Best Channel 4 documentaries
* Fishing Scotland's Lochs and Rivers
* Watercolour Challenge

Get the What to Watch Newsletter
The latest updates, reviews and unmissable series to watch and more!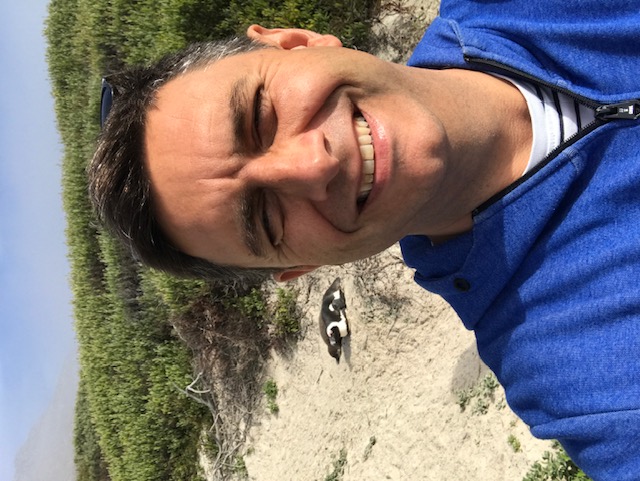 TV Content Director on TV Times, What's On TV and TV & Satellite Week
I'm a huge fan of television so I really have found the perfect job, as I've been writing about TV shows, films and interviewing major television, film and sports stars for over 25 years. I'm currently TV Content Director on What's On TV, TV Times, TV and Satellite Week magazines plus Whattowatch.com. I previously worked on Woman and Woman's Own in the 1990s. Outside of work I swim every morning, support Charlton Athletic football club and get nostalgic about TV shows Cagney & Lacey, I Claudius, Dallas and Tenko. I'm totally on top of everything good coming up too.