The Amazing Race season 34: winners and everything we know about the reality series
Check out who won The Amazing Race season 34.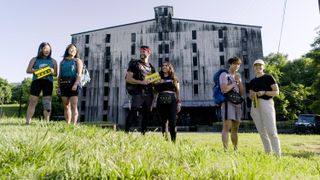 (Image credit: CBS)
The Amazing Race season 34 has come to and end. The reality competition show first aired in 2001 and, over 20 years later, awarded another $1 million prize to its winning team.
The race is split into legs, where contestants receive clues and must navigate around foreign countries to complete physically and mentally challenging tasks. If they're the last one to make it to their final destination for that leg, they could be eliminated. New for this season, CBS has announced that there is not going to be any non-elimination legs of the competition; though there are megalegs that may span two episodes before eliminating a team. If they can persevere, the final team will earn the seven-figure sum in the end.
After being forced to adjust to the early days of the pandemic with The Amazing Race season 33, things are just about back to normal with this new season.
Break out your passports (figuratively, of course), here is everything we know about The Amazing Race season 34.
The Amazing Race season 34 winners
The three teams heading into the final leg of The Amazing Race season 34 were Derek & Claire, Luis & Michelle and Emily & Molly. The first to cross the finish line and win this season were Derek & Claire.
Here are the final standings for all of the Amazing Race season 34 teams:
1. Derek & Claire
2. Emily & Molly
3. Luis & Michelle
4. Aubrey & David
5. Marcus & Michael
6. Quinton & Mattie
7. Glenda & Lumumba
8. Abby & Will
9. Linton and Sharik
10. Rich and Dom
11. Tim and Rex
12. Aastha and Nina
How to watch The Amazing Race season 34
If you want to catch up with any or all episodes of The Amazing Race season 34, you can stream them on Paramount Plus (for which you need a subscription).
The Amazing Race season 34 cast
Twelve teams of two are set to compete on The Amazing Race season 34 and its million dollar prize. Here are the teams that fans are rooting for on their globe-trotting adventures:
Aastha Lal & Nina Duong (ELIMINATED)
Engaged couple from Marina Del Ray, Calif.
Abby Garrett & Will Freeman (ELIMINATED)
Childhood sweethearts from Birmingham, Ala.
Aubrey Ares & David Hernandez (ELIMINATED)
Ballroom dancers from Los Angeles
Derek Xiao & Claire Rehfuss (WINNERS)
Big Brother stars from Los Angeles
Emily Bushnell & Molly Sinert (SECOND PLACE)
Long-lost twins from Ardmore, Pa., and Palm Beach Gardens, Fla.
Glenda & Lumumba Roberts (ELIMINATED)
Newlyweds from Norcross, Ga.
Luis Colon & Michelle Burgos (THIRD PLACE)
Married couple from Miami
Linton & Sharik Atkinson (ELIMINATED)
Father and daughter from Brooklyn, N.Y.
Marcus & Michael Craig (ELIMINATED)
Military brothers from Richmond Hill, Ga., and Alamogordo, N.M.
Quinton Peron & Mattie Lynch (ELIMINATED
Former Rams cheerleaders from Pasadena and Vista, Calif.
Tim Mann & Rex Ryan (ELIMINATED)
Golf buddies from Brentwood, Tenn. (Ryan is a former NFL head coach)
Rich Kuo & Dom Jones (ELIMINATED)
Motivational speakers from Huntington Beach, Calif.
The Amazing Race season 34 locations
For the first time, The Amazing Race season 34 is going to begin outside of the US, in Munich, Germany. Here are all the locations that CBS has announced:
Munich, Germany
Austria
Petra, Jordan
Italy
France
Spain
Iceland
Nashville
The Amazing Race season 34 host
Phil Keoghan is back as the host for season 34 of The Amazing Race. The New Zealand-born TV presenter has hosted the show since the very beginning and he's also an executive producer.
The Amazing Race season 34 trailer
Here is a preview for what's in store on The Amazing Race season 34.
Get the What to Watch Newsletter
The latest updates, reviews and unmissable series to watch and more!
Caitlyn has been a professional editor and writer since 2014, and her work can be found on a range of websites, including Hearst's BestProducts.com, POPSUGAR, StyleCaster, and InStyle. Her favorite TV shows are Law & Order: SVU and Organized Crime, The Real Housewives franchise, just about anything on Bravo, and Netflix Originals.