'The Amazing Race' season 33: winners, recaps and everything we know
The globe-trotting reality competition 'The Amazing Race' has crowned is season 33 winner.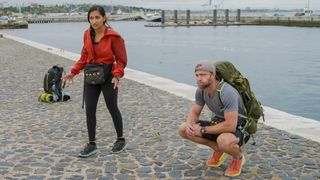 (Image credit: CBS)
For the first time since The Amazing Race debuted in 2001, there was no new season of The Amazing Race for a full year as a result of the pandemic halting production of season 33. However, you can't keep The Amazing Race down for long, as the globe-trotting reality competition series returned for its 33rd season this winter.
The Amazing Race follows teams of two as they embark on a trek around the world. When arriving at a new destination they must complete a challenge before being given their next destination. The team in last place will be eliminated throughout the season, until one team arrives at the finish line and claims the $1 million prize.
Premiering as part of the first wave of hit reality shows in the early 2000s, along with its CBS sister shows Survivor and Big Brother, The Amazing Race has become one of the most acclaimed reality shows on TV. A 10-time winner of the Emmy for Outstanding Reality/Competition Program, it is a hit with just about everyone who watches it.
Here is everything we know about the long-awaited The Amazing Race season 33.
Who won 'The Amazing Race' season 33?
After traversing the globe and being forced to pause their race due to the pandemic, the winners of The Amazing Race season 33 were ... Kim and Penn, the husband and wife internet personalities from North Carolina. The duo were consistently at the front of the race for the season, and they ultimately took the $1 million prize.
'The Amazing Race' season 33 recaps
The Amazing Race whittles down its contestants by eliminating the team that reaches the finish line in each location, so here is a running tracker of who was bringing up the caboose and sent home.
Episode 1: Despite there being two finish lines in the London-based premiere episode, only one team was eliminated from competition, and that was Michael Norwood & Armonde "Moe" Badger.
Episode 2: The father-daughter duo of Arun & Natalia Kumar were the final team to cross the finish line in Glasgow, Scotland, and were eliminated. However, episode 2 is when The Amazing Race production shut down due to COVID, and in a preview for episode 3 picking up 19 months later in Switzerland, it is teased that some familiar faces may be back in the race.
Episode 3: This episode brought the teams back together following the COVID shutdown, but not everyone returned. At the start only five of the nine teams remaining after the previous episode were back — Raquel & Cayla, Ryan & Dusty, Akbar & Sheridan, Lulu & Lala and Kim & Penn. However, to bolster the roster, the show brought back two already eliminated teams for another shot — Natalia & Arun and Michael & Moe. After catching up with the teams, the race is back on as they complete tasks in Switzerland. Unfortunately, it was a quick return for Michael & Moe, who were the last to finish and were eliminated once again.
Episode 4: With the teams challenges for this week including bungee jumping from the Verzasca Dam in Switzerland and making nine feet of local sausage. As the teams race to the finish line, it is Arun and Natalia that arrive last. However, it is revealed that this is a non-elimination leg, so they are still in the race and the team count remains at six.
Episode 5: The teams are heading off to Corsica, France, and riding in style on a chartered plan to adhere to this season's pandemic policies. The first challenge this weeks gives teams the choice to either making three patches of fromage or ride a mule down a rugged trail while trying not to spill milk attached to a farness; the dominant team of the season so far, Ryan & Dusty, struggle and find themselves in the unusual spot of last place after this first challenge. However, the next stage is a paddle boat ride to Phil, and ultimately it is Akbar & Sheri who are the last to arrive and are thus eliminated.
Episode 6: Still in Corsica, France, the remaining five teams are broken up into two heats, with Kim & Penn and Raquel & Cayla going first, followed 15 minutes later by Ryan & Dusty, Lula & Lala and Arun & Natalia. The challenges that the teams have to deal with this week include eating a local delicacy called maggot cheese (yes, it is filled with maggots), then either collection metal fish while kayaking or spotting and memorizing the order of metal fish while on a sail boat, before finally needing to repair holes in a fishing net. It's an exciting finish, but Kim & Penn take first place, while Arun & Natalia bring up the rear. Lucky for them, this is a non-elimination leg, so they will continue on in their journey.
Episode 7: The teams are tasked with driving from Italy to Greece, and along the way must complete a Road Block challenge where the make a dish wrapped in a grape leaf that must be approved by a local before heading on to their next challenge at a food stand where they need to spell souvlaki right. The final road block calls for the contestants to pay attention to a priest's sermon and then list off five saints he mentioned. Kim & Penn are the first to complete all the tasks and arrive at the Pit Stop, their third win in a row, followed by Raquel & Cayla, Ryan & Dusty and Arun & Natalia. Meaning Lulu & Lala have been eliminated this week.
Episode 8: The teams remain in Greece, making their way to the city of Thessaloniki. There, their first Roadblock is to find gold coin under a rock in a field of hundreds. The next challenge is a lot more fun, as the teams must either carefully deliver 300 plates or smash a big pile of them, but only while a band is playing; all of the teams pick the latter. Raquel & Cayla are the team that reaches the Pit Stop first and win a trip to Hawaii to boot. They are followed by Kim & Penn, Arun & Natalia and then Ryan & Dusty. However, this was a non-elimination leg, so all four teams will continue in the game.
Season finale: The four teams flew from Greece to Portugal, tasked with going to Fortale De São Filipe. Their first challenge requires them to pick a boat named for a Portugal explorer and not another historical figure/celebrity and row across a marina (forced to go back if they pick wrong), once across they must paint a sardine on a door of a restaurant and then correctly count how many columns are in a church. At the first pit stop for the two-hour finale, Raquel and Cayla arrive first, followed by Kim and Penn and then Ryan and Dusty, meaning Natalia and Arun have been officially eliminated.
For the final leg of the race, the teams arrive back in the U.S., Los Angeles to be exact. Their challenges here required them to collect three clues from breaking multiple piñatas (with one team member blindfolded and the other giving directions). Next they are tasked with recreating famous Amazing Race scenes in a folley studio. Once completed, their final challenge is a memory quiz on all of the different countries they have visited.
It was a tight race between Raquel and Claya and Kim and Penn in Los Angeles (Ryan and Dusty had a hard time keeping up), but ultimately it was Kim and Penn who reached the final pit stop first to win The Amazing Race season 33.
'The Amazing Race' season 33 cast
There will be 11 teams competing in The Amazing Race season 33. Here they are:
Akbar Cook Sr. (45) & Sheridan Cook (44), married educators from Martinsville, N.J.
Anthony Salder (29) & Spencer Stone (29), childhood friends from Sacramento, Calif.
Arun Kumar (56) & Natalia Kumar (28), father and daughter from Detroit
Caro Viehweg (23) & Ray Gantt (25), dating from Los Angeles and Toms River, N.J. (respectively)
Connie Greiner (37) & Sam Greiner (39), married from Winston Salem, N.C.
Kim Holderness (45) & Penn Holderness (47), internet personalities from Raleigh, N.C.
Marianela "Lulu" Gonzalez (37) & Marissa "Lala" Gonzalez (37), twins and radio hosts from North Bergen, N.J.
Michael Norwood (36) & Armonde "Moe" Badger (42), singing police officers from Buffalo, N.Y.
Raquel Moore (31) & Cayla Platt (30), flight attendants from Chicago and Gulf Breeze, Fla. (respectively)
Ryan Ferguson (37) & Dusty Harris (38), best friends from Columbia, Mo.
Taylor Green-Jones (38) & Isaiah Green-Jones (31), YouTube sensations from Portland, Ore.
Two teams that took part at the start of The Amazing Race season 33 dropped out due to the pandemic.
'The Amazing Race' season 33 locations
The Amazing Race season 33 begins with each contestant from their homes and then having to get to London. After that they head off to Scotland. This is where things get tricky, however.
With production beginning on season 33 in February 2020, the show was only able to film three legs of the competition before needing to shut down because of the pandemic for nearly 20 months. However, once production resumed they got back on the road and finished their trips around the world.
In addition to the London and Scotland stops, the contestants also traveled to Switzerland, France, Greece, Portugal and Los Angeles.
'The Amazing Race' season 33 host
As he has done since the very beginning, Phil Keoghan will once again serve as the host for The Amazing Race season 33. In addition to hosting Keoghan is an executive producer on the show.
'The Amazing Race' season 33 trailer
2021 was the 20th anniversary for The Amazing Race, the show having debuted in September 2001, but without a new season airing, the reality show will use season 33 as their official celebration of their 20-plus year run. The trailer for The Amazing Race season 33 presents many highlights from the show's history, while also giving a preview of some of the challenges that the new group of contestants will face. Watch the trailer here:
How to watch 'The Amazing Race' season 33
The Amazing Race airs live on CBS, giving viewers multiple options to tune in either live or on-demand. For those wanting to watch live, CBS is carried on all traditional cable/satellite pay-TV subscription services as well as live TV streaming services like FuboTV, Hulu with Live TV and YouTube TV. If you've opted to skip a subscription and instead go old school and use an antenna, local CBS stations are receivable in all U.S. TV markets.
You can also stream The Amazing Race live if you are a Paramount Plus subscriber, specifically to its $9.99 per month plan, as this provides access to the subscriber's local CBS station. Paramount Plus also provides the latest and previous episodes of The Amazing Race on-demand for all subscribers to Paramount Plus.
Another option to catch-up with The Amazing Race is on Hulu, which features the first 29 seasons of The Amazing Race.
Get the What to Watch Newsletter
The latest updates, reviews and unmissable series to watch and more!
Michael Balderston is a DC-based entertainment and assistant managing editor for What to Watch, who has previously written about the TV and movies with TV Technology, Awards Circuit and regional publications. Spending most of his time watching new movies at the theater or classics on TCM, some of Michael's favorite movies include Casablanca, Moulin Rouge!, Silence of the Lambs, Children of Men, One Flew Over the Cuckoos Nest and Star Wars. On the TV side he enjoys Peaky Blinders, The Marvelous Mrs. Maisel, Saturday Night Live, Only Murders in the Building and is always up for a Seinfeld rerun. Follow on Letterboxd (opens in new tab).