The best horror movies on Tubi TV
Tubi TV offers the scares with some of the best horror movies around.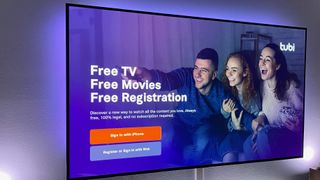 (Image credit: WhatToWatch.com)
Everybody needs a good scare sometimes, and there are plenty of options for that with Tubi TV, which has some of the best horror movies easy to watch on its free streaming service.
Tubi TV is a free, ad-supported streaming service that offers thousands of hours of popular movies and TV shows. You can get a look at some of the overall best movies and best TV shows that can be found on the service, but let's take a look at what are the best horror movies on Tubi TV.
Bit (2020)
One of the more recent horror titles available on Tubi, Bit follows the teenage Laurel on a summer vacation to Los Angeles, who ends up falling in with a group of queer feminist vampires that stalk LA's predatory men.
The history of horror films has long had connective tissue with gay culture, with Bit just being among the newest and more open examples. Bit is also just one of many LGBTQ+ titles available to watch on Tubi.
The Cabinet of Dr. Caligari (1920)
While it may not be the first ever horror film, The Cabinet of Dr. Caligari is the common ancestor to many films in the genre, and even some outside of the world of horror. The German silent film tells the story of the mysterious Dr. Caligari and his somnambulist Cesare, who the doctor unleashes in the night to commit murders.
One of the trademarks of The Cabinet of Dr. Caligari is the expressionist designs used for the sets that were popular in post-World War I Germany. You can practically draw a straight line from Dr. Caligari to the work of Tim Burton.
While the film may not be exactly scary to today's modern horror audiences, even 100 years later it's eerie tone and twist ending can leave viewers unsettled.
Candyman (1992)
Horror fans have a new spiritual sequel to Candyman from Nia DeCosta and Jordan Peele, but it is worth checking out the original '90s horror film that inspired the reboot.
Based on Clive Baker's book, "The Forbidden," Candyman refers to a murderous spirit with a hook for a hand that is brought to reality by a graduate student studying the myth that surrounds him. Virginia Madsen, Tony Todd, Xander Berkeley and Kassi Lemmons star.
Count Dracula (1970)
Most people today know Christopher Lee either from his roles in the Star Wars prequels or the Lord of the Rings movies, but before any of that Lee was a horror legend in large part because of the films in which he played Dracula.
Lee portrayed the iconic vampire in 10 films, of which Count Dracula is readily available to watch on Tubi. This film follows the traditional plot of Dracula pretty well, as it sees the legendary vampire pursued by familiar foes in Professor Van Helsing and Jonathan Harker, as well as featuring other well known Dracula characters Renfield and Mina Harker.
Besides Bela Lugosi, there may not be a more recognizable Dracula than Christopher Lee.
Dead Snow 2: Red vs. Dead (2014)
Sometimes it's fun when a horror film just leans into the absurd and brings us something we weren't expecting. That is the case with the Dead Snow franchise, which sees its protagonists go up against battalions of zombified Nazis.
Dead Snow 2: Red vs. Dead continues to follow Martin, still being pursued by the undead Nazis, when he is joined by a group of American zombie enthusiasts.
The "Red" in the title refers to zombies of World War II Russian soldiers, who Martin and his friends are able to enlist in their fight against the Nazi zombies. Watch the movie to see how that plays out.
The Descent (2005)
What could go wrong when you head into a dark and mysterious cave? Well plenty if you happen to be in the Neil Marshall film The Descent. Marshall, who would go on to direct episodes of Game of Thrones, Westworld and more, served as writer and director for this critically praised horror film.
Shauna Macdonald, Natalie Mendoza, Alex Reid and more star as explorers who go on a caving expedition, only to find themselves trapped. However, they are not alone in the dark cavern, as a strange breed of predators pursue them.
Goodnight Mommy (2014)
Like action movies, horror is a genre that is generally easy to play across languages. A great example of this in recent years is Goodnight Mommy, an Austrian-based film that creeped audiences out all over the world.
Goodnight Mommy is the story of twin boys who think there is something different about their mother, who recently had face-changing cosmetic surgery.
The film found love among critics (not an easy feat for horror films usually), making numerous year-end best foreign language film lists.
Hellraiser (1987)
One of the iconic movie monsters of the 1980s, Pinhead was the star of the Hellraiser franchise, which got underway with the original 1987 film.
The story, adapted and directed by Clive Barker from his own novel, takes place after Frank accidentally opens a portal to hell, releasing Pinhead and other demons and trapping Frank in the underworld. To free him, Frank's brother and sister-in-law must perform sacrifices.
A rebooted Hellraiser is being developed, but check out the original, as well as some of its sequels if you want, on Tubi.
The Hills Have Eyes (1977)
Not to be confused with the 2006 remake, which is actually also on Tubi, this is the original version of The Hills Have Eyes from horror legend Wes Craven. The plot is generally the same — family stumbles upon and gets stranded in a deserted area not open to the public and soon terrorized by violent savages that live in the hills.
This is early Wes Craven (only his third film). While he's best known for Nightmare on Elm Street and Scream, the 1977 The Hills Have Eyes just shows how much of Craven's work has been either remade or influential for modern horror.
Raw (2016)
An aspiring veterinarian heads off to college, where she is quickly initiated into the strange school traditions. The more she becomes exposed to everything at the school, the more she begins to shun her previous vegetarian diet and desire raw meat, even human flesh.
Raw was the feature directorial debut from French filmmaker Julia Ducournau, who has also directed some episodes of the Apple TV Plus series Servant. Another example of the fantastic work the international filmmaking community is doing in the horror genre.
Rubber (2010)
Rubber is easily one of the most absurd premises you've ever heard for a movie, but that's what makes it so interesting. In this horror comedy, the unstoppable killing force is a tire that has the ability to blow up people's heads.
You really can't say much more than that. Either you'll be on board with the tire on a murder-spree or Rubber just isn't for you. Have to love that filmmaker Quinten Dupieux was willing to go down this crazy road, though.
Slither (2006)
James Gunn is best known nowadays for directing The Guardians of the Galaxy and the upcoming The Suicide Squad. Film fans were introduced to Gunn, however, with Slither, a horror/sci-fi mashup.
Slither takes place in a small town where an alien plague starts to turn the residents into mutant monsters. Nathan Fillion, Elizabeth Banks and future Guardians of the Galaxy star Michael Rooker star.
If we can take anything from Gunn's filmography from Slither to his most recent work, it is that he is not afraid to get weird, which is part of what makes his films so fun.
Suspiria (1977)
Italian director Dario Argento brought the scares in Suspiria, which focuses on a young American dancer who comes to a world renowned dance academy. She quickly discovers, however, that there is something sinister behind the curtains at the school.
Call Me By Your Name director Luca Guadagnino crafted a remake of Suspiria just a fews ago, attempting to dig deeper into the story, running about an hour longer than the original. But Argento's Suspiria masterfully packs a haunting tone and thrilling climax in just about 90 minutes.
The Texas Chainsaw Massacre (1974)
The Texas Chainsaw Massacre has been a horror story done over multiple times through the years. But as is the case in many of these situations, it's just hard to top the original.
The Texas Chainsaw Massacre sees five young friends attempting to visit a family grave only to end up being pursued by a group of cannibals, including the chainsaw wielding Leatherface.
The big screen debut of Leatherface was based loosely on serial killer Ed Gein.
Train to Busan (2016)
South Korean filmmakers have been putting their mark on the horror franchise in recent years. This includes Train to Busan, a zombie film from director Sang-ho Yeon, where passengers on a train traveling from Seoul to Busan are forced to fight for their lives as a zombie virus breaks out.
Train to Busan was able to have both critical success — it played at the Cannes International Film Festival and has a 94% on Rotten Tomatoes — and a hit among fans, be it right away in its home country of South Korea or with an ardent cult following in the U.S. and other places around the world.
Michael Balderston is a D.C.-based entertainment writer and content producer for What to Watch. He previously has written for TV Technology and Awards Circuit.
Get the latest updates, reviews and unmissable series to watch and more!
Thank you for signing up to Whattowatch. You will receive a verification email shortly.
There was a problem. Please refresh the page and try again.