The best movies on Tubi
These classic movies are available for free (with ads) on Tubi.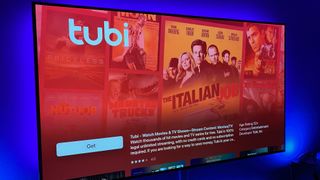 (Image credit: WhatToWatch.com)
Why scroll through a catalogue of titles hoping to find something good to watch when you can get a cheat sheet of the best movies on Tubi right here from your friends at What to Watch? We're doing the hard work for you and compiling the creme de la creme of what Tubi has to offer.
Tubi is a free, ad-supported streaming service that features more than 20,000 movies and TV shows, the company says. It is available on most major streaming platforms, including Roku, Amazon Fire TV, Apple TV, Android and iOS devices and a range of smart TV models.
Let's break down some of the best movies that you can watch on Tubi right now.
A Fish Called Wanda (1988)
We must have done something right as a society for us to be treated with the performance from Kevin Kline in A Fish Called Wanda. Kline is absolutely hysterical as the bumbling (but don't call him stupid), quick-tempered criminal Otto, so much so that he won the Oscar for Best Supporting Actor.
Of course there's so much to love from A Fish Called Wanda, which tells the story of four criminals trying to double cross each other in order to get their hands on the loot. The cast is incredible, which in addition to Kline includes Jamie Lee Curtis, John Cleese and Michael Palin, and features an Oscar-nominated script from Cleese and director Charles Crichton (also nominated, a rarity for a comedy).
American Animals (2018)
You have to love a good heist movie, which is why it was a little surprising that American Animals — despite strong reviews — didn't do better during its initial release. But that's one of the benefits of streaming, getting the chance to catch up on something you may have missed the first time around.
American Animals tells the true story of college students who attempt to steal a book from the university library that is supposed to be worth millions of dollars. Director Bart Layton was known for documentaries (The Imposter), which likely inspired a unique choice to blend the narrative telling of the story featuring actors (Evan Peters, Barry Keoghan, Blake Jenner and Jared Abrahamson) with interviews of the real-life people the story is based on.
It's a fun ride that fits right into the wheelhouse of anyone intrigued by true-crime stories.
The Big Short (2015)
Before The Big Short, Adam McKay was best known for directing Anchorman and Step Brothers. So how does a comedy director handle a story detailing the greatest financial collapse since the Great Depression? Rather well, actually, and in ways that few would have expected.
The Big Short is adapted from Michael Lewis book about the group of investors who foresaw the housing crisis of the late aughts that would lead to the Great Recession. McKay doesn't shy away from all of the financial jargon of the situation, rather he chose to use celebrity cameos like Margot Robbie, Selena Gomez and Anthony Bourdain to explain what his characters were talking about in terms audiences could understand.
In addition to the cameos, the cast of The Big Short includes Christian Bale, Steve Carell, Brad Pitt, Ryan Gosling, Jeremy Strong and Marisa Tomei.
Brokeback Mountain (2005)
There was an unfortunate stigma around Brokeback Mountain when it was coming out, with many simply referring to it as the "gay cowboy movie." For anyone who saw it though, they realized that it was actually a beautiful and tragic love story with two all-time great performances from Heather Ledger and Jake Gyllenhaal.
Adapted from a short story by Annie Proulx and directed by Ang Lee (for which he won his first Oscar), Brokeback Mountain is set in the 1960s when Ennis and Jack work together for a summer herding sheep. They form a deep bond and reveal their true selves, something they are not able to do in their lives again when they're apart.
While today the casting of two straight actors for gay characters would like be met with some criticism, Gyllenhaal said in a recent interview (opens in new tab) that he believes the film helped break some of the stigma about LGBTQIA roles and movies.
Carol (2015)
There's so much to love about Carol. From the two stellar performances from Cate Blanchett and Rooney Mara to the beautiful recreation of the 1950s New York setting from director Todd Haynes and cinematographer Edward Lachman.
But at its core, Carol is a love story between Blanchett and Mara's characters, a New York socialite and a young photographer, that is incredibly effective at pulling at your heart strings.
Carol is easily one of the bigger Best Picture snubs in recent memory. See for yourself why that's the case.
Fahrenheit 9/11 (2004)
September 2021 will mark the 20th anniversary of 9/11. Meanwhile, in current news, the U.S. has ended the war in Afghanistan. This makes Michael Moore's documentary film Fahrenheit 9/11 perhaps as timely as ever.
The 2004 documentary, in Moore's trademark style, looks at how the U.S. reacted following the events of 9/11 and the government's actions (then under President George W. Bush) that led to the conflicts in Afghanistan and Iraq.
Certainly not easy viewing in light of recent events, but perhaps just as critical as ever to fully understand how we got to this point.
Fight Club (1999)
I may be breaking the first two rules of Fight Club by writing about it here, but it's hard not to talk about a film that has become so much a part of our culture and remains endlessly rewatchable.
Still among David Fincher, Edward Norton, Brad Pitt and Helena Bonham Carter's best work, the film that sees Norton and Pitt's characters create an underground fight club that spins off into a chaotic cult is funny, quotable and full of plenty of pointed critiques against the idea of guys being macho and capitalism in general.
In what some have called the best year for movies ever, 1999, Fight Club stands out among its peers.
Hunt for the Wilderpeople (2016)
Before Taika Waititi made the best Thor movie for Marvel or won an Oscar for Jojo Rabbit, he was an indie filmmaker from New Zealand making unique gems like Hunt for the Wilderpeople.
Starring Sam Neill and Julian Dennison, Hunt for the Wilderpeople follows a rebellious kid and his foster uncle as they try to create a new life for themselves in the New Zealand bush.
While it doesn't have superheroes or vampires or a kid's imaginary version of Adolf Hitler, Hunt for the Wilderpeople has the Waititi wit and weirdness in spades and is a must-see for anyone who is a fan of his work thus far.
Ida (2013)
Pawel Pawlikowski nabbed a Best Director nomination for his film Cold War in 2018, but he first introduced himself to many American film fans with the 2013 drama Ida set in post-World War II Poland.
The film follows Anna, a novice nun set to take her vows when she discovers that her family is actually Jewish, and that she has an aunt who is her only living relative. Together, they set off to learn about their family's tragic fate and just what it means to each of them.
Ida is a haunting and touching story from one of Europe's top directors right now.
Memento (2000)
Few do blockbusters like Christopher Nolan these days. But before he took on Batman or was messing with people's dreams, he broke out with a small scale thriller that was big on concept.
Prior to making the inversion of time an actual thing in Tenet, Nolan simply played with story structure for the audience of Memento, where the story of a man (Guy Pearce) unable to form new memories tries to solve the murder of his wife. The film, however, plays out mostly in reverse.
It's a trick that has not worn off, as Memento holds up as an intense thriller 20 years after its release.
Moneyball (2011)
Not really a spoiler alert since it's based on a true story, but as it says in text that appears in the closing moments of Moneyball, Billy Beane is still trying to win the last game of the season 10 years after the film's release. It kind of makes the film more poignant, as it's the story of a man who revolutionized how baseball is run today but is still looking for his own happy ending.
Brad Pitt gives what is arguably his best performance as Beane, who as general manager of a cash-strapped Oakland Athletics franchise rethinks how to build a team that can compete for a World Series. With the help of his protege played by Jonah Hill, the film depicts the first season Beane employed this method, and his A's team set a then-record 20 game winning streak.
It's October, which means playoff baseball is here. The A's unfortunately won't be winning a championship this year, but with Moneyball they are the subjects of a winning film.
Mustang (2015)
Mustang, while earning France a Best Foreign Language Film (now International Film) nomination at the Oscars, is a Turkey-based film that in a nutshell can be described as a Turkish version of The Virgin Suicides. That's not giving Mustang its proper due, though. Mustang is a beautiful film about the bonds of sisters and the desire to live the life they want.
The five sisters at the center of the story are orphans, who after being seen innocently playing around with a group of boys, are confined by their conservative guardians and lined up for arranged marriages. Some of the girls manipulate things to their advantage, while others are forced to find different ways to take back control of their lives.
Mustang's director, Deniz Gamze Ergüven, has built on the success of the film here in the U.S. by directing multiple episodes of both The Handmaid's Tale and Perry Mason.
Pretty Woman (1990)
Romantic comedies get chided a little bit for being too cheesy or contrived, but the genre was a Hollywood staple for so many years because when it works it creates cinematic magic like few other movies can. Exhibit A, Pretty Woman, a kind of modern-day fairytale that launched Julia Roberts into super stardom.
Directed by Garry Marshall, Pretty Woman stars Richard Gere as a businessman who hires an escort, Vivian (Roberts), to come with him to a few social events while he tries to close down a big business deal. Rather predictably, the two fall in love together, but what makes Pretty Woman a classic is Roberts' Oscar-nominated performance and the chemistry that she has with Gere.
Short Term 12 (2013)
Brie Larson has an Oscar and heads up Captain Marvel, but for many her first attention grabbing role was in the indie drama Short Term 12.
Based on director Destin Daniel Cretton's own experiences working in a residential treatment facility for kids, Short Term 12 sees Larson's Grace try to help the kids under her care, while also dealing with her own issues.
The cast is full of future stars, including John Gallagher Jr., Kaitlyn Dever, Stephanie Beatriz, Rami Malek and LaKeith Stanfield.
Sing Street (2016)
Music is at the center of all of John Carney's movies so far, which in addition to Once and Begin Again (also available on Tubi) includes Sing Street.
Set in Dublin, Sing Street pays homage to the music of the 1980s while also telling a fantastic story of a young artist coming into his own and the relationships that are most important to him.
Go ahead and try not to tap your feet or sing along to the original songs for the film, especially "Drive It Like You Stole It."
Starred Up (2013)
U.S. audiences may recognize Jack O'Connell's face more than his name. A British import, O'Connell's movies on this side of the pond (Unbroken, Money Monster) haven't had the most widespread success. But if you want to see what O'Connell looks like at the top of his game, then you should watch Starred Up.
O'Connell stars as an angry and violent young prisoner who is put into the same prison as his estranged father (Ben Mendelsohn). The story portrays the tension in their relationship and the effort each has to give for the son to have a chance at rehabilitation.
Sullivan's Travels (1941)
Sullivan's Travels should be required viewing for just about everybody, but especially if you like to think of yourself as a big cinephile. The Preston Sturges 1941 comedy is widely considered one of the greatest films ever made (ranked No. 61 on AFI's current Top 100 movies list).
The film, which Sturgess wrote as well as directed, follows Hollywood film director John L. Sullivan who decides to set out on his own to experience life as a homeless person as research for his next movie. Along the way he meets a girl (Veronica Lake), loses just about everything he has and winds up in jail.
It's a funny and beautiful film that deserves people's attention.
Sweeney Todd: The Demon Barber of Fleet Street (2007)
Horror and musicals don't typically go hand-in-hand, but that's where Stephen Sondheim comes in. The legendary Broadway composer wrote the stage version Sweeney Todd: The Demon Barber of Fleet Street, which Tim Burton, naturally, directed for the big screen to wondrously macabre and gory effect.
In Victorian-era London, a wrongly-imprisoned barber finally returns home to learn that the man who threw him in jail has destroyed his life and holds his daughter. With the help of pie-maker Mrs. Lovett, the sinister pair plot revenge, but not before they cook up a new recipe for meat pies using some other of Sweeney Todd's victims.
Johnny Depp, Helena Bonham Carter, Alan Rickman, Sacha Baron Cohen, Timothy Spall, Jamie Campbell Bower and Jayne Wisener in this musical that fits perfectly with the current Halloween season.
Michael Balderston is a DC-based entertainment and assistant managing editor for What to Watch, who has previously written about the TV and movies with TV Technology, Awards Circuit and regional publications. Spending most of his time watching new movies at the theater or classics on TCM, some of Michael's favorite movies include Casablanca, Moulin Rouge!, Silence of the Lambs, Children of Men, One Flew Over the Cuckoos Nest and Star Wars. On the TV side he enjoys Peaky Blinders, The Marvelous Mrs. Maisel, Saturday Night Live, Only Murders in the Building and is always up for a Seinfeld rerun. Follow on Letterboxd (opens in new tab).
Thank you for signing up to Whattowatch. You will receive a verification email shortly.
There was a problem. Please refresh the page and try again.