The best movies on Tubi
These classic movies are available for free (with ads) on Tubi.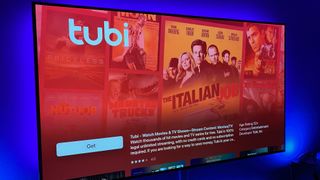 (Image credit: WhatToWatch.com)
Why scroll through a catalogue of titles hoping to find something good to watch when you can get a cheat sheet of the best movies on Tubi right here from your friends at What to Watch? We're doing the hard work for you and compiling the creme de la creme of what Tubi has to offer.
Tubi is a free, ad-supported streaming service that features more than 20,000 movies and TV shows, the company says. It is available on most major streaming platforms, including Roku, Amazon Fire TV, Apple TV, Android and iOS devices and a range of smart TV models.
Let's break down some of the best movies that you can watch on Tubi right now.
The Act of Killing (2012)
Widely considered one of the best documentaries to come out in the last decade, The Act of Killing takes a closer look at the mass killings that took place in Indonesia between 1965-1966 by interviewing those that took part in them and letting them tell their stories in a multitude of different Hollywood genres.
Director Joshua Oppenheimer gives these subjects the space to talk about their past and they seem to revel in it. It is one of the more unique acts of recreation for a documentary film that I can recall.
American Animals (2018)
You have to love a good heist movie, which is why it was a little surprising that American Animals — despite strong reviews — didn't do better during its initial release. But that's one of the benefits of streaming, getting the chance to catch up on something you may have missed the first time around.
American Animals tells the true story of college students who attempt to steal a book from the university library that is supposed to be worth millions of dollars. Director Bart Layton was known for documentaries (The Imposter), which likely inspired a unique choice to blend the narrative telling of the story featuring actors (Evan Peters, Barry Keoghan, Blake Jenner and Jared Abrahamson) with interviews of the real-life people the story is based on.
It's a fun ride that fits right into the wheelhouse of anyone intrigued by true-crime stories.
Carol (2015)
There's so much to love about Carol. From the two stellar performances from Cate Blanchett and Rooney Mara to the beautiful recreation of the 1950s New York setting from director Todd Haynes and cinematographer Edward Lachman.
But at its core, Carol is a love story between Blanchett and Mara's characters, a New York socialite and a young photographer, that is incredibly effective at pulling at your heart strings.
Carol is easily one of the bigger Best Picture snubs in recent memory. See for yourself why that's the case.
Cast Away (2000)
Few actors can pull off being the only person on screen for nearly the entire run-time. Thankfully for Cast Away, Tom Hanks is one of them (all due respect to his volleyball co-star, Wilson).
Hanks is incredible as a FedEx executive stranded on an island for years struggling to get back home to the woman he loves. Parts of it may have become ripe for parody, but damn it if you still don't cry along with Hanks when he loses Wilson.
Cast Away was the capper of a nearly 10-year stretch where Tom Hanks was arguably the biggest movie star in the world and before he became America's dad. It may just have been one of the best stretches by an actor in movie history.
Dances With Wolves (1990)
Kevin Costner's Dances With Wolves is a Best Picture-winning film, however it is often overshadowed by another one of the nominees that year many people believe should have won, Martin Scorsese's Goodfellas. However, just classifying Dances With Wolves as a mistake by the Academy is not giving the film its proper due.
Dance With Wolves is a grand epic of the west as it was coming to a close. Costner plays a Union soldier posted to an abandoned station on the plains. He soon meets and becomes a part of a community of Native Americans.
More meditative compared to the roaring action of Goodfellas, but Dances With Wolves is worthy of all the recognition it received.
Die Hard (1988)
Whether you call it a Christmas movie or not, one thing we can all agree on is that Die Hard is one of the best action films ever made. And yippie-ki-yay mother f**ker, it is now available to stream for free on Tubi.
Bruce Willis' stars in his signature role as John McLane, a New York cop who gets caught in the middle of a terrorist plot during a Christmas party at his wife's work. Featuring Alan Rickman as the devilishly suave villain Hans Gruber (Rickman's first feature film role if you can believe it), Reginald VelJohnson, Bonnie Bedelia and Paul Gleason.
Fahrenheit 9/11 (2004)
September 2021 will mark the 20th anniversary of 9/11. Meanwhile, in current news, the U.S. has ended the war in Afghanistan. This makes Michael Moore's documentary film Fahrenheit 9/11 perhaps as timely as ever.
The 2004 documentary, in Moore's trademark style, looks at how the U.S. reacted following the events of 9/11 and the government's actions (then under President George W. Bush) that led to the conflicts in Afghanistan and Iraq.
Certainly not easy viewing in light of recent events, but perhaps just as critical as ever to fully understand how we got to this point.
Four Weddings and a Funeral (1994)
Hugh Grant was the king of romantic comedies in the 1990s, and perhaps his best work came in Four Weddings and a Funeral, which was directed by Mike Newell from a script by Richard Curtis (he of Love, Actually fame).
Grant stars as Charles, a bachelor who attends a series of social events with his friends and continues to run into Andie MacDowell's Carrie, slowly falling in love with her each time. The rest of the ensemble includes James Fleet, Simon Callow, John Hannah, Kristin Scott Thomas and Rowan Atkinson.
Four Weddings and a Funeral is a charming film that has had great staying power over the years, even as they attempted to reboot it as a Hulu miniseries. But as history has taught us, it's always hard to top the original.
Hunt for the Wilderpeople (2016)
Before Taika Waititi made the best Thor movie for Marvel or won an Oscar for Jojo Rabbit, he was an indie filmmaker from New Zealand making unique gems like Hunt for the Wilderpeople.
Starring Sam Neill and Julian Dennison, Hunt for the Wilderpeople follows a rebellious kid and his foster uncle as they try to create a new life for themselves in the New Zealand bush.
While it doesn't have superheroes or vampires or a kid's imaginary version of Adolf Hitler, Hunt for the Wilderpeople has the Waititi wit and weirdness in spades and is a must-see for anyone who is a fan of his work thus far.
Ida (2013)
Pawel Pawlikowski nabbed a Best Director nomination for his film Cold War in 2018, but he first introduced himself to many American film fans with the 2013 drama Ida set in post-World War II Poland.
The film follows Anna, a novice nun set to take her vows when she discovers that her family is actually Jewish, and that she has an aunt who is her only living relative. Together, they set off to learn about their family's tragic fate and just what it means to each of them.
Ida is a haunting and touching story from one of Europe's top directors right now.
Memento (2000)
Few do blockbusters like Christopher Nolan these days. But before he took on Batman or was messing with people's dreams, he broke out with a small scale thriller that was big on concept.
Prior to making the inversion of time an actual thing in Tenet, Nolan simply played with story structure for the audience of Memento, where the story of a man (Guy Pearce) unable to form new memories tries to solve the murder of his wife. The film, however, plays out mostly in reverse.
It's a trick that has not worn off, as Memento holds up as an intense thriller 20 years after its release.
Mustang (2015)
Mustang, while earning France a Best Foreign Language Film (now International Film) nomination at the Oscars, is a Turkey-based film that in a nutshell can be described as a Turkish version of The Virgin Suicides. That's not giving Mustang its proper due, though. Mustang is a beautiful film about the bonds of sisters and the desire to live the life they want.
The five sisters at the center of the story are orphans, who after being seen innocently playing around with a group of boys, are confined by their conservative guardians and lined up for arranged marriages. Some of the girls manipulate things to their advantage, while others are forced to find different ways to take back control of their lives.
Mustang's director, Deniz Gamze Ergüven, has built on the success of the film here in the U.S. by directing multiple episodes of both The Handmaid's Tale and Perry Mason.
Short Term 12 (2013)
Brie Larson has an Oscar and heads up Captain Marvel, but for many her first attention grabbing role was in the indie drama Short Term 12.
Based on director Destin Daniel Cretton's own experiences working in a residential treatment facility for kids, Short Term 12 sees Larson's Grace try to help the kids under her care, while also dealing with her own issues.
The cast is full of future stars, including John Gallagher Jr., Kaitlyn Dever, Stephanie Beatriz, Rami Malek and LaKeith Stanfield.
The Silence of the Lambs (1991)
The Silence of the Lambs celebrated its 30th anniversary in 2021, but Jonathan Demme's adaptation of the Thomas Harris book remains a perfect example of what a thriller can and should be. That's not to mention that the film features two all-time great performances with Jodie Foster as Clarice Starling and Anthony Hopkins as Hannibal Lecter.
The film — one of only three films to win the big five awards at the Oscars (Picture, Director, Actor, Actress, Screenplay) — has earned its place among the best films ever made. Even as others attempt to recapture the magic (Red Dragon, Hannibal, Clarice) to varying degrees of success, it only elevates The Silence of the Lambs as the essential version of this story and these characters.
Silver Linings Playbook (2012)
David O. Russell has always been a filmmaker at his best when his stories go to wacky, frenetic places, which made the wacky Philadelphians at the center of Silver Linings Playbook the perfect group of characters for the director.
Bradley Cooper stars as Pat, who after suffering a mental breakdown and being diagnosed as bipolar, returns home and finds a connection with Tiffany (Jennifer Lawrence in her Oscar-winning role), who is dealing with her own personal issues. Together, through practicing for a dance competition and watching the Philadelphia Eagles, the two and their families are able to find their best selves.
I may be biased seeing as I'm originally from Philly myself, but while Silver Linings Playbook embraces its setting it also ascends to be something everyone can enjoy.
Sing Street (2016)
Music is at the center of all of John Carney's movies so far, which in addition to Once and Begin Again (also available on Tubi) includes Sing Street.
Set in Dublin, Sing Street pays homage to the music of the 1980s while also telling a fantastic story of a young artist coming into his own and the relationships that are most important to him.
Go ahead and try not to tap your feet or sing along to the original songs for the film, especially "Drive It Like You Stole It."
Starred Up (2013)
U.S. audiences may recognize Jack O'Connell's face more than his name. A British import, O'Connell's movies on this side of the pond (Unbroken, Money Monster) haven't had the most widespread success. But if you want to see what O'Connell looks like at the top of his game, then you should watch Starred Up.
O'Connell stars as an angry and violent young prisoner who is put into the same prison as his estranged father (Ben Mendelsohn). The story portrays the tension in their relationship and the effort each has to give for the son to have a chance at rehabilitation.
Zodiac (2007)
Movie fans love David Fincher, particularly for Fight Club and The Social Network, but Zodiac is easily one of his most underrated and best films.
Set in San Francisco in the late 1960s/early '70s, Zodiac depicts the emergence and search for the infamous Zodiac Killer through the eyes of a city newspaper staff. Jake Gyllenhaal, Robert Downey Jr., Mark Ruffalo, Brian Cox, John Carroll Lynch, Chloë Sevigny and Dermot Mulroney star in the film.
There are few directors as detailed as Fincher, and he used all of his skill to create a chilling and intense slow-burn thriller for the Zodiac Killer, which to this day remains a mystery.
Michael Balderston is a D.C.-based entertainment writer and content producer for What to Watch. He previously has written for TV Technology and Awards Circuit.
Get the latest updates, reviews and unmissable series to watch and more!
Thank you for signing up to Whattowatch. You will receive a verification email shortly.
There was a problem. Please refresh the page and try again.